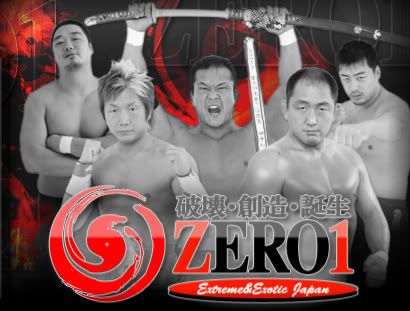 1. History/Info
2. Champions/History
3. Tournaments/League History
4. Current Roster
5. Event Results/History
6. Links
Promotion History
Pro Wrestling Zero1 is a promotion founded by the late Shinya Hashimoto after he was released in 2000 by New Japan Pro Wrestling. Hashimoto was not alone when he was released from New Japan as Shinjiro Ohtani followed suit and decided to help out his friend in this new project. In January of 2001, Zero1 was up and running and has been shows without too many issues except for a period in late 2004 when Hashimoto officially stepped down as the owner of ZERO1.
Shinjiro Ohtani and Yoshiyuki Nakamura would take over full responsibilities of the promotion which would be now called Pro Wrestling Zero1-Max. With the name change also came the connection to the AWA Superstars of Wrestling, an off base of the original American Wrestling Alliance, and began running with their titles respective titles (Read in the Champions/Championships for more info on the titles over the years.)
Zero1's partnership with AWA would only last a few years because in late 2007 AWA would be sited for using the AWA name when the WWE owned sole rights to the AWA properties. This would not cause that huge of an issue, like expected, but they would have their main Heavyweight Championship, Masato Tanaka being champion at the time, removed completely from the promotion. Zero1 would go the smart route and just back create their own belts under their name, so that this issue would just not happen again.
Zero1 has been running without too many issues since 2008, and is looking to build themselves up to top contenders as a top promotion in Japan.
——————————————————————————————————————————————————————————————————————————————————————————-
Championships and Current Champions
Z

ERO

1

World Heavyweight Champion
Z

ERO

1

International Junior Heavyweight Champion & NWA World Junior Heavy Champion
Intercontinental Tag Team Championship
UN Heavyweight Championship
International Lightweight Tag Team Championship
——————————————————————————————————————————————————————————————————————————————————————————-
Fire Festival
Current Reigning Champion: 
The Fire Festival is a yearly tournament held by Zero1 that is open to all wrestlers from around the world, though only one outsider has one the tournament and that was Satoshi Kojima back in 2003.
This tournament was originally created by Hashimoto to see who "is the strongest in the world."
The winner is awarded with the "Fire Festival Sword" which they hold until the next the next years scheduled tournament.
Furinkazan Tag League
Current Reigning Champions:
A yearly Tag Team tournament held by Zero1.
Current Reigning Champion:

A yearly Junior Heavyweight created by the late Shinya Hashimoto that has the interesting concept of being based around the system of a wrestler vying to earn all of the "Dragon Balls." The balls are none other than glass sphere's which when a wrestler gains all of them they are in turn given the ability to make a wish.
An example of the wish is Hidaka asking for Zero1 to sign Shoichi Funaki, his sensei, to a contract.
——————————————————————————————————————————————————————————————————————————————————————————-

Zero1 Wrestler's / Main Roster
◆Fujita, Mineo
◆Hidaka, Ikuto
◆KAMIKAZE
◆Obata, Yusaku
◆Otani, Shinjiro
◆James Raideen
◆Sai, Ryoji
◆Sato, Kohei
◆Sugawara, Takuya
◆Tanaka, Masato
◆Ueda, Shito /Daemon Ueda / Masakado
◆Yokoyama, Yoshikazu
Others
Akebono
Ito, Takafumi
Fujita, Minoru
Kaijin Habu-Otoko
Nagashima, "Jienotsu" Yuichiro
Sato, Hikaru
Sawa, Munenori
Sekimoto, Daisuke

Legends
Hashimoto Shinya
Former Wrestlers / Retired
Kakinuma, Kenta
Saito, Yuzuru
Takanishi, Shota
Hashimoto, Daichi [Left]

Past Gaikokujin Wrestlers
Alex Shelley
Bambi Killer [Chris Raaber]
Chris Sabin
CW Anderson
Frank David
Samoa Joe
Sonjay Dutt
Steve Corino
Craig Classic
Jack Anthony
Jason New
Jonahthan Gresham
Mark Coffey
Maybach β (Boris Brezhnev)
Sebastian (Concrete) Suave
Tama Williams
——————————————————————————————————————————————————————————————————————————————————————————-
Fire Festival
Tenkaichi (Best on Earth) Junior Tournament
| | | | |
| --- | --- | --- | --- |
| Year | Winner | Runner-Up | Other Participants |
| 2002 | Wataru Sakata | Naohiro Hoshikawa | Tatsuhito Takaiwa, Ikuto Hidaka, Kazuhiko Ogasawara, CW Anderson, Dick Togo & Yoshihito Sasaki |
Wish: To face Low-ki and unify the Junior Heavyweight Belts, Result: Win (8/31/2003)
| | | | |
| --- | --- | --- | --- |
| Year | Winner | Runner-Up | Other Participants |
| 2004 | Tatsuhito Takaiwa | Tomohiro Ishii | Hoshikawa, Low-Ki, Osamu Nishimura, Wataru Sakata, Ikuto Hidaka, Leonardo Spanky, Zebraman & Jun Kasai |
Wish: Match against Shinya Hashimoto, Result: Never happend, Hashimoto injured.
| | | | |
| --- | --- | --- | --- |
| Year | Winner | Runner-Up | Other Participants |
| 2005 | Yoshihito Sasaki | Takehiro Murahama | Tatsuhito Takaiwa, Ikuto Hidaka, M. Fujita, Gamma, Danshoku Dino, PSYCO, Sanjay Dutt & Alex Shelley |
Wish: To face the winner of NJPW's Best of the Super Juniors. Result: Never happened.
| | | | |
| --- | --- | --- | --- |
| Year | Winner | Runner-Up | Other Participants |
| 2006 | Minoru Fujita | Sugawara | Gentaro, Billy Moreno, Y. Sasaki, Ausie Ozborne, Chris Sabin, Alex Shelley, M. Fujita, Hidaka, Takaiwa |
Wish: To face his teacher TAJIRI. Result: Loss (October 2006)
| | | | |
| --- | --- | --- | --- |
| Year | Winner | Runner-Up | Other Participants |
| 2007 |  Masato Tanaka |  Mochizuki | Hidaka, Sugawara, Takemura, Minoru Fujita, Naoki Tanizaki, Dick Togo, Sawa, Chad Malenko |
Wish: To hold an event at the Ryogoku Kokugikan.
| | | | |
| --- | --- | --- | --- |
| Year | Winner | Runner-Up | Other Participants |
| 2008 | Tatsuhito Takaiwa | Minoru | Hidaka, Sugawara, Minoru Fujita, Sawa, Great Sasuke, Kinbos Rice |
Wish: To face Yuji Nagata for the ZERO1 World Heavyweight Championship. Result: Loss (Dec. 17, 2008)
| | | | |
| --- | --- | --- | --- |
| Year | Winner | Runner-Up | Other Participants |
| 2009 | Ikuto Hidaka | Prince Devitt | Sugawara, Minoru Fujjita, Munenori Sawa, Sanjay Dutt, Magnitude Kishiwada, Fujita "Jr" Hayato, Akira Tozawa & Hajime Ohara |
Wish: For his sensei FUNAKI to come to ZERO1 and for them to team together. Result: Loss (May 5, 2009)
| | | | |
| --- | --- | --- | --- |
| Year | Winner | Runner-Up | Other Participants |
| 2010 | Ikuto Hidaka | Kaijin Habu Otoko | Munenori Sawa, Tyson Dux, Hikaru Sato, Yuzuru Satio, Mineo Fujita, Sanjay Dutt, Takuya Sugawara, Minoru Fujita |
Wish:  To defend his Jr. Heavyweight belt against close friend Takafumi Ito. Result: Win (March 6, 2011)
| | | | |
| --- | --- | --- | --- |
| Year | Winner | Runner-Up | Other Participants |
| 2011 | Munenori Sawa | Fujita "Jr" Hayato | Hidaka, Mineo Fujita, Ito, Kaijin Habu Otoko, Sugawara, Susumu Yokosuka, Super Crazy, Robby Heart |
Wish: For the final BattlARTS show on 11/5/2011 to be sold out/packed arena. Result: Success (announced to have sold out soon after his win)
| | | | |
| --- | --- | --- | --- |
| Year | Winner | Runner-Up | Other Participants |
| 2012 | Jonathan Gresham | Ikuto Hidaka | Sugawara, Takaiwa, Genki Horiguchi HAGee.Mee!!, HUB, Mineo Fujita, Menso~re Oyaji, Daichi Hashimoto, Craig Classic, Sicodelico Jr., Robbie Heart, Sean Guinness, Frank David, Phil Boyd, Jason New, Ho Ho Lung |
Wish: no wish Result: (pending)