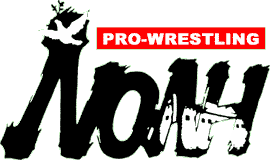 1. History/Info
2. Champions/History
3. Tournaments/League History
4. Current Roster
5. Event Results
6. Links
Pro Wrestling NOAH is a promotions that was formed off of All Japan Pro Wrestling in July of 2000 and has since been the home for the likes of Misawa, Kobashi, and Akiyama as their top talent for the following years. With most of the All Japan talent following with Misawa, NOAH instantly had a lot notoriety and has no issues in gaining strong attendance numbers early on in their inception.
Pro Wrestling NOAH's headquarters is located next to the Ariake Colosseum as well as the Differ Ariake which is known as their home arena.
NOAH's name actually comes from the Bible where it is called from the individual known as Noah who was the one who held the responsibility of building an ark and helping God's creation live on following a massive destructive flood. So NOAH is labeled by many as "NOAH's ark" as it represents the sailing of the promotion from All Japan to start again. You can see many of the theme's even used in the tours from "Departure", "Voyage" and "Navigation".
Something else as of late, that I have been reading, is that NOAH supposedly relies more on a "rank system" other than a true difference in weight and height. This can be noted with the past Heavyweight Title wins by Yoshinari Ogawa and Naomichi Marufuji. Generally the distinction of rank between junior heavyweight and heavyweight are equally treated. Mixed tag matches between the two are common and even mixed singles matches have been held on numerous occasions.
They have been followed by many for having a lot of strong matches in the past 10 years of it's existence and even though they seem to be at an odd place currently, following the death of Misawa in 2009, at this time they are working to build a future to keep Misawa's lineage alive and well.
GHC (Global Honored Crown) Heavyweight Champion
[28th Champion] Katsuhiko Nakajima
Defeated Takashi Sugiura (October 23, 2016)
—————
GHC Heavyweight Tag Team Champions
[37th Champions] Kenoh & Masa Kitamiya
Defeated Go Shiozaki & Maybach Taniguchi on January 21, 2017.
—————
GHC Junior Heavyweight Champion
[33rd Champion] Hajime Ohara
Defeated Taiji Ishimori (January 21, 2017)
—————
GHC Junior Heavyweight Tag Team Champions
[30th Champions] vacant
Defeated 
---
Global league:
~ Yoshihiro Takayama (2010)
~ Takeshi Morishima [2011]
~ KENTA [2012]
~ Yuji Nagata [2013]
~ Takashi Sugiura [2014]
~ Naomichi Marufuji [2015]
~ Minoru Suzuki [2016]
Global Tag League:
~ Yoshihiro Takayama & Takuma Sano (2010)
~ Jun Akiyama & Akitoshi Saito (2011)
~ Naomichi Marufuji & Mohammed Yone (2012)
~ KENTA & Yoshihiro Takayama (2013)
~ Takashi Sugiura & Masato Tanaka (2014)
~ Takashi Sugiura & Masato Tanaka (2015)
~ Naomichi Marufuji & Toru Yano (2016)
Junior Heavyweight League:
~ Yoshinobu Kanamaru (2009)
~ Daisuke Harada [2015]
NTV Cup Junior Heavyweight Tag League:
~ KENTA & Atsushi Aoki (2010)
~ Kotaro Suzuki & Atsushi Aoki (2011)
~ Taiji Ishimori & Atsushi Kotoge (2012)
~ Jushin Thunder Liger & Tiger Mask IV (2013)
~ Hajime Ohara & Kenou (2014)
~ Daisuke Harada & Atsushi Kotoge [2015]
~ Taiji Ishimori & ACH (2016)
---
CURRENT ROSTER: (Updated 1/2017)
● DAISUKE HARADA
● TAIJI ISHIMORI
● KENOH
● MITSUHIRO KITAMIYA
● KAITO KITOMIYA
● ATSUSHI KOTOGE
● HITOSHI KUMANO
● NAOMICHI MARUFUJI
● KATSUHIKO NAKAJIMA
● YOSHINARI OGAWA
● HAJIME OHARA
● AKITOSHI SAITO
● GO SHIOZAKI
● QUIET STORM
● TAKASHI SUGIURA
● SHUHEI TANIGUCHI ~ MAYBACH TANIGUCHI
● MUHAMMAD YONE
OUTSIDE TALENT (2017)
● Rionne Fujiwara (FREE)
● HAYATA
● Hi69 (FREE)
● Alejandro Saez (Chile)
● Tadasuke (FREE)
● YO-HEY (FREE)
---
SUZUKI-GUN (2015-2016)
LANCE ARCHER
SHELTON X BENJAMIN
EL DESPERADO [NJPW]
TAKASHI IIZUKI [NJPW]
TAKA MICHINOKU [K-DOJO]
"THE BRITISH BULLDOG" DAVEY BOY SMITH Jr.
MINORU SUZUKI [Pancrase MISSION]
TAICHI [NJPW]
---
PRE-2015
BRAVE
TAIJI ISHIMORI
ATSUSHI KOTOGE
NAOMICHI MARUFUJI
KATSUHIKO NAKAJIMA [DIAMOND RING]
MOHAMMED YONE
NO MERCY
DAISUKE HARADA
GENBA HIRAYANAGI
AKITOSHI SAITO
TAKASHI SUGIURA
YOSHIHIRO TAKAYAMA (FREE/TAKAYAMA HALL)
Morishima's Army / Chokibogun
KENOH
MITSUHIRO KITAMIYA
HAJIME OHARA
SHUHEI TANIGUCHI ~ MAYBACH TANIGUCHI
TAKESHI MORISHIMA [Retirement planned]
Non-Partisan/Unaffiliated to a group
HITOSHI KUMANO
YOSHINARI OGAWA
SHIRO TOMOYOSE
DIAMOND RING
Satoshi Kajiwara
KENSUKE SASAKI
TMDK [The Mighty Don't Kneel]
Shane Haste [TMDK]
Mikey Nicholls
Jonah Rock
Slex
Crazy Dynasty
Pesadilla [Free]
Super Crazy [Free]
Nagoya Ishin-gun
Masashi Aoyagi [Seishin Hall] (retirement planned)
Alexander Otsuka [AO/DC]
El Samurai [Sportiva]
Hide Kubota [Sportiva]
Yasu Kubota [Sportiva]
Other Talent
SUWA [Free] (out with injury)
Yuto Aijima
Bobby Fish [Free]
Chris Hero
COLT "Boom Boom" CABANA [ROH/FREE]
EDDIE EDWARDS [ROH]
Marshall Von Erich
Ross Von Erich
Tamon Honda (FREE)
MASAO INOUE [FREE]
RICKY MARVIN / BENGALA
Zack Sabre Jr.
Former Wrestlers/Personalities: (Retired/Deceased/Moved)
ATSUSHI AOKI [AJPW]
JUN AKIYAMA [AJPW]
YOSHINOBU KANEMARU [Free]
KENTO MIYAHARA [AJPW]
Trevor Murdoch [WLW]
TAKUMA SANO [FREE]
Shiga, Kentaro (FREE)
GO SHIOZAKI [AJPW]
KOTARO SUZUKI [AJPW]
Yutaka Yoshie [Free]
KENTA [NO MERCY]
● GENBA HIRAYANAGI (Retired 2016)
● SHIRO TOMOYOSE (Retired 2017)
————————————
Kanji "Joe" Higuchi (1/18/1929 – 11/8/2010) (Deceased)
Mitsuharu Misawa (Deceased)
Takeshi Rikioh (Retired)
Bison Smith (Deceased)
KENTA KOBASHI
AKIRA TAUE (President of NOAH)
————————————
Below you will find the Results for the following years in both SPOILER FREE and with the full results in one easily to scroll down list.
Full Card Listing for 2011 (Results Only Right Now)