AJPW NEWS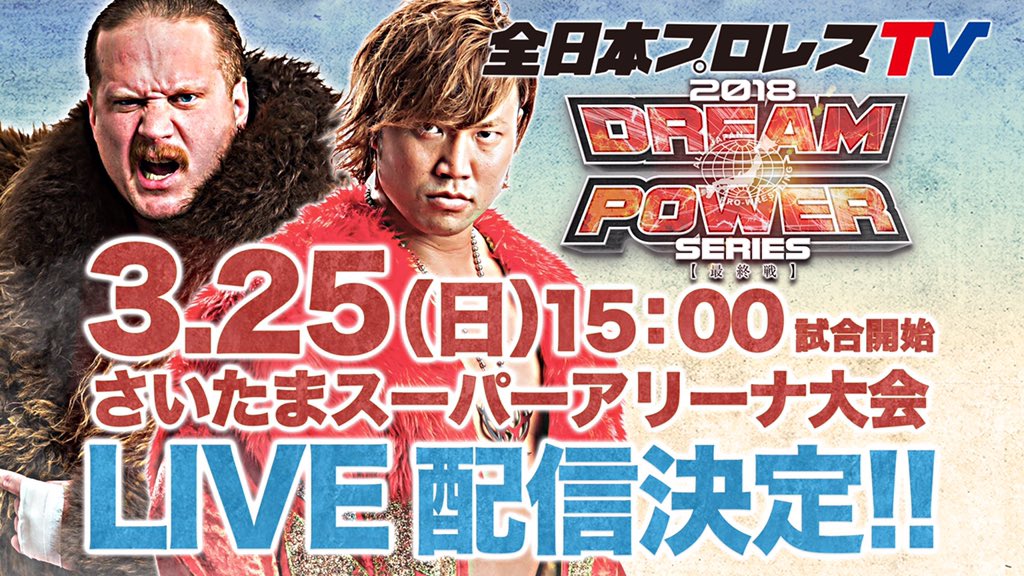 All Japan's digital video distribution service has gone live on AJPW TV. Currently they only have events throughout the year of 2017, but the main highlight will be the big Saitama show on the 25th being free with the service. There is an English option at the top to translate all the information and you will also need to put in your preferred payment, either paypal or credit card, method to watch this months videos. You will not be charged until April which that month will include all of the "2018 Champion Carnival" with a handful being watchable live as they happen.
http://puroresuspirit.net/tag/ajpw/
---
DDT NEWS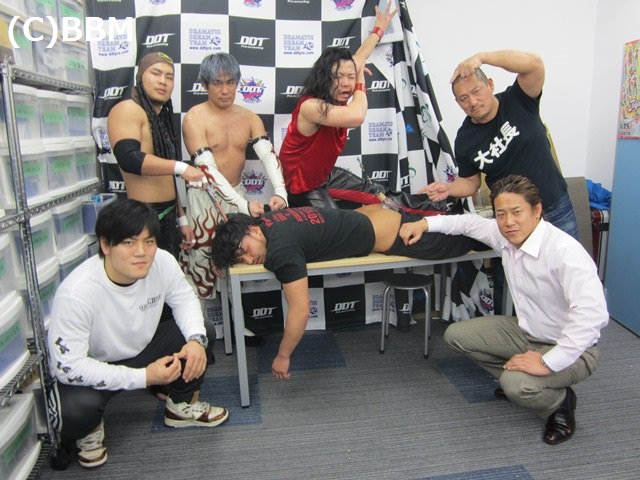 ~ DDT announced that due to the request of the Ryogoku Kokugikan comittee that the previously scheduled street fight was canceled. The match will be taking place under the 5WAY setting, but with the added inclusion of the loser having undergo an anal blast (a rocket fired out of their butt cheeks).
DDT "Judgment 2018 ~ DDT 21st Anniversary Show", 3/25/2018 [Sun] 15:00 @ Ryogoku Kokugikan in Tokyo
(0) Dark Match: Kouki Iwasaki & Shinichiro Tominaga vs. Kenshin Chikano & Akira Joe
(0) Dark Match: Yuka Sakasaki & Shoko Nakajima vs. Tatsumi Rika & Maho Kurone
(0) Dark Match: Mizuki Watase, Daiki Shimomura, Nobuhiro Shimatani & Takato Nakano vs. Mad Paulie, Hoshitango, Tomomitsu Matsunaga, Gota Ihashi & Cherry
() Gauntlet Match: LiLiCo & Makoto Oishi, Reika Saika & Lady Beard, Akito & Shunma Katsumata, Toru Owashi & Kazuki Hirata, Antonio Honda & Ethan Page, Naomi Yoshimura & Keisuke Okuda
() Tokyo Joshi Offer 6 Lady Tag Match: Miyu Yamashita, Maki Ito & Mizuki vs. Saki-sama,Yoshiko-sama & Azusa Christie
() World #1 Craziest Wrestler in DDT Decision Match Joey Ryan vs. Colt "Boom Boom" Cabana
() Ironman Heavy Metalweight Championship Match: [Champion] Super Sasadango Machine vs. [challenger] Jiro "Ikemen" Kuroshio
() Dramatic Dream Match: Great Muta, Daisuke Sasaki & Tetsuya Endo vs. Danshoku Dieno, Keisuke Ishii & Ken Ohka
() Weapon Rumble 5WAY Tag Loser Anal Blast Match: Sanshiro Takagi & Munenori Sawa vs. Mike Bailey & MAO vs. Yuko Miyamoto & Soma Takao vs. Isami Kodaka & Fuminori Abe vs. Michael Nakazawa & Chinsuke Nakamura
() KO-D 6 Tag Championship Match: [Champions] KUDO, Yukio Sakaguchi & Masahiro Takanashi vs. [Challengers] Kota Umeda, Yuki Ueno & Koju Takeda
() KO-D Tag Championship Match: [62nd Champions] HARASHIMA & Naomichi Marufuji vs. [Challengers] Kazusada Higuchi & Daisuke Sekimoto
~ 6th title defense.
() KO-D Openweight Championship Match: [61st Champion] Konosuke Takeshita vs. [Challenger] Shuji Ishikawa
~ 11th title defense.
http://puroresuspirit.net/tag/ddt/
---
FREEDOMS NEWS
~ It was announced that Kenji Fukimoto was unable to best Violento Jack to capture the FREEDOM WORLD belt, though the upcoming Korakuen Hall show on March 22 will still see Fukimoto taking on Takeda in a death match. The full event card for the show looks as follows…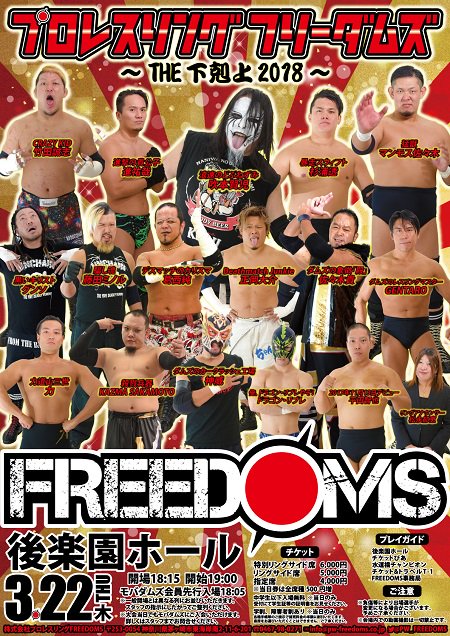 Pro-Wrestling FREEDOMS, "THE Gekokujo 2018", 3/22/2018 [Thu] 19:00 @ Korakuen Hall in Tokyo
(0) Trainee vs. (to be announced)
(1) Dragon Libre & Tomoya Hirata vs. Brahman Shu & Brahman Kei
(2) Kamui vs. KAZMA SAKAMOTO
(3) Yuya Susumu & Masamune vs. Minoru Fujita & Chikara
(4) GENTARO & Kenichiro Arai vs. Gunso & 'brother' YASSHI
(5) KING of FREEDOM WORLD TAG CHAMPIONSHIP Match: [13th Champions] Mammoth Sasaki & Toru Sugiura vs. [Challengers] Mr. Gannosuke & Yuko Miyamoto
~ 10th title defense.
(6) FREEDOMS vs BASARA Fluorescent Light-tubes + TLC Death Match: Jun Kasai, Takashi Sasaki & Daisuke Masaoka vs. FUMA, (to be announced) & (to be announced)
(7) 4 corner of Pain + Alpha Death Match: Kenji Fukimoto vs. Masashi Takeda
http://puroresuspirit.net/tag/freedoms/
---
K-DOJO NEWS
~ Following the outcome of the Shinkiba 1stRING show on Sunday, the headlining title matches were announced for the Korakuen Hall show in April.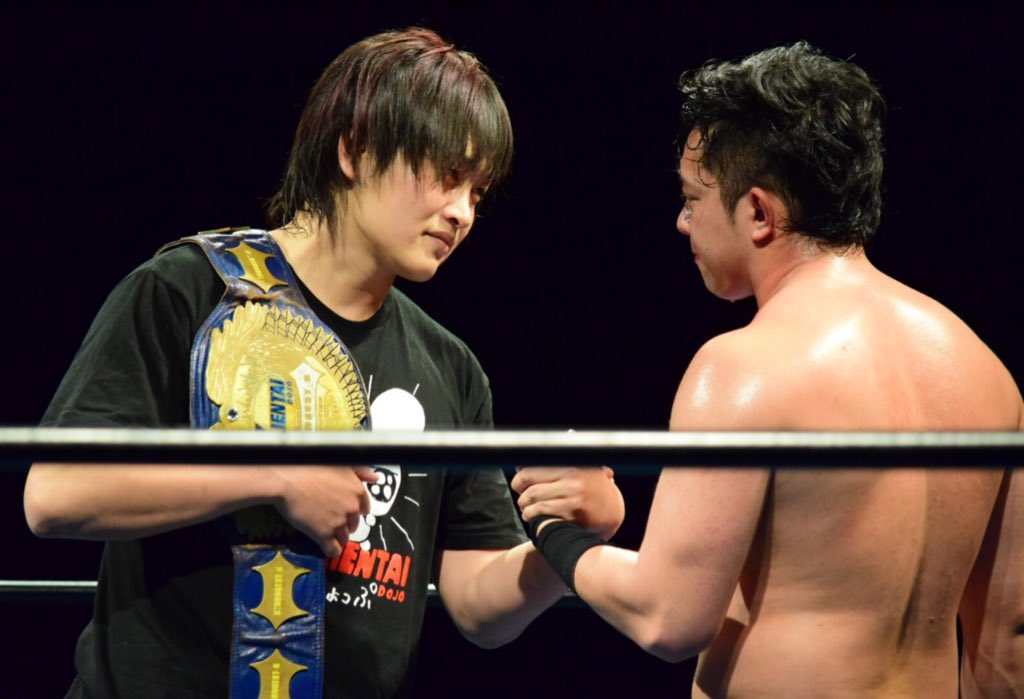 KAIENTAI DOJO 16th Anniversary Show CLUB-K SUPER evolution 16, 4/22/2018 [Sun] 12:00 @ Korakuen Hall in Tokyo
(-) Aizu Trainee Debut Match: (to be determined)
(-) Kagoshima Trainee Debut Match: Ayame Sasamura vs. Kagoshima
(-) UWA World Middleweight Championship Match: [66th Champion] Masamune vs. [Challenger] Shiori Asahi
~ 1st title defense.
(-) STRONGEST-K TAG Championship Match: [36th Champions] Tank Nagai & Isami Kodaka vs. [Challengers] Kengo Mashimo & Kunio Toshima
~ 3rd title defense.
(-) CHAMPION OF STRONGEST-K Match: [25th Champion] Taishi Takizawa vs. [Challenger] Ayato Yoshida
http://puroresuspirit.net/tag/k-dojo/
---
MICHIPRO NEWS
~ The full event card was announced for the April 14 show at the Shinkiba 1stRING. The main event will see the new Double Crown Tag Champions in GAINA and Nohashi defending against the Yappers.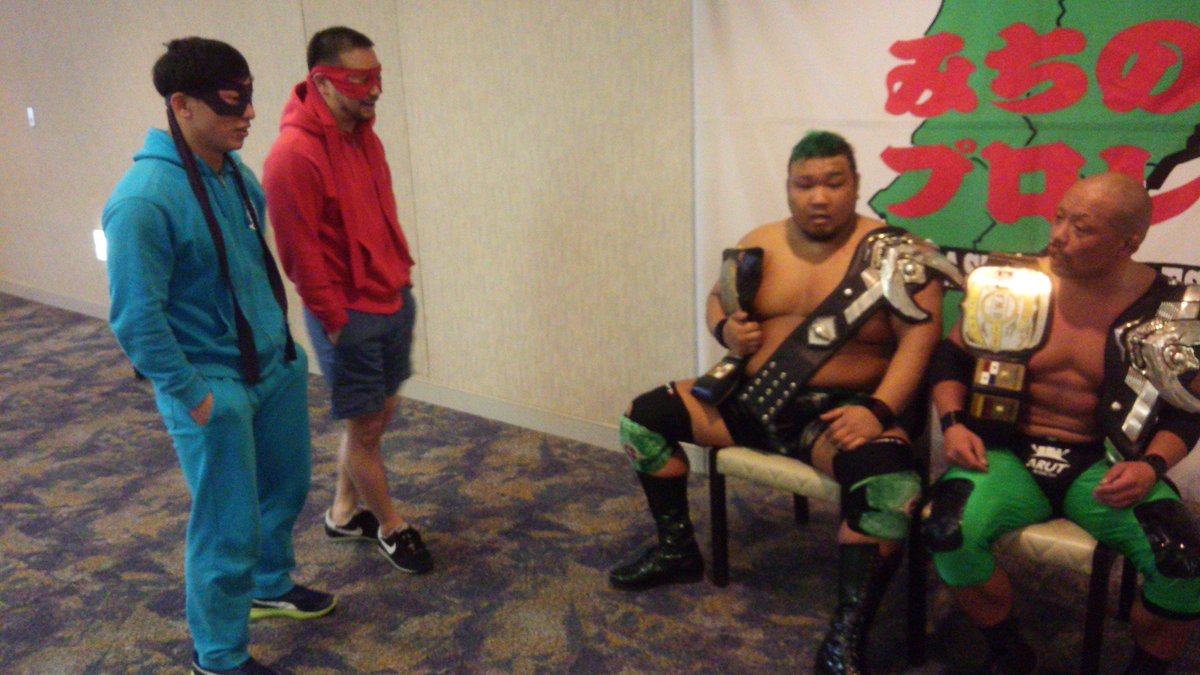 Michinoku Pro-Wrestling "Tokyo Show Vol. 2 ~ The time has come", 4/14/2018 [Sat] 19:00 @ Shinkiba 1stRING in Tokyo
(1) Yasutaka Osera & Koji Kawamura vs. Towa Iwasaki & Shoki Kitamura (both ZERO1)
(2) Yapperman #3 vs. Riho (Gatoh Move)
(3) The Great Sasuke, Brahman Shu & Brahman Kei vs. Manjimaru, Ken45° & Ayumu Gunji
(4) Numajiro Kesen & Rasse vs. Rui Hyugaji & Kengo
(5) Tohoku & UWA World Tag Double Championship Match: [25th & 24th Champions] GAINA & Taro Nohashi vs. [Challengers] Yapperman #1 & Yapperman #2
~ 1st title defense.
~ Then it was made official that Rui Hyugaji will be defending the Tohoku Jr. belt against Taro Nohashi on June 24 in Sendai.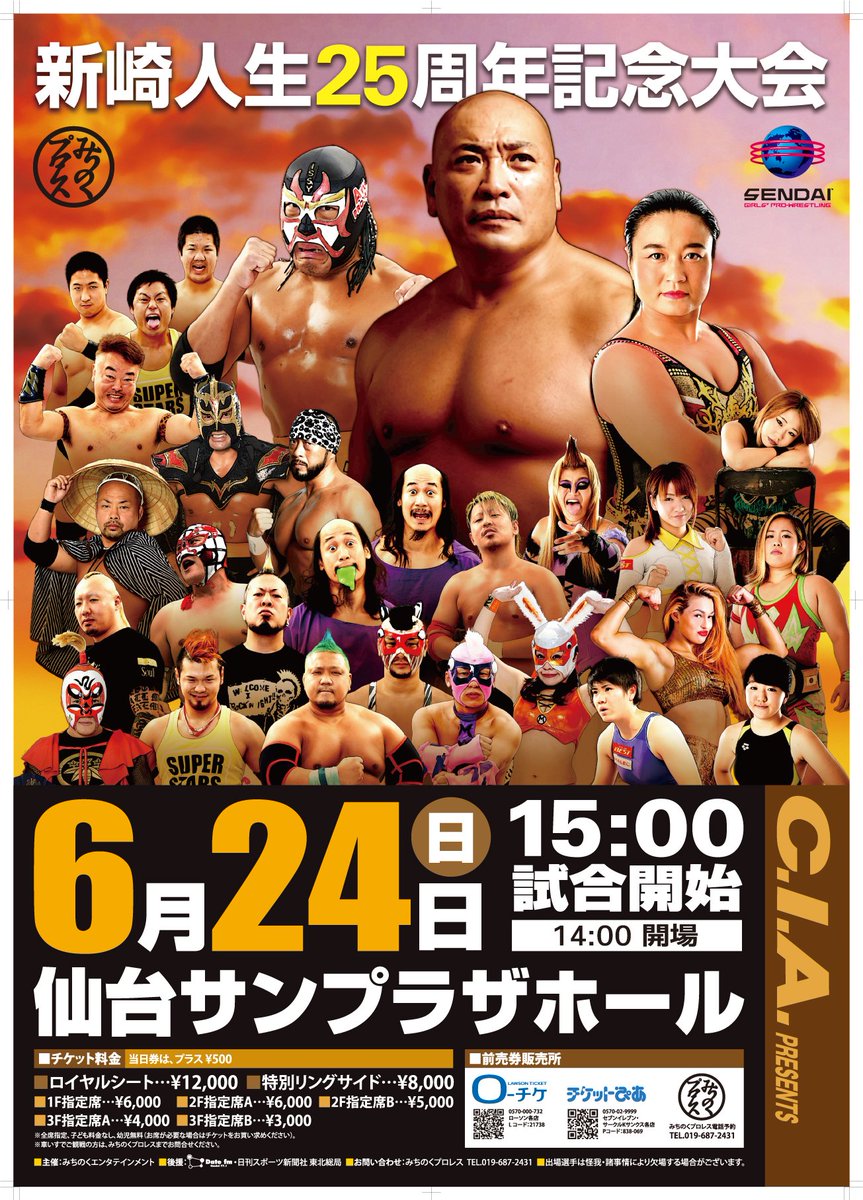 Michinoku Pro-Wrestling "Jinsei Shinzaki 25th Anniversary Show", 6/24/2018 [Sun] 15:00 @ Sendai City Sun Plaza Hall
(-) Tohoku Junior Heavyweight Championship Match: [21st Champion] Rui Hyugaji vs. [Challenger] Taro Nohashi
~ 2nd title defense.
http://puroresuspirit.net/tag/michipro/
---
NJPW NEWS
~ The full event card was announced for the March 21 show, which will see the final match of the NEW JAPAN CUP.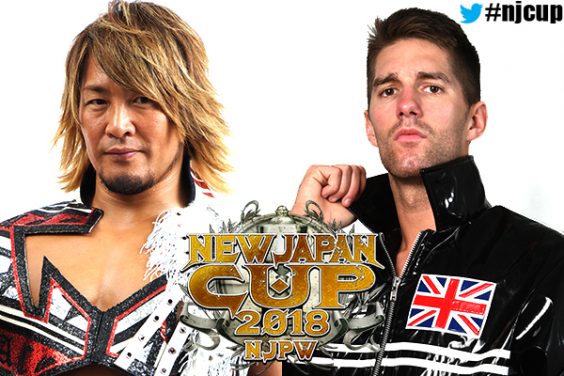 NJPW "New Japan Cup 2018" 3/21/18 [Wed] 15:00 @ Ao-re Nagaoka in Niigata
(1) Shota Umino vs Tetsuhiro Yagi
(2) Tomoyuki Oka vs Taichi
(3) Togi Makabe, Michael Elgin & Toa Henare vs Bad Luck Fale, Yujiro Takahashi & Tanga Loa
(4) Tomohiro Ishii & Toru Yano vs Lance Archer & Davey Boy Smith Jr.
(5) Juice Robinson & David Finlay vs Hirooki Goto & YOSHI-HASHI
(6) Tetsuya Naito, SANADA, BUSHI & Hiromu Takahashi vs Minoru Suzuki, Takashi Iizuka, Yoshinobu Kanemaru & El Desperado
(7) Kazuchika Okada & Chuckie T vs Kota Ibushi & Chase Owens
(8) New Japan Cup Finals Match: Hiroshi Tanahashi vs Zack Sabre Jr.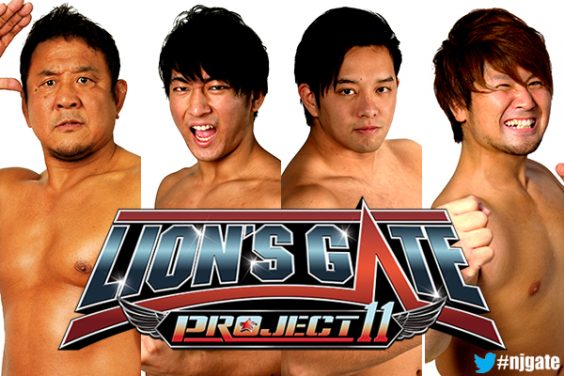 ~ Then the full event card was announced for the next LION'S GATE show on April 10 at the Shinjuku FACE. The main event will see the recently returned from injury Ayato Yoshida will team with his fellow K-DOJO teammate in GO Asakawa to take on Yuji Nagata and Shota Umino. Then Tenzan and Nakanishi will team to take on the BAD BOY Michinoku team of Manjimaru and Ken45°.  Vetern "Mr. Senton" Hiro Saito will make his return to the New Japan ring as he teams with Gedo to take on Tiger Mask and Tetsuhiro Yagi.
~ Then two new rookies will be making their debut's on the show with Yota Tsuji 辻陽太 and Yuya Uemura 上村優也 .
Yota's stats : 182cm, 91kg, born on September 8, 1993 from Yokohama, Kanagawa. He began training in the New Japan Dojo on April 2017 and has a history in American Football, Taekwondo, and Baseball.
Then Yuya Uemura is 180cm and weighs in at 82kg, from Imabari, Ehime. He also began training in the New Japan Dojo in April of 2017. He has a history in Greco-Roman and won championships and awards at the 71kg class.
LION'S GATE PROJECT 11, 4/10/18 [Tue] 19:00 @ Shinjuku FACE in Tokyo
(1) Yuya Uemura Debut Match: Ren Narita vs. Yuya Uemura
(2) Tsuji Yota Debut Match: Tomoyuki Oka vs. Tsuji Yota
(3) Tiger Mask & Tetsuhiro Yagi vs. Hiro Saito & Gedo
(4) Hiroyoshi Tenzan & Manabu Nakanishi vs. Manjimaru & Ken45° (both Michinoku Pro)
(5) Yuji Nagata & Shota Umino vs. Ayato Yoshida & GO Asakawa (both K-DOJO)
---
WRESTLE-1 NEWS
~ A couple matches were announced for the Saitama show on March 28.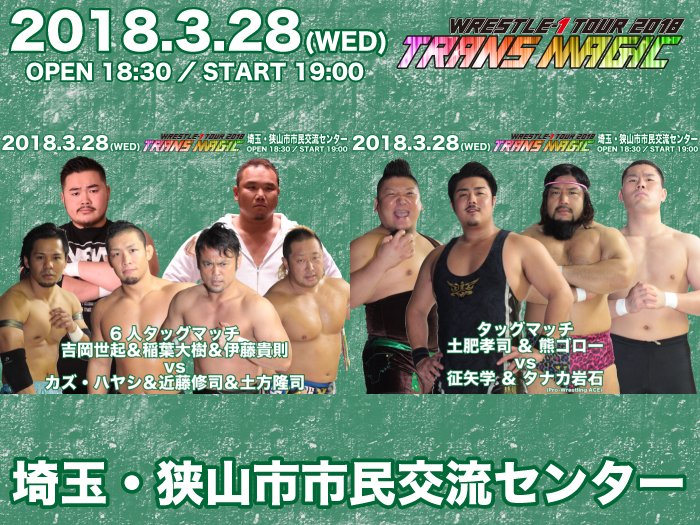 WRESTLE-1 TOUR 2018 TRANS MAGIC, 3/28/2018 [Wed] 19:00 @ Sayama City Shimin Koryu Center in Saitama
(-) Seiki Yoshioka, Daiki Inaba & Takanori Ito vs. Kaz Hayashi, Shuji Kondo & Ryuji Hijikata (FREE)
(-) Koji Doi & Kumagoro vs. Manabu Soya & Ganseki Tanaka
http://puroresuspirit.net/tag/w-1/
---
If you enjoy these posts of the site in general, please support us through Patreon by clicking the picture below. All patronages, of at least $1 a month, will go to help pay for the server costs to keep the site up and running.
Thanks for helping keep the spirit alive!