AJPW NEWS
A press conference was held today as the next Triple Crown and World Tag defenses have been set, Yusuke Okada joins Evolution, and Maruyama to hold a "out of contract" self-produce show in March.
First up, It has been made official that Joe Doering will be defending the Triple Crown Heavyweight belt against Kento Miyahara on March 25 at the Saitama Super Arena, Community Hall. Miyahara, who just capture the World Tag belts, stated that he aiming to capture the 5 crown (triple and tag belts) as he seeks to once more become the #1 wrestler in the promotion, especially heading into the "Champion Carnival" in April. Doering though is out to show himself as a the strongest foreign wrestler in Japan today and is eager to further secure his reign champion.
The World Tag belts will be in defense on February 25 in Osaka, as the new champions in Kento Miyahara & Yoshitatsu take on Zeus & The Bodyguard in the hometown. The champions will certainly have the edge against them, but it is a welcomed challenge for them to begin their run with a strong start. Then Zeus has declared that he wants to make 2018 his year and that he wants to be champion once more. He is currently focused on the World Tag belts, as he wants the added momentum heading into the Carnival.
Suwama and Yusuke Okada then took part in the press conference as the rookie was formally accepted into the "Evolution" group. Suwama stated that he was weary of accepting to the rookies request to join the group, but after the raid by Kazuyuki Fujita, Kendo Kashin and NOSAWA Rongai he was pleased by the fire that the rookie shown in trying to fend them off. Suwama stated that this offer is oepn to Hikaru Sato as well, who used to be part of the group, but Hikaru stated that he prefers to be his own man though he is still in favor of legacy of the All Japan ring. Suwama made it known that he wants to take on Fujita's Army head on and said that he would accept a match at the Saitama show in March, if possible.
Then Atsushi Maruyama will be hosting his own self-produced show on March 12 at the Shinkiba 1stRING, as he plans to retire his Weekday Mask character. To have the right to hold the show Maruyama will temporarily be released from his contract from March 7th through the 15th. Though due to on oversight on his contract, no official seal, Maruyama's contract is now open. Akiyama though has placed an ultimatum for Maruyama to draw more than 100 people for the show or his contract renewal with All Japan will be withheld indefinitely. Maruyama announced that Weekday Mask will be taking on Atsushi Aoki, who is also currently competing in a mask. Maruyama stated that more wrestlers will be competing on the show from Buffalo and Yasu Urano.
Pro-Wrestling 009 Weekday Mask Retirement Show, 3/12/2018 [Mon] 19:00 @ Shinkiba 1stRING in Tokyo
(-) Weekday Mask vs. Atsushi Aoki
http://puroresuspirit.net/tag/ajpw/
---
BJW NEWS
~ Strong BJ will be leading this years Ikkitosen, as all 12 wrestlers were announced for the "Ikkitosen 2018 ~STRONG CLIMB~". The league will see a split block systems and will begin on March 8 at the Shinkiba 1stRING, two semi-final matches on April 14, and the final match on April 15 at the Sasukino Mars Gym.
Announced to be competing…
★ Daichi Hashimoto (reigning World Strong Champion)
★ Daisuke Sekimoto
★ Hideki Suzuki (FREE)
★ Yasufumi Nakanoue
★ Ryota Hama
★ Ryuichi Kawakami
★ Hideyoshi Kamitani
★ Yoshihisa Uto
★ Kazuki Hashimoto
★ Kazumi Kikuta
★ Takuya Nomura
★ Yuya Aoki
http://puroresuspirit.net/tag/bjw/
---
DDT NEWS
~ The full event card was announced for the Korakuen Hall show on February 25.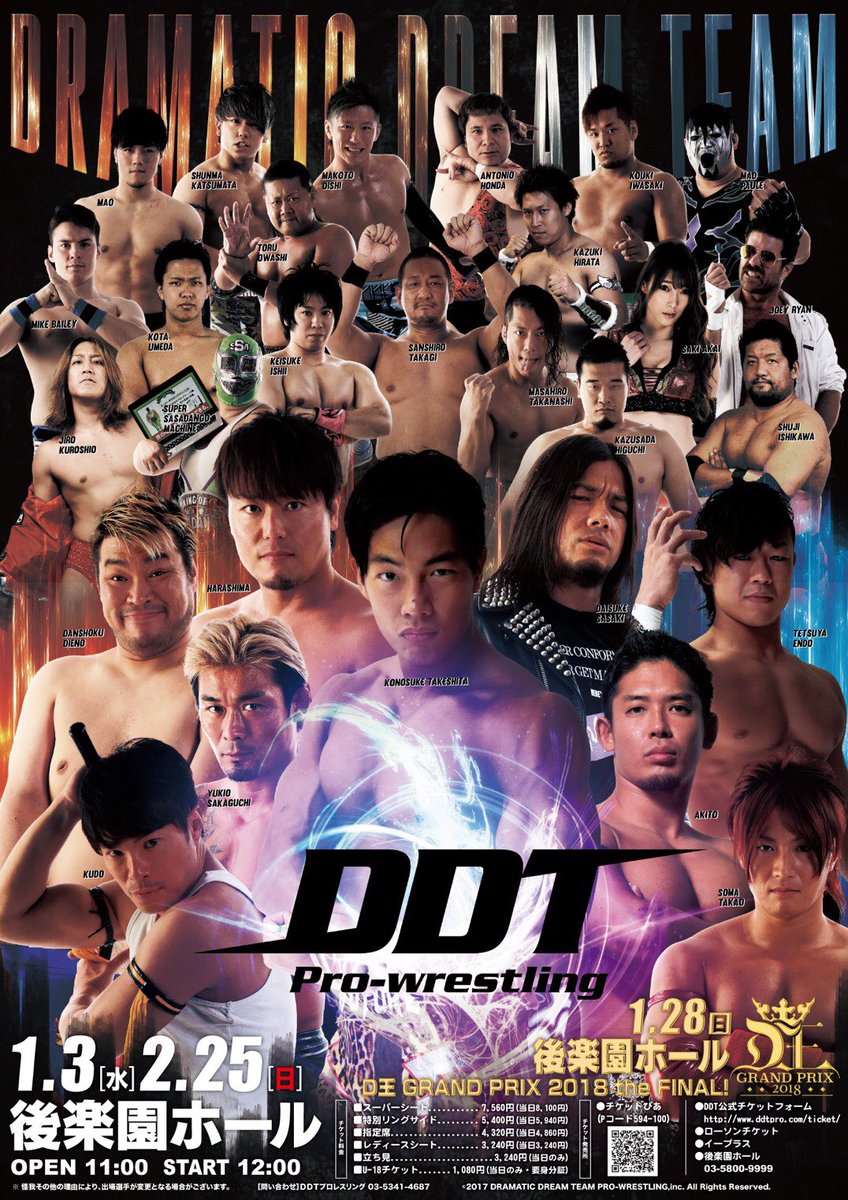 DDT "Into The Fight 2018", 2/25/2018 [Sun] 12:00 @ Korakuen Hall in Tokyo
() Dark Match: Mad Paulie vs. Tomomitsu Matsunaga
() Infomercial Match: Danshoku Dieno, Saki Akai, Akito, Antonio Honda, Kouki Iwasaki & Mizuki Watase
() Tag Rumble: Sanshiro Takagi & Sasadango Machine vs. Toru Owashi & Kazuki Hirata vs. Soma Takao & MAO vs. Makoto Oishi & Kota Umeda vs. Yuki Ueno & Koju Takeda
() Daisuke Sasaki & Tetsuya Endo vs. Keisuke Ishii & Ken Ohka
() KO-D 6 Tag Championship Match: [Champions] KUDO, Yukio Sakaguchi & Masahiro Takanashi vs. [Challengers] Ryuichi Sekine, Ryota Nakatsu & Fuminori Abe
() DDT EXTREME Championship Match: [40th Champion] Yuko Miyamoto vs. [Challenger] Shunma Katsumata
~ 2nd title defense.
() Special Single Match: Naomichi Marufuji vs. Kazusada Higuchi
() Special Tag Match: Konosuke Takeshita & HARASHIMA vs. Shuji Ishikawa & Daisuke Sekimoto
http://puroresuspirit.net/tag/ddt/
---
NOAH NEWS
~ The event cards have been updated for the shows taking place throughout this month. Among the major additions is a tag match for the Korakuen Hall show on February 22, as Naomichi Marufuji teams with Atsushi Kotoge to take on Hideki Suzuki and Jay Bradley.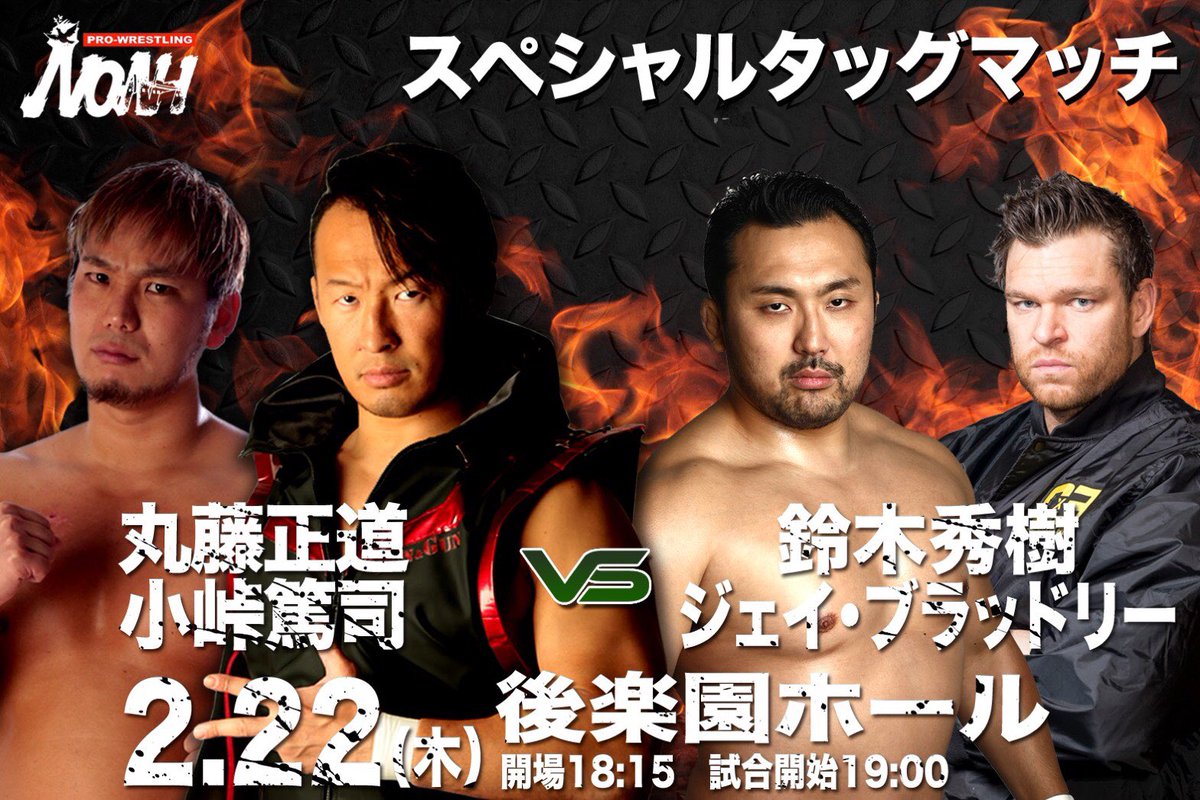 ---
I have updated the February Event Listings to also include a separate page for this month's announced title matches. I know a few people have asked for me to bring back the title match updates, so hopefully this may suffice as some form of a replacement.
---
If you enjoy these posts of the site in general, please support us through Patreon by clicking the picture below. All patronages, of at least $1 a month, will go to help pay for the server costs to keep the site up and running.
Thanks for helping keep the spirit alive!
https://www.patreon.com/PuroresuSpirit