FREEDOMS "FREEDOM Valentine 2018", 2/8/2018 [Thu] 19:00 @ Shinkiba 1stRING in Tokyo
227 Spectators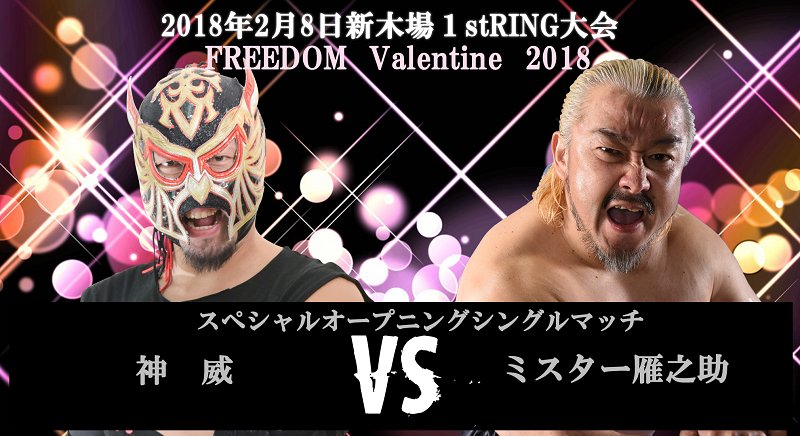 (1) Kamui vs. Mr. Gannosuke (GUTS World)
◆Winner: Gannosuke (10:37) with a Gannosuke Clutch.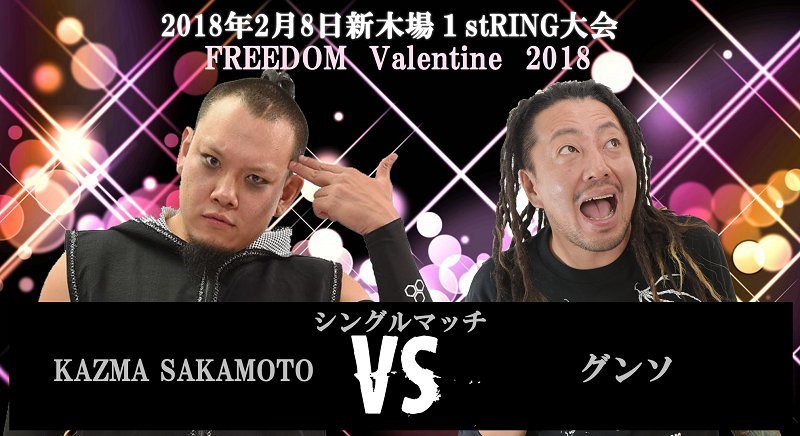 (2) KAZMA SAKAMOTO (FREE) vs. Gunso (DOVE)
◆Winner: No Contest (8:12)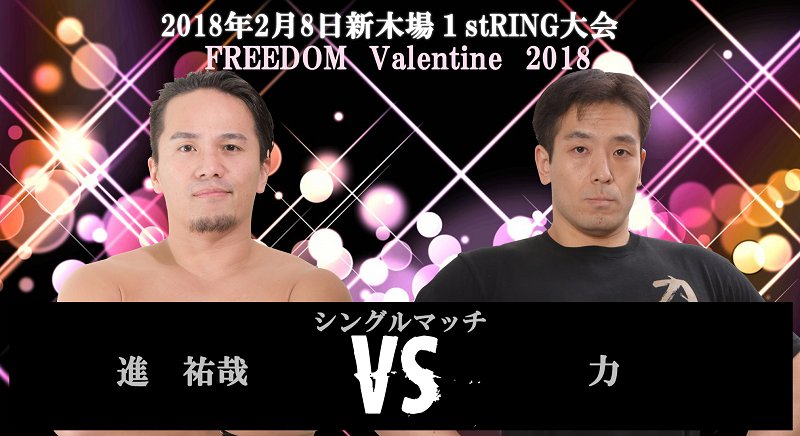 (3) Yuya Susumu vs. Chikara (RikiEnterprise)
◆Winner: Susumu (9:05) with a Calf Lock.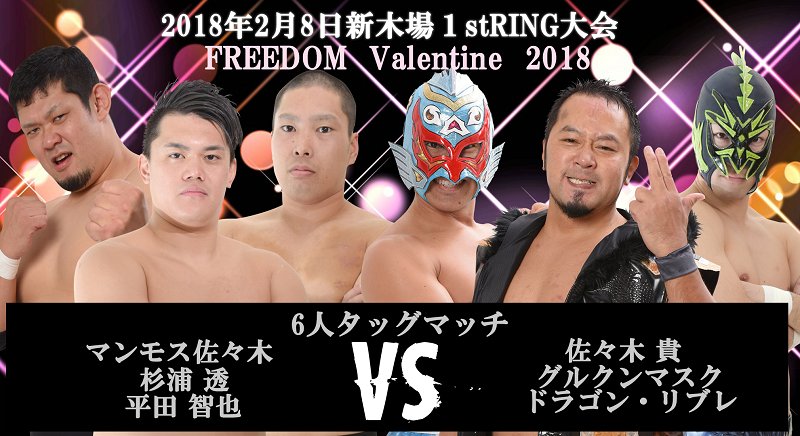 (4) Mammoth Sasaki, Toru Sugiura & Tomoya Hirata vs. Takashi Sasaki, Gurukun Mask (Ryukyu Dragon) & Dragon Libre
◆Winner: Hirata (16:20) following a Spine Buster on Libre.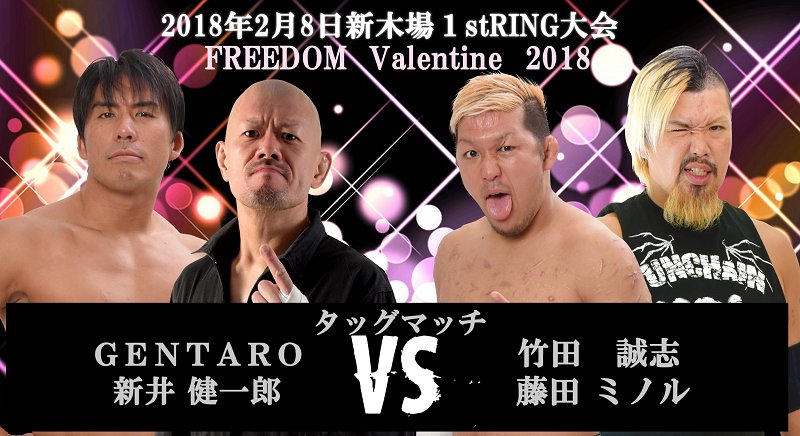 (5) GENTARO & Kenichiro Arai (DG) vs. Masashi Takeda (FREE) & Minoru Fujita (Gurentai)
◆Winner: GENTARO (12:57) with a Ground Cobra Twist on Fujita.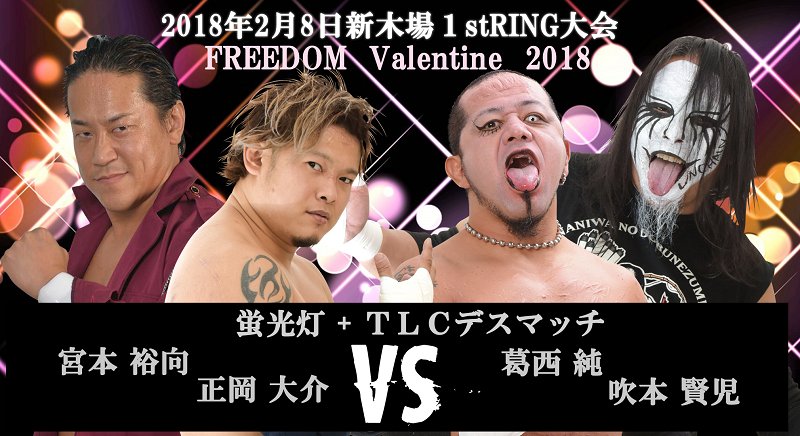 (6) Fluorescent Light-tube + TLC Tag Death Match: Daisuke Masaoka & Yuko Miyamoto (666) vs. Jun Kasai & Kenji Fukimoto
◆Winner: Fukimoto (17:13) following a Package Piledriver on Masaoka, onto fluorescent lights.
~ Fukimoto with the win, as he maintains momentum heading into his match against Violento Jack for the King of Freedom belt on March 17 in Mexico (DTU).
http://puroresuspirit.net/tag/freedoms/
Upcoming…
FREEDOMS, 2/11/2018 [Sun] 18:00 @ Hiroshima Sangyo Kaikan Nishidate West Building
() Brahman Palona, Brahman Shu & Brahman Kei vs. Chikara, Kamui & Dragon Libre
() KAZMA SAKAMOTO w/ Devil Magician vs. Rising HAYATO w/ Cutie Elly
() GENTARO vs. Takeshi Okada
() Mammoth Sasaki, Toru Sugiura & Tomoya Hirata vs. Minoru Fujita, Gunso & 'brother' YASSHI
() UWA World Junior Heavyweight Championship Match: [31st Champion] Yuya Susumu vs. [Challenger] Kenshin Chikano
~ 5th title defense.
() Fluorescent Light-tubes + Glass Board & Bring Your Own Weapons Death Match: Takashi Sasaki, Daisuke Masaoka & Yuko Miyamoto vs. Jun Kasai, Masashi Takeda & Kenji Fukimoto