AJPW NEWS
All Japan held a press conference today to highlight the upcoming title matches scheduled for the Yokohama show on February 3.
Though among the updates is that Takao Omori will be out of action as he is dealing with a herniated disc in his neck. Omori fought through two tag title matches in the beginning of the year, but due to the World Tag title loss and the defeat in the Asia Tag the veteran has decided to take a much needed break. Omori stated that he is currently undergoing consultation in regards to the state of the injury, which he has been dealing with since the World Tag League, but that he could be out for an extended period of time given his age and prior injuries. The remainder of the January event cards have been updated to reflect upon Omori's absence.
Jun Akiyama then announced his intentions of going back after the Asia Tag belts at the Yokohama show, as he will be teaming with New Japan's Yuji Nagata to challenge Naoya Nomura and Yuma Aoyagi. Akiyama and Nagata being no strangers in the past have been both together and at odds at several points in the past. Which much can now be appointed to Nagata and Aoyagi who have faced each other at New Japan's LION'S GATE shows. Aoyagi has found himself on the losing end in challenging the New Japan veteran but aims to finally prove himself as a fighting champion. The Asia Tag Champions currently hold a twin win edge over Akiyama in recent matches as they now look to defend their belts in what is their toughest challenge yet.
Suwama and Ishikawa and then Kento Miyahara and Yoshitatsu took part in the signing ceremony for their World Tag match at the Yokohama show. Suwama kicked off the press by stating that he is not fully certain that the challengers deserve the right to challenge. This coming from the World Tag League in which the Suwama and Doering claimed the win over them, 12/12. To Suwama there is no merit in a rematch taking place, but the challengers have been adamant in their recent provocations to them. Before the title match, Suwama and Yoshitatsu will have a singles encounter on 1/14 as Suwama aims to break the challenger before hand. All four men look to make 2018 their year and this match will indeed be a strong statement for just that.
Then lastly, Joe Doering and KAI took part in their signing ceremony for the Triple Crown title match. KAI stated that he is thankful and eager to be allowed the chance to make the challenge in his hometown area. Then also that he even finds the timing of this challenge strange as his former ally and rival in SANADA also gets a chance at the IWGP Heavy belt the following week. Doering and KAI go back many years from when the two shared time together in the dojo over 10 years ago now. Both have went down different paths but it can now be a sense of destiny that they would meet now. Doering stated that he hopes that KAI brings his best in challenge because he will have to be just that if he plans to take the belt from him.
Below is the current event card for the Yokohama show…
All Japan Pro-Wrestling "2018 YOKOHAMA TWILIGHT BLUES SPECIAL", 2/3/2018 [Sat] 17:00 @ Yokohama Cultural Gymnasium in Kanagawa
(-) Asia Tag Championship Match: [103rd Champions] Naoya Nomura & Yuma Aoyagi vs. [Challengers] Jun Akiyama & Yuji Nagata
~ 5th title defense.
(-) World Junior Heavyweight Championship Match: [46th Champion] TAJIRI vs. [Challenger] Atsushi Aoki
~ 4th title defense.
(-) World Tag Championship Match: [78th Champions] Suwama & Shuji Ishikawa vs. [Challengers] Kento Miyahara & Yoshitatsu
~ 1st title defense.
(-) Triple Crown Heavyweight Championship Match: [59th Champion] Joe Doering vs. [Challenger] KAI
~ 3rd title defense.
---
BASARA NEWS
~ Ryuichi Sekine was announced to be holding his 10th anniversary at the upcoming show on January 21.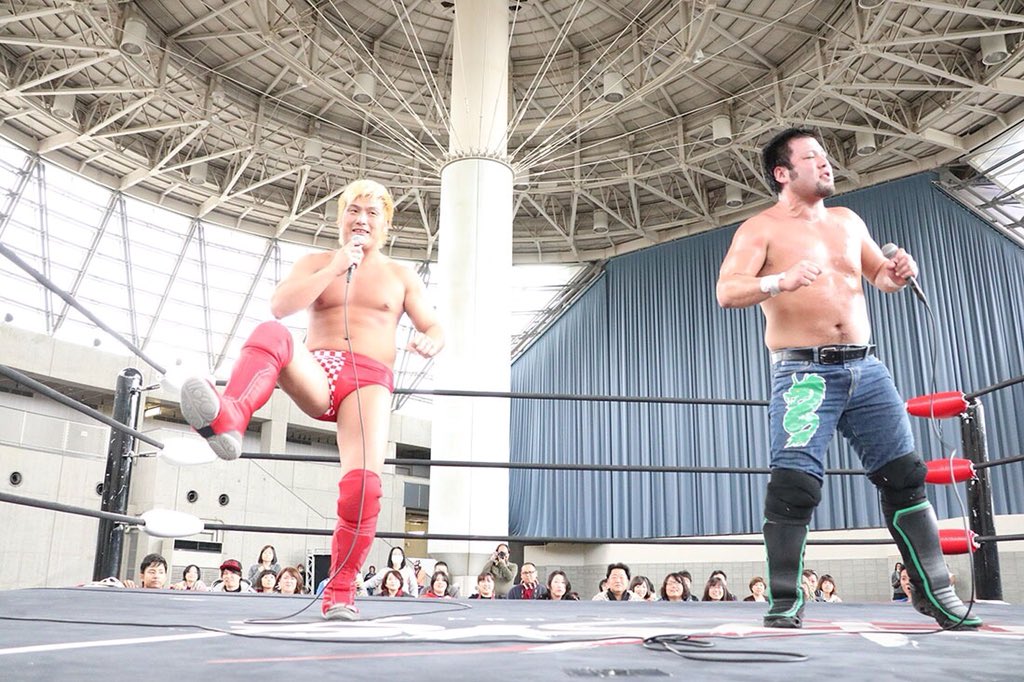 Pro-Wrestling BASARA, 1/21/2018 [Sun] 16:30 @ Oji BASEMENT MONSTAR in Tokyo
() Ryuichi Sekine 10th Anniversary Match: Ryuichi Sekine vs. Ryota Nakatsu
http://puroresuspirit.net/tag/basara
---
BJW NEWS
~ Takuya Nomura versus Fuminori Abe was announced to be the main event for the young wrestler produce show on January 17.
BJW "TO WAS GAT EARLY", 1/17/2018 [Wed] 19:00 @ Shinkiba 1stRING in Tokyo
(1) Hideyoshi Kamitani vs. Takuho Kato
(2) Kazuki Hashimoto vs. Masaki Morihiro
(3) Daichi Hashimoto vs. Takayuki Ueki
(4) Tatsuhiko Yoshino & Kota Sekifuda vs. Yoshihisa Uto & Kazumi Kikuta
(5) BJW vs. AJPW: Yuya Aoki vs. Yusuke Okada (AJPW)
(6) BJW vs. BASARA: Takuya Nomura vs. Fuminori Abe (BASARA)
~ Then the full event card was announced for the January 25 show at Korakuen.
BJW, 1/25/2018 [Thu] 18:30 @ Korakuen Hall in Tokyo
(1) Kazumi Kikuta & Takuho Kato vs. Takuya Nomura & Masaki Morihiro
(2) Tsutomu Oosugi, Hercules Senga & Minoru Fujita vs. Jaki Numazawa, Shu & Kei Brahman
(3) Scramble Bunk House & Barbed Wire Board 6 Tag Death Match: Yuko Miyamoto, Isami Kodaka & Kankuro Hoshino vs. Masaya Takahashi, Takayuki Ueki & Toshiyuki Sakuda
(4) Tatsuhiko Yoshino & Kota Sekifuda vs. Fuminori Abe (BASARA) & Yuya Aoki
(5) Ryota Hama & Yasufumi Nakanoue vs. Daichi Hashimoto & Hideyoshi Kamitani
(6) Daisuke Sekimoto, Hideki Suzuki (FREE) & Kohei Sato (ZERO1) vs. Ryuichi Kawakami, Yoshihisa Uto & Taishi Takizawa (K-DOJO)
(7) BJW Junior Heavyweight Championship Match: [1st Champion] Shinobu (666) vs. [Challenger] Kazuki Hashimoto
~ 5th title defense.
(8) BJW Tag Championship ~ Madness of love ~ Proof of crazy love Fluorescent Light-tubes + Nail Board + Alpha Death Match: [44th Champions] Abdullah Kobayashi & Ryuji vs. [Challengers] Masashi Takeda & Takumi Tsukamoto
~ 4th title defense.
http://puroresuspirit.net/tag/bjw/
---
DNA NEWS
~ Three more matches were announced as the full card is now set for the upcoming show on January 21 in Saitama.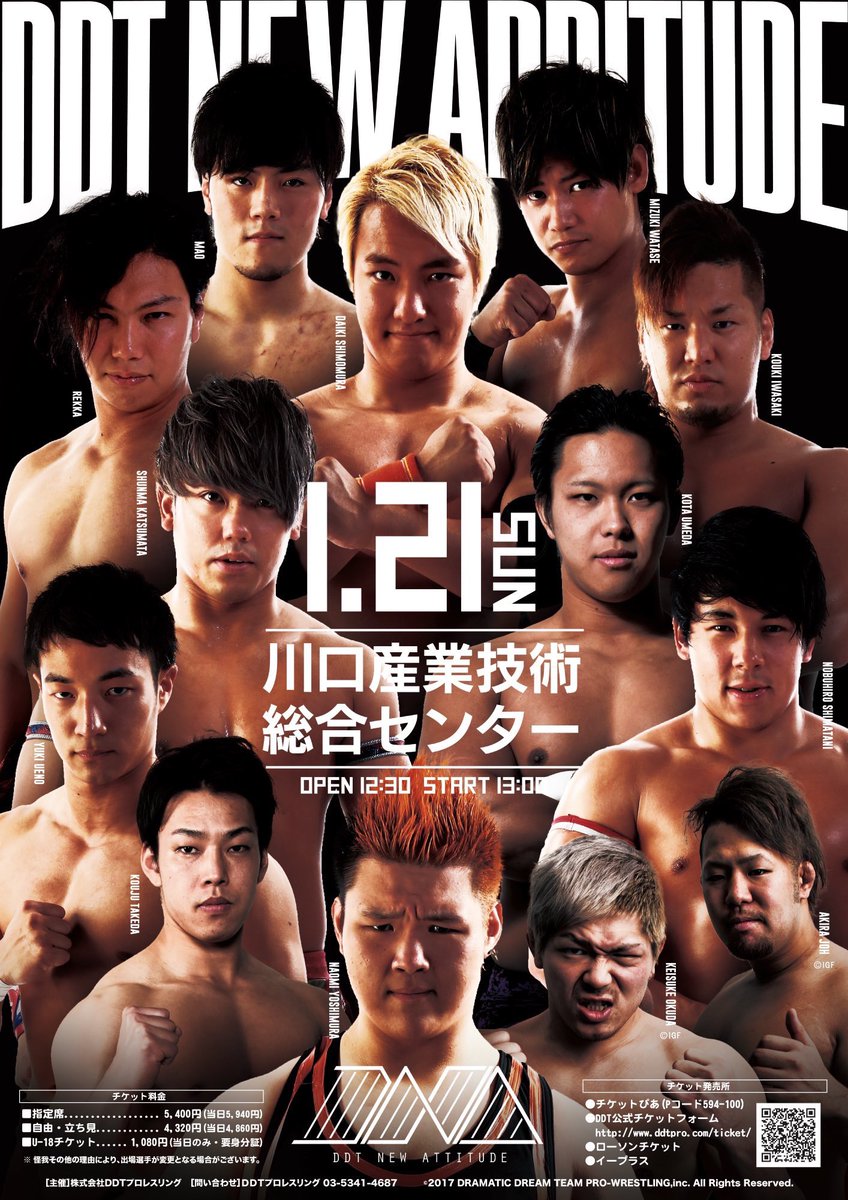 DNA 40, 1/21/2018 [Sun] 13:00 @ Kawaguchi Sangyo Gijutsu Sogo Center in Saitama
() Mizuki Watase vs. Antonio Honda (DDT)
() Shunma Katsumata vs. Rekkka
() Mike Bailey vs. Tomoya Hirata (FREEDOMS)
() Yuki Ueno & Koju Takeda vs. Tetsuya Endo & Mad Paulie
() Gran MilliMeters vs Speed of Sounds: Daiki Shimomura & Nobuhiro Shimatani vs. Tsutomu Oosugi & Hercules Senga
() DNA Army vs Yoshimura Gundan Elimination 6 Man Tag Match: Kota Umeda, Kouki Iwasaki & MAO vs. Naomi Yoshimura, Keisuke Okuda & Akira Joh
http://puroresuspirit.net/tag/dna/
---
NOAH NEWS
~ Ishimori is currently off the NOAH tour as he has obligations with Impact Wrestling this weekend. The the next televised show will see him defend the X-DIVISION belt against Dezmond Xavier.
The match is official. Next week on IMPACT @DezmondXavier challenges @noah_ghc's @taiji_ishimori for the X-Division Championship. #IMPACTonPOP pic.twitter.com/PkEIaUWe1p

— IMPACT (@IMPACTWRESTLING) January 12, 2018
~ Naomichi Marufuji was announced to be taking on Kaito Kiyomiya in a singles match at the Korakuen show on February 2.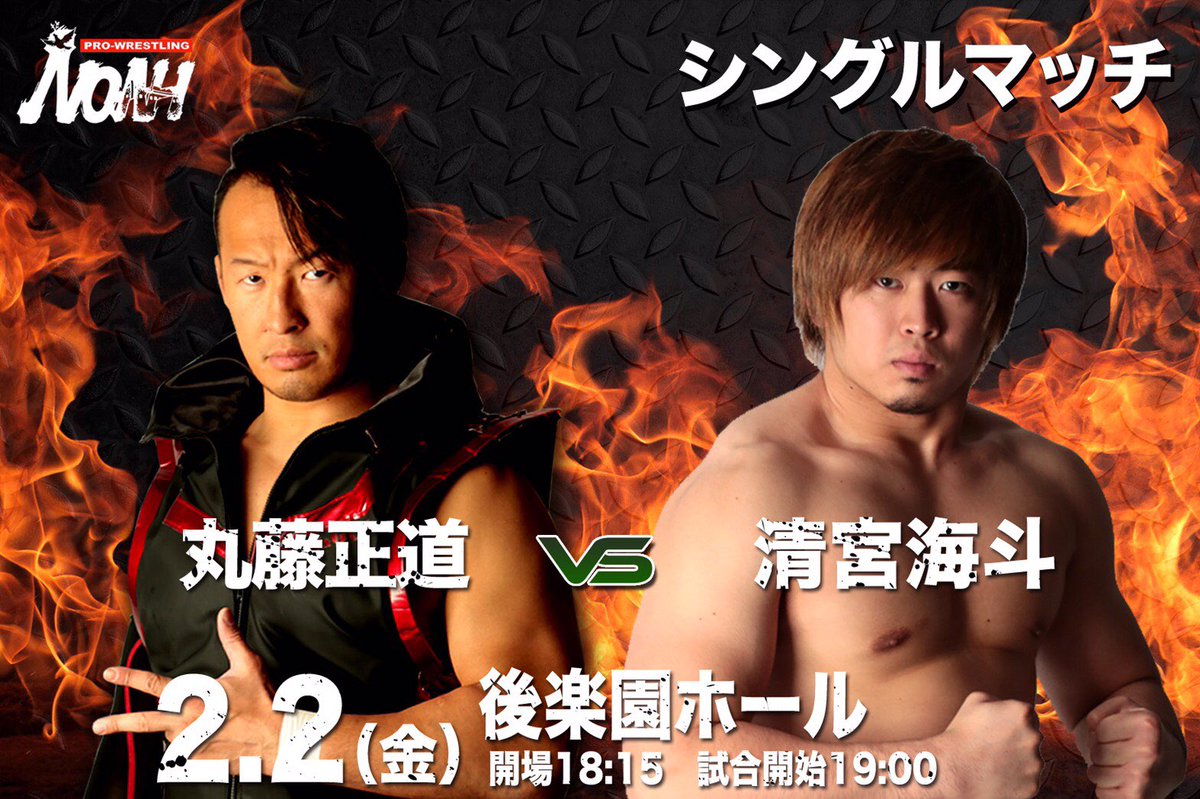 Pro-Wrestling NOAH "Navig. For The Future", 2/2/2018 [Fri] 19:00 @ Korakuen Hall in Tokyo
() Naomichi Marufuji vs. Kaito Kiyomiya
() GHC Tag Championship Match: [41st Champions] Muhammad Yone & Quiet Storm vs. [Challengers] Maybach Taniguchi & Mitsuya Nagai (DRADITION)
~ 2nd title defense.
() GHC Heavyweight Championship Match: [30th Champion] Kenoh vs. [Challenger] Yuko Miyamoto (666)
~ 2nd title defense.
---
PRO WRESTLING MASTERS NEWS
Keiji Mutoh and Masahiro Chono took part in a press conference to announce the main event for the February 16 show at the Korakuen Hall.
Right off the bat, Masahiro Chono will not be competing (which he has not been in the ring in a little over 3 years or so), but will be present to support the TEAM 2000 revival against Mutoh's team of veterans. Chono will be ringside as the GM for his team as the 54 year currently isn't comfortable competing. Mutoh hinted that one of his goal's is to bring Chono back into the ring much as he did for Hiroshi Hase this past Summer. As Mutoh also put an ultimatum that if he ever retires that he wants it to be against Chono, as they both debuted together in October of 1984.
PRO-WRESTLING MASTERS, 2/16/2018 [Fri] 19:00 @ Korakuen Hall in Tokyo
(-) Main Event Pro-Wrestling Masters vs TEAM 2000 Special 8 Man Tag Match: Tatsumi Fujinami, Riki Choshu, Jushin Thunder Liger & Keiji Mutoh vs. Hiroyoshi Tenzan, Satoshi Kojima, Hiro Saito & AKIRA w/ Masahiro Chono
http://puroresuspirit.net/tag/masters
---
If you enjoy these posts of the site in general, please support us through Patreon by clicking the picture below. A few patronages of at least $1 a month will help pay for the server costs to keep the site up and running.
Thanks for helping keep the spirit alive!