KAIENTAI DOJO "CLUB-K 3000", 1/28/2018 [Sun] 13:00 @ Blue Field in Chiba
~ Ayato Yoshida announced that he will be returning on February 28.
(1) Shiori Asahi & Daigoro Kashiwa vs. Ricky Fuji & Ayame Sasamura
◆Winner: Kashiwa (12:09) with the Maputatsu on Ayame.
(2) K-DOJO Men vs Women Series: Kunio Toshima vs. Bambi
◆Winner: Toshima (5:05) via pin-fall.
(3) Yuma vs. Dinosaur Takuma
◆Winner: Yuma (10:23) following the HIZA☆HAPPY.
(4) Kotaro Yoshino vs. Taishi Takizawa vs. Yoshihiro Horaguchi
◆Winner: Yoshino (11:02) with an Air Scissors Drop on Horaguchi.
(5) Kaji Tomato, GO Askawawa & Marines Mask vs. Tank Nagai, Ayumu Honda & Kyu Mogami
◆Winner: Marines (17:19) with the Sliding of the Marine on Tank.
~ Marines made the challenge for the ST-K TAG belts following the win over Tank. It was made official that Marines & Kaji Tomato will challenge Tank & Kodaka on 2/28.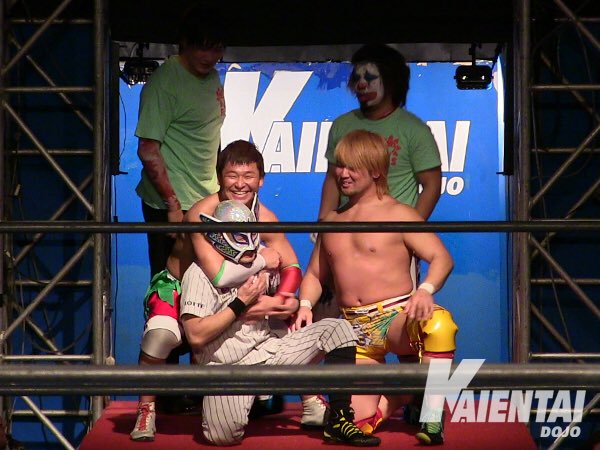 http://puroresuspirit.net/tag/k-dojo/
Upcoming…
KAIENTAI DOJO "CLUB-K SUPER in TKP Garden City Chiba", 2/25/2018 [Sun] 13:00 @ TKP Garden City Chiba
() Ayame Sasamura vs. Misaki Ohata
() Ayato Yoshida's Return Match: Ayato Yoshida & Shiori Asahi vs. Daigoro Kashiwa & Yasu Urano (FREE)
() STRONGEST-K TAG Championship Match: [Champions] Tank Nagai & Isami Kodaka vs. [Challengers] Kaji Tomato & Marines Mask
() CHAMPION OF STRONGEST-K Match: [Champion] Taishi Takizawa vs. [Challenger] Kotaro Yoshino