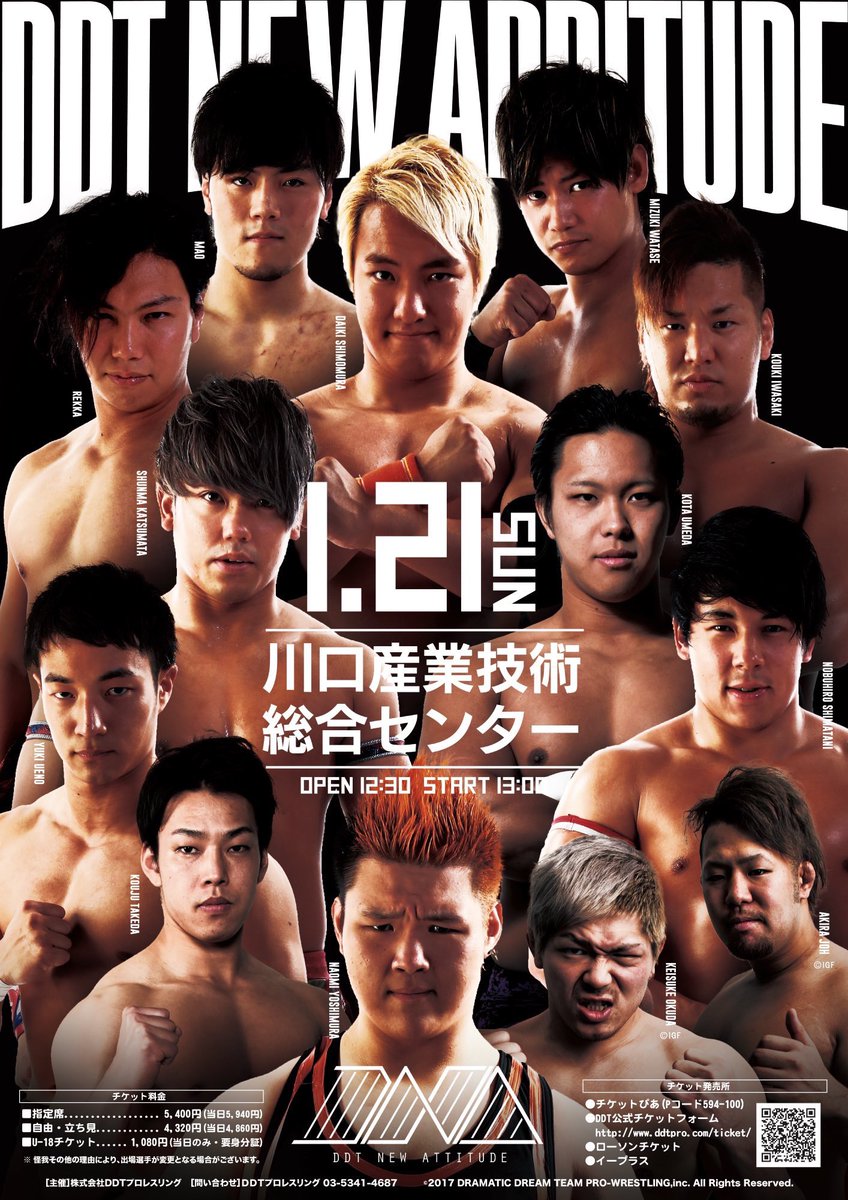 DNA 40, 1/21/2018 [Sun] 13:00 @ Kawaguchi Sangyo Gijutsu Sogo Center in Saitama
(1) Mizuki Watase vs. Antonio Honda (DDT)
◆Winner: Honda (9:10) following a Diving Fist Drop.
(2) Mike Bailey vs. Tomoya Hirata (FREEDOMS)
◆Winner: Bailey (7:25) following the Ultima Weapon.
(3) Yuki Ueno & Koju Takeda (666) vs. Tetsuya Endo & Mad Paulie (both DDT)
◆Winner: Paulie (12:15) following the Paulie Buster on Ueno.
(4) Shunma Katsumata vs. Rekka
◆Winner: Katsumata (10:06) with the ¡Hasta la vista!.
~ It was announced that Katsumata & Watase will be taking on the veteran team of "Junior Stars" Koji Kanemoto & Minoru Tanaka on 2/14 at the Shinjuku FACE.
(5) Gran MilliMeters vs Speed of Sounds: Daiki Shimomura & Nobuhiro Shimatani vs. Tsutomu Oosugi & Hercules Senga
◆Winner: Senga (12:33) with the Koryu on Shimomura.
(6) DNA Army vs Yoshimura Gundan Elimination 6 Man Tag Match: Kota Umeda, Kouki Iwasaki & MAO vs. Naomi Yoshimura, Keisuke Okuda (IGF) & Akira Joh (IGF)
~ Iwasaki & Okuda (10:46) via both over the top rope.
~ MAO (13:16) via pin-fall by Yoshimura.
~ Joh (18:34) via pin-fall by Umeda.
◆Winner: Yoshimura (23:14) following a Release Powerbomb on Umeda.
~ Yoshimura declared that his group name as "Naomi Kingdom".
~ Yoshimura and Umeda will face in a singles match on 2/14.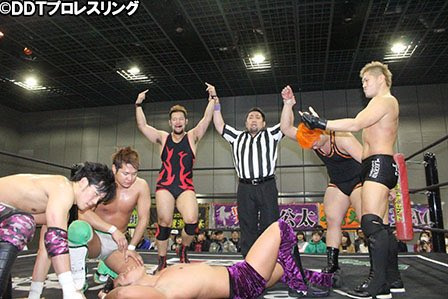 http://puroresuspirit.net/tag/dna/
Upcoming…
DNA 41, 2/14/2018 [Wed] 19:00 @ Shinjuku FACE in Tokyo
() Yuki Ueno vs. Koju Takeda
() DNA Army vs Naomi Kingdom Showdown Single Match: MAO vs. Akira Joh
() DNA Army vs Naomi Kingdom Showdown Single Match: Kouki Iwasaki vs. Keisuke Okuda
() DNA Army vs Naomi Kingdom Showdown Single Match: Kota Umeda vs. Naomi Yoshimura
() DNA vs Junior Stars! Special Tag Match: Shunma Katsumata & Mizuki Watase vs. Koji Kanemoto & Minoru Tanaka