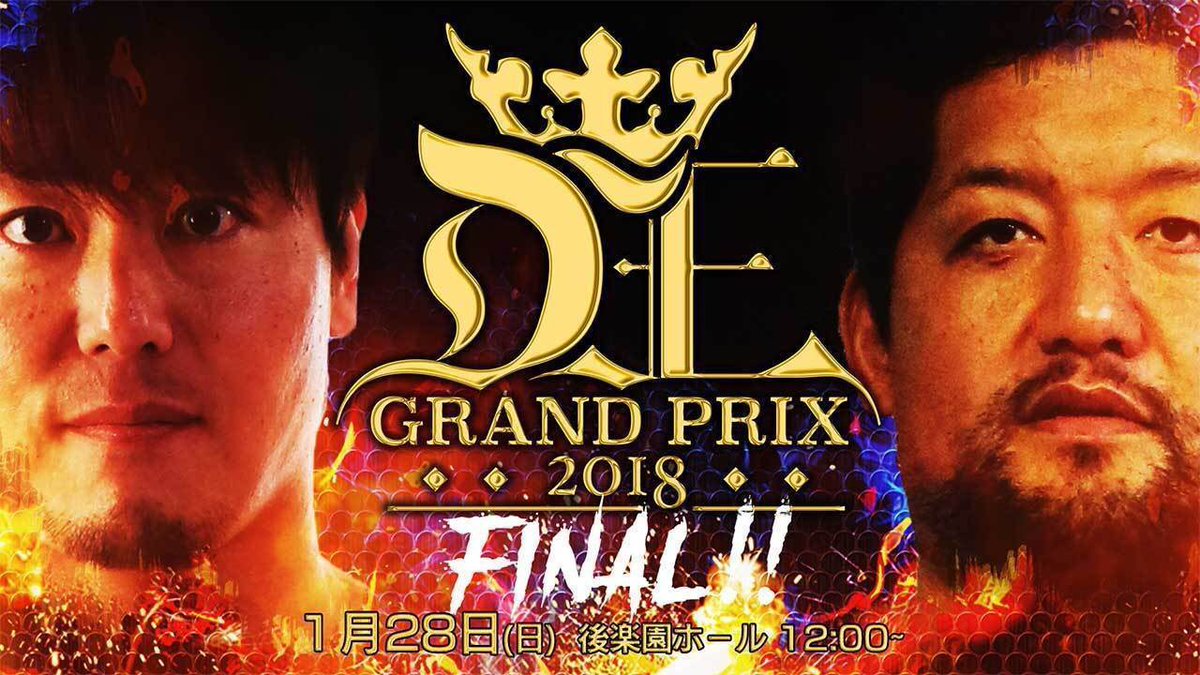 DDT Pro-Wrestling "D-KING GRAND PRIX 2018 the FINAL!!", 1/28/2018 [Sun] 12:00 @ Korakuen Hall in Tokyo
1,214 Spectators
(0) Dark Match: Naomi Yoshimura vs. Nobuhiro Shimatani
◆Winner: Yoshimura (4:28) following a Short-range Lariat.
(1) Yukio Sakaguchi & Kota Umeda vs. Mizuki Watase & Yuki Ueno
◆Winner: Umeda (4:25) following the Umeda Driver on Ueno.
(2) Infomercial Match: Super Sasadango Machine & Saki Akai vs. Antonio Honda & Tanomusaku Toba
◆Winner: Sasadango (6:33) with a Flying Body Attack on Toba.
(3) 3WAY Tag Match: Soma Takao & Kouki Iwasaki vs. KUDO & Masahiro Takanashi vs. Kazusada Higuchi & Daiki Shimomura
◆Winner: KUDO (6:33) following a Diving Double Knee Drop on Shimomura.
(4) Danshoku Dieno & Keisuke Ishii vs. Jiro "Ikemen" Kuroshio & Joey Ryan
◆Winner: No Contest (9:47) between Dieno and Kuroshio.
(5) NωA FINAL CONCERT in Korakuen Hall ~ NωA Dissolution Match: Makoto Oishi, Shunma Katsumata & MAO vs. Sanshiro Takagi, Toru Owashi & Kazuki Hirata
◆Winner: Katsumata (8:36) following the ¡Hasta la vista! on Hirata.
(6) Konosuke Takeshita, Akito & Mike Bailey vs. Daisuke Sasaki, Tetsuya Endo & Mad Paulie
◆Winner: Endo (15:07) following the Tetsuya in the Sky with Diamonds on Bailey.
(7) GRAND PRIX Final Match: (ABLOCK #1) HARASHIMA vs. (B BLOCK #1) Shuji Ishikawa
◆Winner: Ishikawa (19:12) following the Giant Slam.
~ Ishikawa wins the GRAND PRIX 2018. Ishikawa will now move on to challenge Takeshita for the KO-D belt at Ryogoku on March 25.
http://puroresuspirit.net/tag/ddt/
Upcoming…
DDT Pro-Wrestling "Dramatic Nerima The Fighter 2018", 2/3/2018 [Sun] 17:30 @ Nerima Coconeri Hall in Tokyo
() Ken Ohka vs. Gota Ihashi
() DDT EXTREME Championship Match: [Champion] Yuko Miyamoto vs. [Challenger] KUDO
DDT "Judgment 2018 ~ DDT 21st Anniversary Show", 3/25/2018 [Sun] 15:00 @ Ryogoku Kokugikan in Tokyo
() World Crazy Wrestler #1 Decision Match in DDT: Joey Ryan vs. Colt "Boom Boom" Cabana
() Ironman Heavy Metalweight Championship Match: [Champion] Super Sasadango Machine vs. [challenger] Jiro "Ikemen" Kuroshio
() Shinjuku Ni-Chome no Junin vs Makai no Junin Special 6 Man Tag Match: Great Muta, Daisuke Sasaki & Tetsuya Endo vs. Danshoku Dieno, Keisuke Ishii & Ken Ohka
() KO-D Openweight Championship Match: [61st Champion] Konosuke Takeshita vs. [Challenger] Shuji Ishikawa
~ 11th title defense.
~ Also announced to be competing: Noamichi Marufuji, Daisuke Sekimoto, Mike Bailey, Ethan Page, LiLiCo, Yoshiko, Keisuke Okuda, Reika Saika & LadyBeard