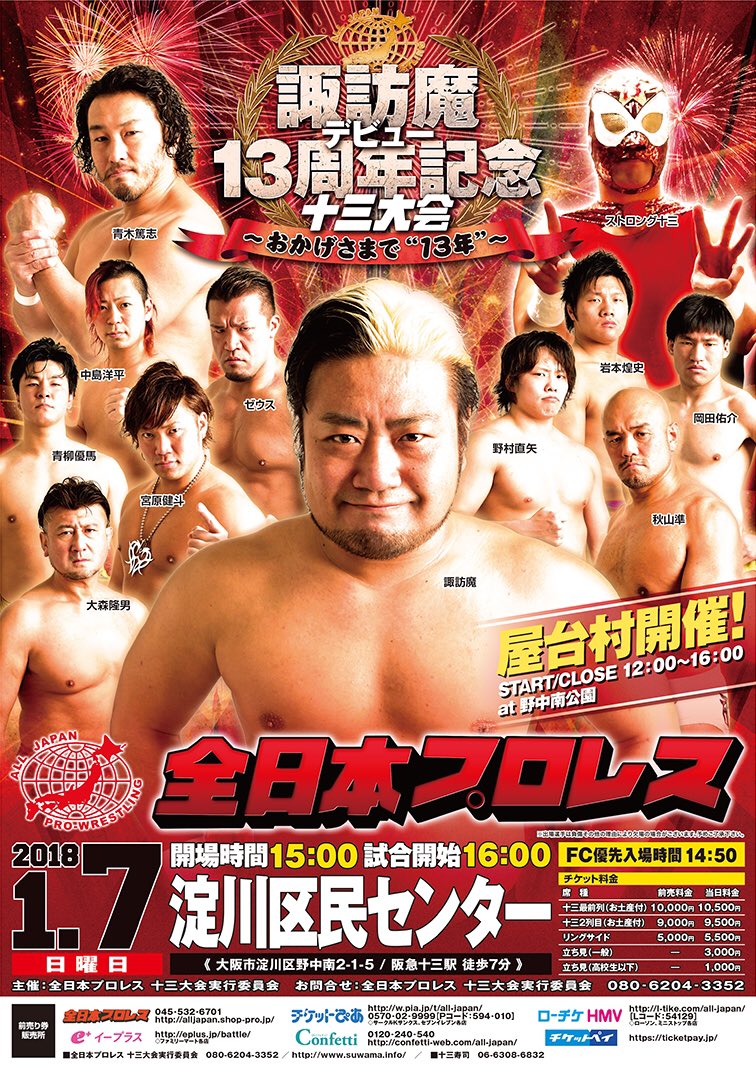 All Japan Pro-Wrestling "Suwama Debut 13th Anniversary Show", 1/7/2017 [Sun] 16:00 @ Yodogawa Kumin Center in Osaka
650 Spectators (overcrowded)
(1) Yusuke Okada vs. Kotaro Suzuki (FREE)
◆Winner: Kotaro (9:30) following a Running Elbow.
(2) Takao Omori & Yohei Nakajima vs. Atsushi Maruyama & Koji Iwamoto
◆Winner: Yohei (8:38) with a Jacknife Hold on Maruyama.
(3) Gaea Corporation present Special Single Match: Atsushi Aoki vs. Black Tiger VII
◆Winner: Aoki (9:33) with a Cross Armbar.
(4) Joe Doering, Ryoji Sai (LAND'S END), TAJIRI (FREE) & KAI (FREE) vs. Kento Miyahara, Naoya Nomura, Yuma Aoyagi & Yoshitatsu (FREE)
◆Winner: KAI (13:03) with the Meteor Impact on Aoyagi.
~ KAI with the win as a he made a direct appeal for the Triple Crown to Doering.
~ Though Aoyagi suffered the loss, him and Nomura were asked about their plans with the Asia Tag belts in which they replayed that they aim to surpass the defense record.
(Which still remains held by Michiaki Yoshimura and Antonio Inoki back which their reign ran from 1969 through 1971 at 15 defenses.)
(5) GAORA TV Championship ~ Special Jacket (Uwagi) Rules Match: [15th Champion] Jun Akiyama vs. [Challenger] Hikaru Sato (Pancrase MISSION)
◆Winner: Akiyama (10:19) via pin-fall.
~ 6th successful title defense.
~ Hikaru turned over his uwagi (karate-gi) to Akiyama following the loss.
(6) Suwama's Debut 13th Anniversary Match: Suwama, Shuji Ishikawa (FREE) & Strong 13 vs. Zeus, The Bodyguard (FREE) & Mushuku no 'Sekiko'
◆Winner: Suwama (19:49) following a Last Ride on Sekiko.
~ Suwama stated that he will continue to his best for another 13 years.