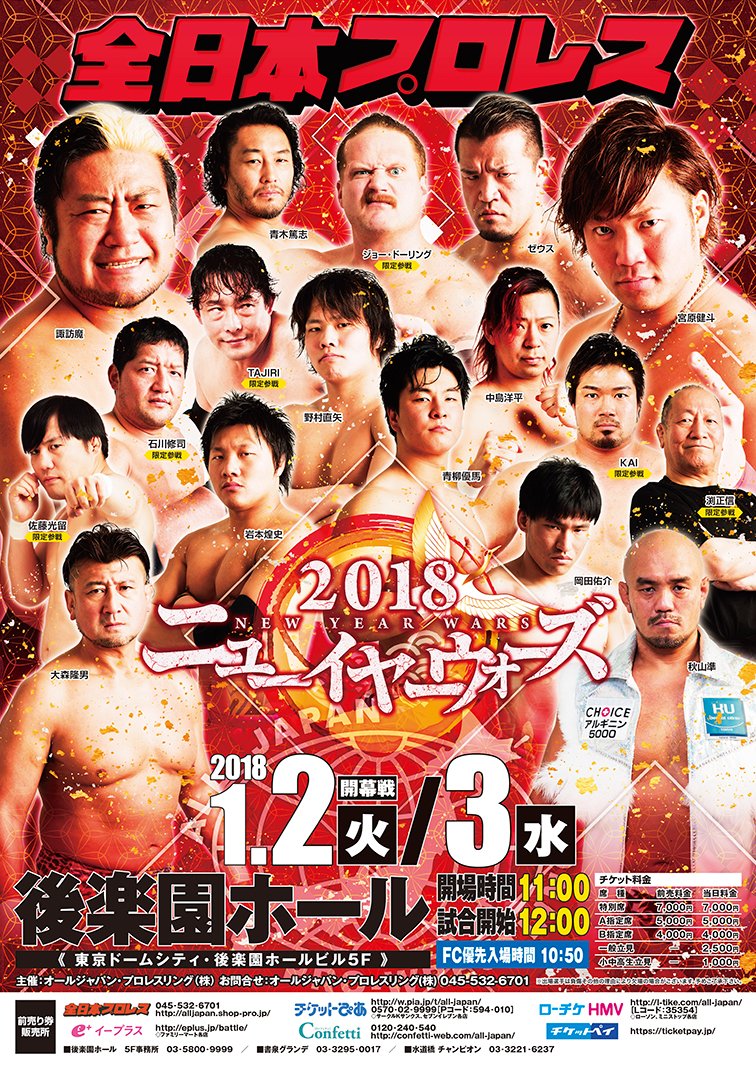 All Japan Pro-Wrestling "2018 New Year Wars", 1/3/2017 [Wed] 12:00 @ Korakuen Hall in Tokyo
1,438 Spectators (crowded)
~ Doering vs. KAI and TAJIRI vs. Aoki was formally announced to be taking place at the Yokohama show on February 3.
(0) Yohei Nakajima vs. Yusuke Okada
◆Winner: Yohei (5:16) with a Boston Crab.
(1) Masanobu Fuchi & Osamu Nishimura (FREE) vs. Ultimo Dragon & Koji Iwamoto
◆Winner: Dragon (11:29) with a La Magistral on Fuchi.
(2) Atsushi Aoki & Hikaru Sato vs. Kotaro Suzuki & Keiichi Sato (both FREE)
◆Winner: Aoki (10:26) with a Texas Clover Hold on Keiichi.
(3) Joe Doering & Black Tiger VII vs. TAJIRI & KAI (both FREE)
◆Winner: KAI (3:32) with the Splash Plancha on Black Tiger.
~ KAI attacked Doering before the start of the match.
Though Doering went for the Revolution Bomb early on KAI, but was met with a poison mist from TAJIRI which kept him from being able to make the save. Hence the short match.
~ After the match, KAI signaled that he shall capture the Triple Crown belt come the title challenge on February 3.
~ All Japan announced that the "2018 SUMMER EXPLOSION" on August 26 will be held at the Nagareyama Kikkoman Arena in Chiba.
(4) Naoya Nomura vs. Ryoji Sai (LAND'S END)
◆Winner: Sai (16:29) following the Akagawa Tekkyo (Running Corner Knee).
(5) Kento Miyahara, Yoshitatsu (FREE) & Yuma Aoyagi vs. Zeus, The Bodyguard (FREE) & Atsushi Maruyama (FREE)
◆Winner: Miyahara (11:45) with a German Suplex Hold on Maruyama.
(6) World Tag Championship Match: [77th Champions] Jun Akiyama & Takao Omori vs. [World's Strongest Tag League 2017 Winners / Challengers] Suwama & Shuji Ishikawa
◆Winner: Ishikawa (20:38) with a Splash Mountain on Akiyama.
~ Champions fall on their 1st title defense. Suwama & Ishikawa become the 78th champions.
~ Yoshiaki Yatsu was present to read off the official PWF document before the title match began.
~ Kento Miyahara & Yoshitatsu came forward to challenge the new champions. (The match looks to be set for the 2/3 show.)