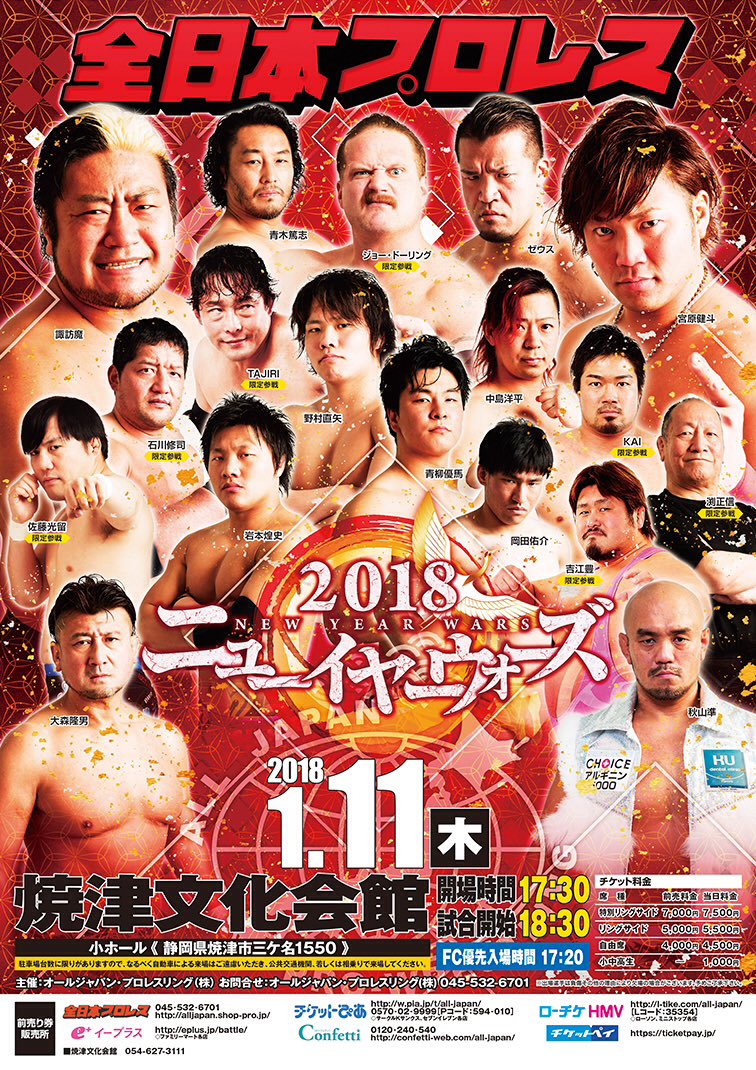 All Japan Pro-Wrestling "2018 New Year Wars", 1/11/2018 [Thu] 18:30 @ Yaizu Bunka Kaikan, Small Hall in Shizuoka
(1) Naoya Nomura vs. Keiichi Sato (FREE)
◆Winner: Nomura (5:31) with a Frog Splash.
(2) Yohei Nakajima vs. Hikaru Sato vs. Ultimo Dragon
◆Winner: Dragon (7:24) with a La Magistral on Yohei.
(3) Yuma Aoyagi vs. Atsushi Maruyama
◆Winner: Aoyagi (6:45) following the Rock Star Buster
(4) Suwama & Atsushi Aoki vs. TAJIRI (FREE) & Yusuke Okada
◆Winner: Suwama (13:53) following a Backdrop on Yusuke.
~ Aoki kept his focus on attacking TAJIRI's arm, as the two's focus on each other eventually left Suwama the opening to take out TAJIRI's partner. TAJIRI was favoring his right arm at the close of the match.
(5) Joe Doering & Black Tiger VII (FREE) vs. KAI (FREE) & Jun Akiyama
◆Winner: KAI (10:17) with the Meteor Impact on Black Tiger.
~ KAI lands his big match finisher on Black Tiger as told Doering that he hopes that he got a good look because that will the same of the Triple Crown champion.
(6) Kento Miyahara, Yoshitatsu (FREE) & Yutaka Yoshie (FREE) vs. Zeus, Ryoji Sai (LAND'S END) & Koji Iwamoto
◆Winner: Yoshie (18:49) with a Diving Body Press on Iwamoto.
~ Miyahara and Yoshitatsu thanked Yoshie for capturing the win today. The two stated that 2018 is only just now getting started for "Yoshiken" (what they have dubbed themselves). As they expect even better things to come as the year progresses.