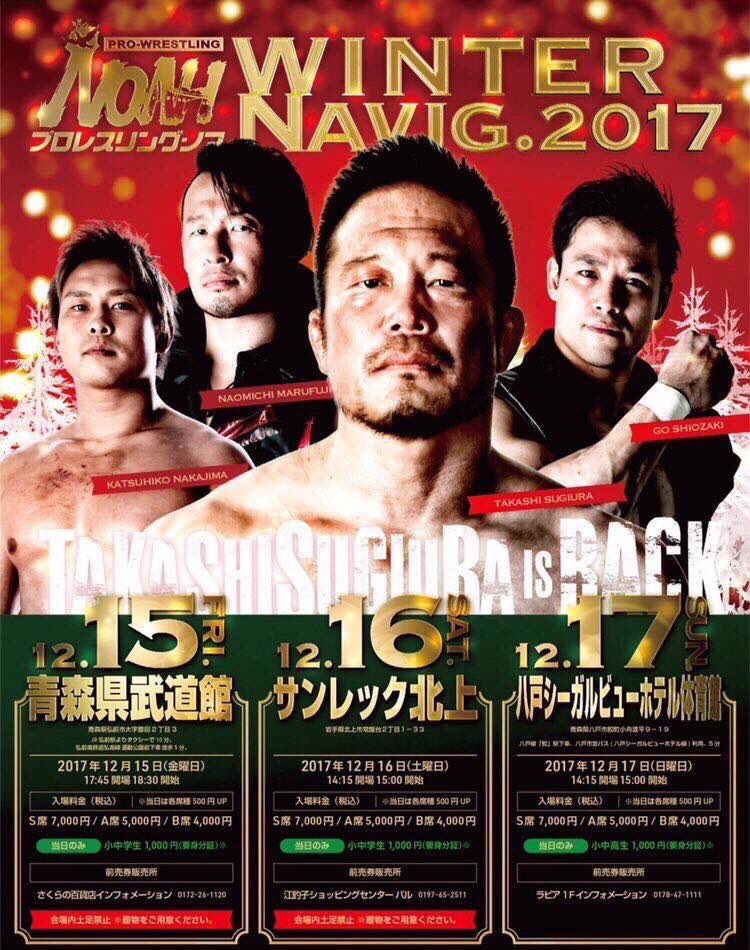 NOAH "Winter Navig. 2017", 12/17/2017 [Sun] 15:00 @ Hachinohe Seagull View Hotel Gymnasium
242 Spectators
(1) Hi69 vs. Sheldon Jean (Border City)
◆Winner: Hi69 (6:34) with a Michinoku Driver II.
(2) Akitoshi Saito & Masao Inoue vs. Cody Hall & Junta Miyawaki
◆Winner: Saito (10:52) following the Sickle Death on Miyawaki.
(3) Katsuhiko Nakajima & Hitoshi Kumano vs. HAYATA & YO-HEY
◆Winner: HAYATA (9:47) with a Moonsault Press on Kumano.
(4) Masa Kitamiya, Daisuke Harada & Tadasuke vs. Go Shiozaki, Atsushi Kotoge & Minoru Tanaka (FREE)
◆Winner: Minoru (14:20) with the Minoru Special on Tadasuke.
~ Minoru continues to remain unbeaten since his return to the NOAH ring as he signals Tadasuke's fate to be the same for Harada come the title challenge on the 22nd.
(5) Maybach Taniguchi vs. Mitsuya Nagai (DRADITION)
◆Winner: DRAW (12:22) via double ring out.
(6) Muhammad Yone & Quiet Storm vs. Naomichi Marufuji & Moose (Impact)
◆Winner: Storm (14:43) following the Funky Buster Bomb on Marufuji.
~ 50 Funky Powers now hold direct wins over both challengers for their belts heading into the title defense on the 22nd.
(7) Eddie Edwards (Impact) & Taiji Ishimori vs. Kenoh & Takashi Sugiura
◆Winner: Kenoh (15:15) following a Diving Foot Stomp on Ishimori.
~ Kenoh continues to keep the momentum on his side as he made a bold claim that "Misawa's NOAH" shall end and "Kenoh's NOAH" will begin.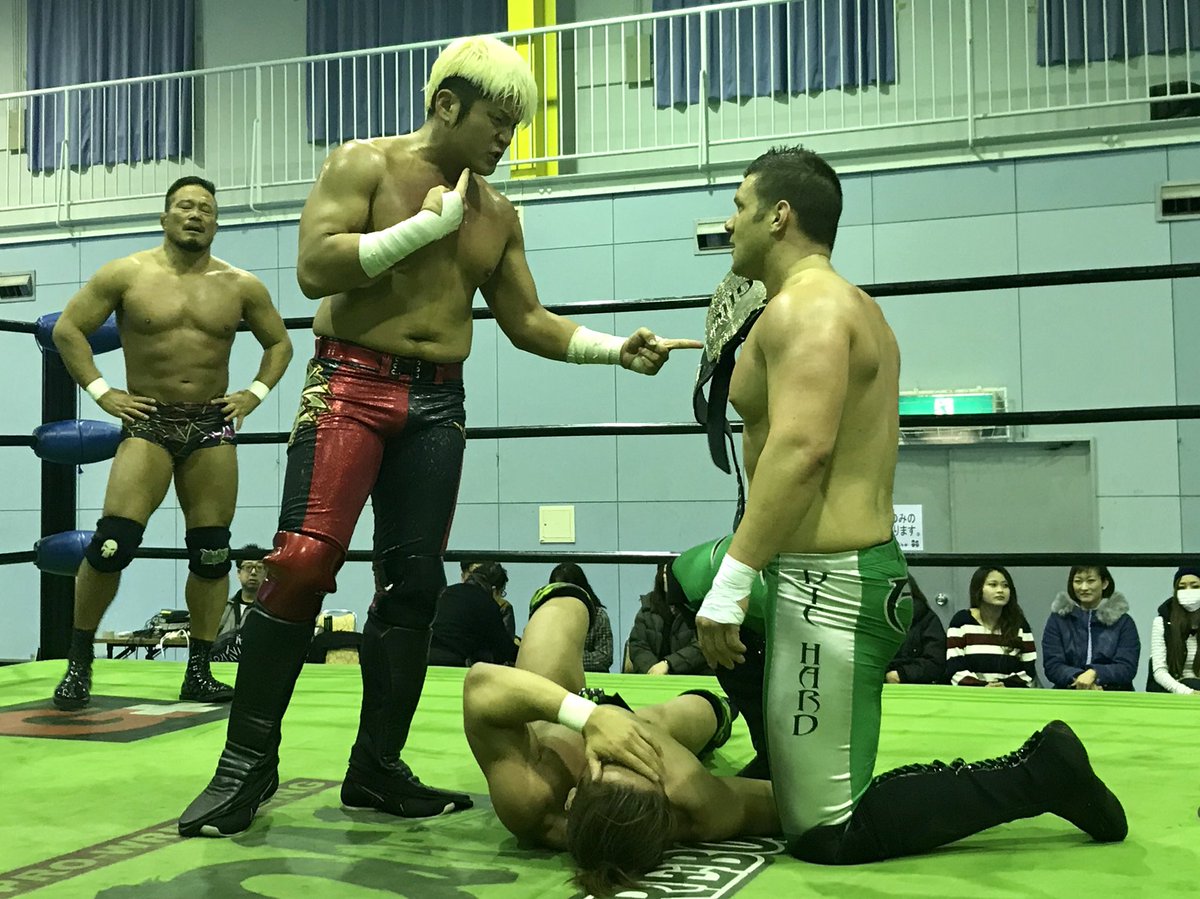 It appears that he suffered the injury back on Tuesday after competing in the main event 6 man tag match.
http://puroresuspirit.net/…/noah-results-for-december-12-2…/
He stated that initially he did not take the pain to be anything serious as to himself it was normal to be sore after a match. He woke up in the morning and began his training as usual, but as the day went on he noticed discoloration in his urine and he began to be fatigued easily. A few days went by and he was not improving and it was getting worse. Thus he checked himself into his local hospital. This would be this past Friday.

The doctor asked him how he suffered the injury and he stated that he was a pro-wrestler and it was common to take slams and blows to the abdomen region. The doctor immediately told him that he can not risk training or competing at this time and would need to recover. Ohara noted that he has suffered many set backs with minor injuries, but this would be the first time that he would be forced to miss scheduled shows due to a health condition.

Though now several more days have passed and today, 12/17, he stated that he is finally able to recover from the ordeal. Though the time away has gave him much to think and learn about. As he aims to further examine what happened and make sure it never occurs again. That as a pro-wrestler he cannot bear the shame of not being able to compete and do that which he loves to do.