Don Arakawa has passed away at the age of 71 back on December 1.
A veteran of NJPW, having debuted back in July of 1972, Arakawa would mainly compete as a junior heavyweight and he even became coach within the dojo in the 1980's. After his leave of New Japan in the late 80's he would go on to compete for SWS, All Japan, and Big Mouth Loud as his major events of note. In May of 2011 he would earn the honor of New Japan's Greatest Wrestlers award.
---
AJPW NEWS
~ The full event card was announced for the "Fan Appreciation Show" that is set to take place on December 17 in Saitama.
All Japan Pro-Wrestling "Fan Appreciation Day", 12/17/2017 [Sun] 16:00 @ Saitama City Memorial General Gymnasium
() Yuma Aoyagi & Koji Iwamoto vs. KAI [FREE] & Ishikiri [LAND'S END]
() Christmas Gift Match: Mr. Christmas, Ultimo Dragon & Carbell Ito vs. Masanobu Fuchi, Osamu Nishimura [FREE] & Yusuke Okada
() Atsushi Aoki, Hikaru Sato & Takahisa Matsumoto [ALPHA] vs. Yohei Nakajima, Kotaro Suzuki [FREE] & Keiichi Sato [FREE]
() Takao Omori vs. Black Tiger VII
() Joe Doering vs. Naoya Nomura
() Road to Saitama Super Arena: Suwama, Shuji Ishikawa [FREE] & Ryoji Sai [LAND'S END] vs. Kento Miyahara, Zeus & Yoshitatsu [FREE]
() World Junior Heavyweight Championship Match: [46th Champion] TAJIRI vs. [Challenger] Atsushi Maruyama
~ 2nd title defense.
---
BJW NEWS
~ The Yokohama 6 Man Tag belts were announced to be in defense on December 17 in Yokohama, as well as the full card for the show.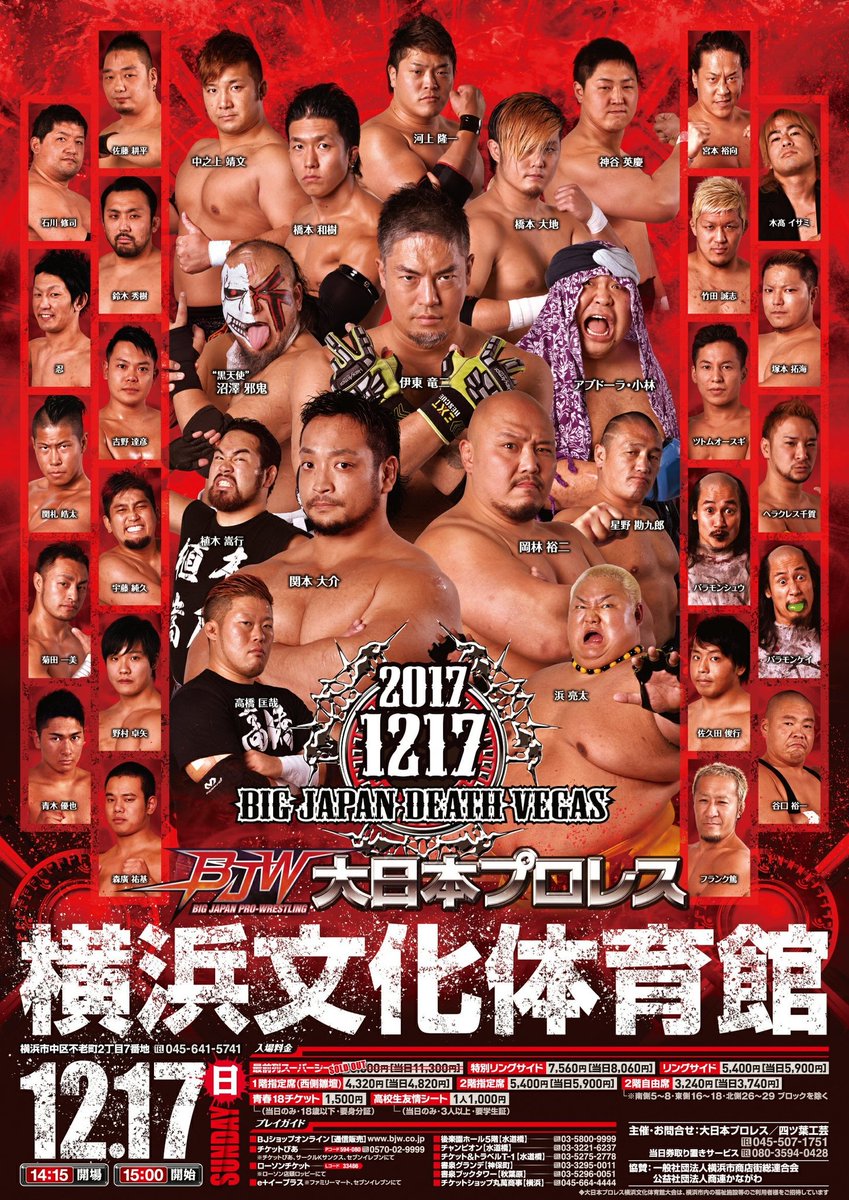 "BIG JAPAN DEATH VEGAS 2017", 12/17/2017 [Sun] 15:00 @ Yokohama Cultural Gymnasium in Kanagawa
(1) Tatsuhiko Yoshino & Kota Sekifuda vs. Kazumi Kikuta & Yuki Morihiro
(2) Kendo Kashin, Tsutomu Oosugi & Hercules Senga vs. Minoru Fujita, Shu & Kei Brahman
(3) Hideyoshi Kamitani, Kazuki Hashimoto & Yuya Aoki vs. Shinobu, Yoshihisa Uto & Takuya Nomura
(4) Death Match: Jaki Numazawa, Takumi Tsukamoto & Kankuro Hoshino vs. Yuko Miyamoto, Isami Kodaka & Ryuichi Sekine
(5) Yokohama 6 Man Tag Championship Match: [10th Champions] Ryota Hama, Yasufumi Nakanoue & Shogun Okamoto vs. [Challengers] Daisuke Sekimoto, Kohei Sato & Ryuichi Kawakami
~ 4th title defense.
(6) Death Match: Abdullah Kobayashi & Ryuji Ito vs. Takayuki Ueki & Toshiyuki Sakuda
(7) BJW World Strong Heavyweight Championship Match: [10th Champion] Hideki Suzuki vs. [Challenger] Daichi Hashimoto
~ 6th title defense.
(8) BJW Death Match Heavyweight Championship Match: [36th Champion] Masashi Takeda vs. [Challenger] Masaya Takahashi
~ 3rd title defense.
http://puroresuspirit.net/tag/bjw/
---
GUTS WORLD NEWS
Mr. Gannosuke, Guts Ishijima, and Daisuke appeared today for a press conference to announced that GUTS World will disband on April 15, 2018 at Shinjuku FACE. As well as this will mark Mr. Gannosuke's formal retirement form competition as well.
Ishijima stated that this is a hard decision to make and much deliberation has been made as to the future of the promotion. With Tatsuhiko Yoshino having went to BJW, now Daisuke retired, and even the deliberation on where to hold this final show. Originally they wanted it to be at the Korakuen Hall, but they know the attendance is down and Shinjuku FACE is the only logical conclusion at this time. Ishijima noted that most of the wrestlers involved with GUTS World are up in age, including himself, and many of the wrestlers he has worked with in the early days have moved on. So he only feels it is time for all the wrestlers involved to broaden their careers elsewhere as well.
Mr. Gannosuke stated that he will be 50 years old next year and he finally feels it is time to end his time in the ring once and for all. That he has an undying love for pro-wrestling and he is thankful for the revival he has undergone in these last few years in GUTS World. That he managed to get in better shape and witness first hand the great talent that Daisuke, Tatsuhiko Yoshino, and others offered to the ring. Daisuke stated that he aims to pursue a similar role as a consultant to pro-wrestlers in the future, much like Gannosuke has done for GUTS World as of recent. That even though his career is done in the ring that he still wishes to help the future generations in anyway possible.
As for the title belts within the promotion, Ishijima stated that they will be sealed with the promotions end, but he will give each of the champions a final chance to defend the belts on the April 15 show.
http://puroresuspirit.net/tag/guts-world
---
NOAH NEWS
The full event card was announced for the on-going tour and the Korakuen Hall show on December 22.
Joining the previously announced four title matches, is a special singles match as Takashi Sugiura will be taking on Moose, stemming from Moose taking a direct win over Sugiura on the 12/3 show, and then The Great Kabuki will be competing in a special 6 man tag match as he final looks to end his career in the pro-wrestling ring. He will be teaming with the Heisei Ishingun team of Shiro Koshinaka and Akitoshi Saito as they take on the team of his former student in Yoshinari Ogawa, Go Shiozaki and Masao Inoue.
Below is the full announced card at this time, as well as the full tour has been updated on the event card listings on the website…
Pro Wrestling NOAH "Winter Navig. 2017", 12/22/2017 [Fri] 19:00 @ Korakuen Hall in Tokyo
(1) KABUKI THE FINAL Memorial Match: The Great Kabuki, Shiro Koshinaka & Akitoshi Saito vs. Go Shiozaki, Yoshinari Ogawa & Masao Inoue
(2) Hajime Ohara & Hitoshi Kumano vs. Tadasuke & Seiya Morohashi
(3) Katsuhiko Nakajima & Masa Kitamiya vs. Cody Hall & Sheldon Jean
(4) Atsushi Kotoge, Taiji Ishimori & Hi69 vs. Yuko Miyamoto (666), Mitsuya Nagai (DRADITION) & LEONA (DRADITION)
(5) GHC Junior Heavyweight Tag Championship Match: [31st Champions] HAYATA & YO-HEY vs. [Challengers] Gurukun Mask & Shuri Joe (Ryukyu Dragon)
(6) GHC Tag Championship Match: [41st Champions] Muhammad Yone & Quiet Storm vs. [Challengers] Naomichi Marufuji & Maybach Taniguchi
~ 1st title defense.
(7) Special Single Match: Takashi Sugiura vs. Moose
(8) GHC Junior Heavyweight Championship Match: [36th Champion] Daisuke Harada vs. [Challenger] Minoru Tanaka (FREE)
~ 2nd title defense.
(9) GHC Heavyweight Championship Match: [29th Champions] Eddie Edwards vs. [Challengers] Kenoh
~ 2nd title defense.
---
If you enjoy these posts of the site in general, please support us through Patreon by clicking the picture below. At least $1 a month will help pay for the server costs to keep the site up and running.
Thanks for helping keep the spirit alive!