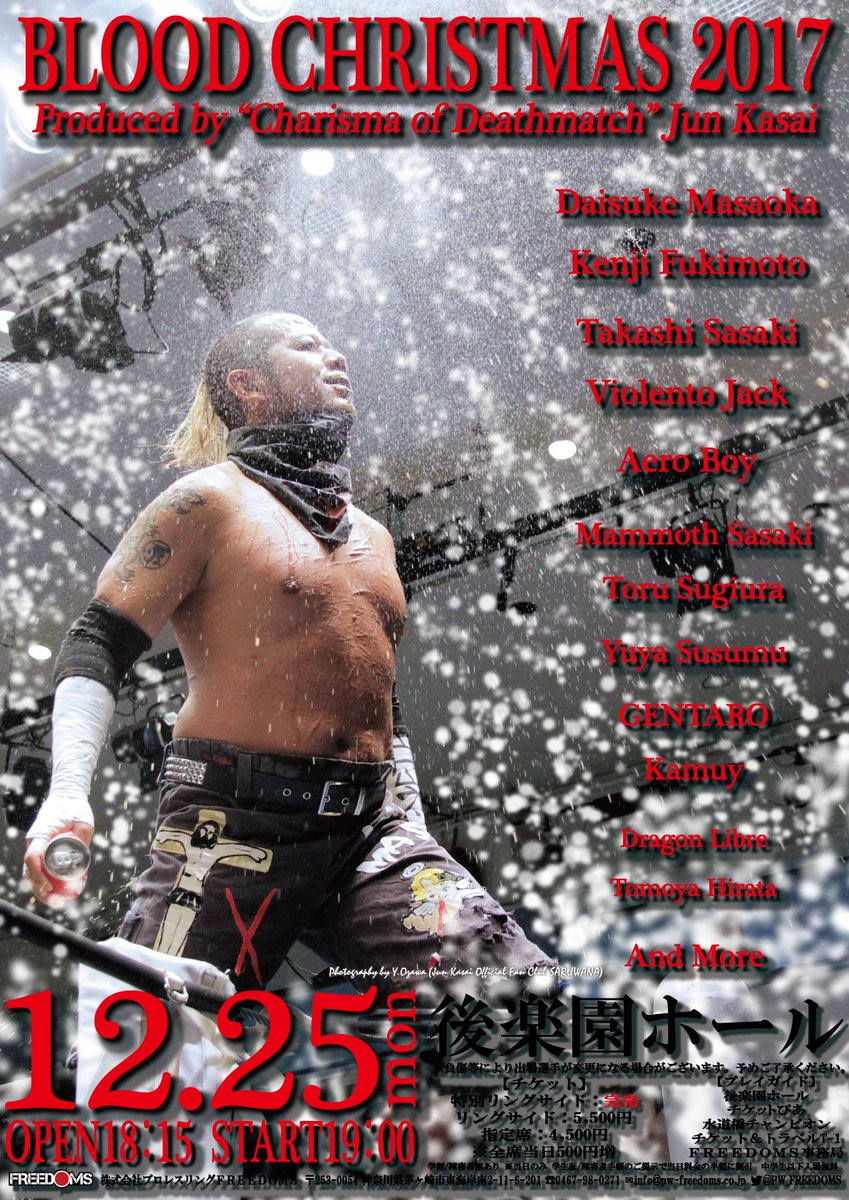 FREEDOMS "Jun Kasai Produce Blood X'mas 2017", 12/25/2017 [Mon] @ Korakuen Hall in Tokyo
1,100 Spectators
(1) Anywhere Fall Match: Shuji Ishikawa (FREE), Kamui & Dragon Libre vs. Yuya Susumu, KAZMA SAKAMOTO (FREE) & Chikara (RikiEnterprise)
◆Winner: Chikara (9:13) following a Backdrop on Libre.
(2) Death Match: Takashi Sasaki & GENTARO vs. Shu & Kei Brahman w/ Karate Brahman
◆Winner: Kei (11:53) with a Castle Mochigoroshi on Takashi.
(3) Scramble Bunk House 6 Man Tag Death Match: Mammoth Sasaki, Toru Sugiura & Tomoya Hirata vs. Masashi Takeda (FREE), Minoru Fujita (Gurentai) & Gunso (Dove)
◆Winner: Fujita (11:53) following a Tombstone Piledriver on Hirata.
(4) Barbed-wire Board + Gadget Death Match: Kenji Fukimoto vs. X = Mad Dog (Australia)
◆Winner: Fukimoto (10:41) following a Package Piledriver onto thumbtacks.
(5) Glass Board + Alpha Death Match: Daisuke Masaoka vs. Aero Boy
◆Winner: Masaoka (18:31) following a Spanish Fly.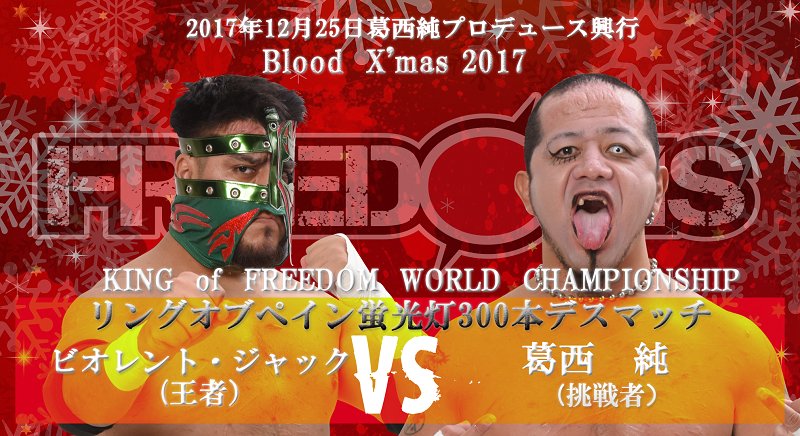 (6) KING of FREEDOM WORLD CHAMPIONSHIP ~ Ring of Pain Fluorescent Light-tube 300 Count Death Match: [9th Champion] Violento Jack vs. [Challenger] Jun Kasai
◆Winner: Jack (19:00) following a Package Piledriver.
~ 1st successful title defense.
~ After the match, Kasai flipped off as Jack, as he stated that he will one day reclaim the belt.
~ Takashi, Masaoka, Fukimoto & GENTARO all came forward to make themselves known as challengers for the belt. Though Jack will be returning to Mexico, for the time being, as the reigning champion.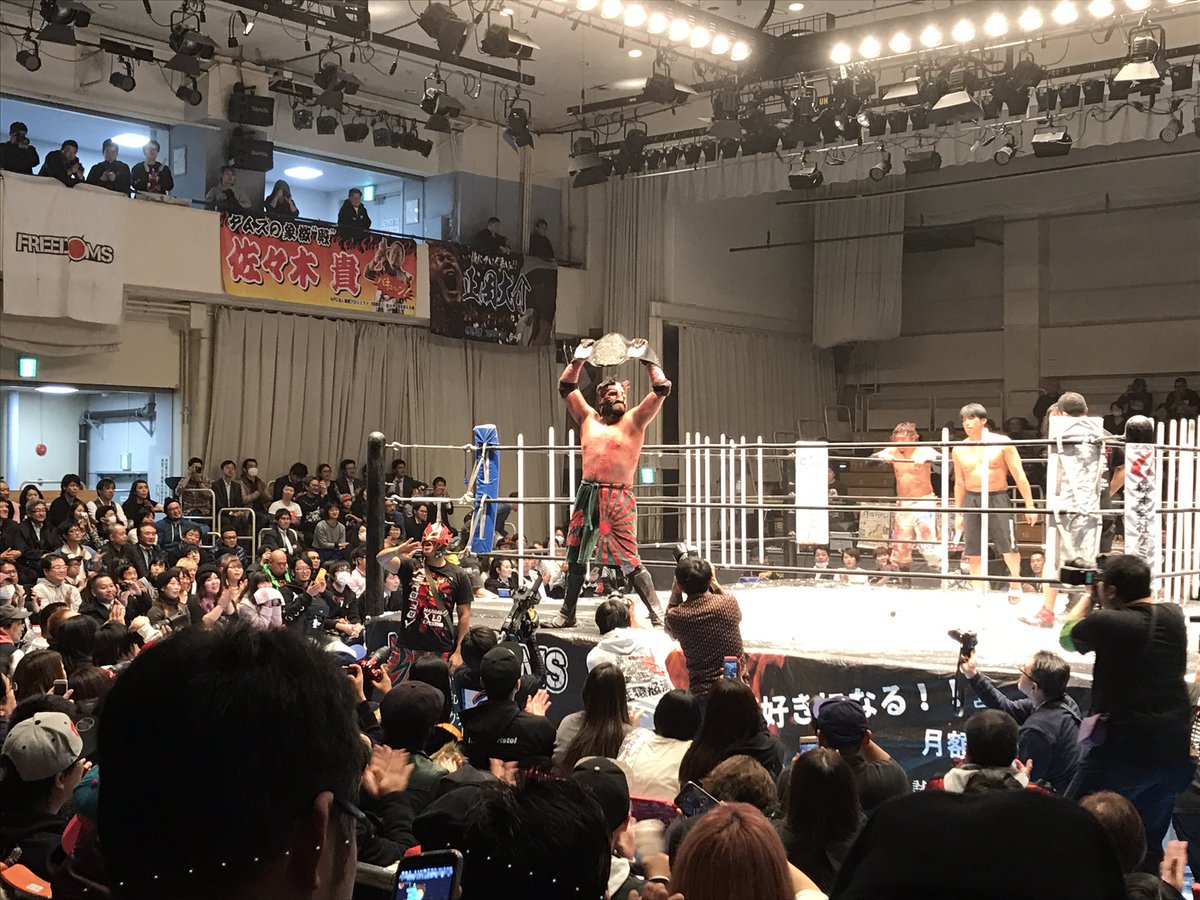 http://puroresuspirit.net/tag/freedoms/
Upcoming…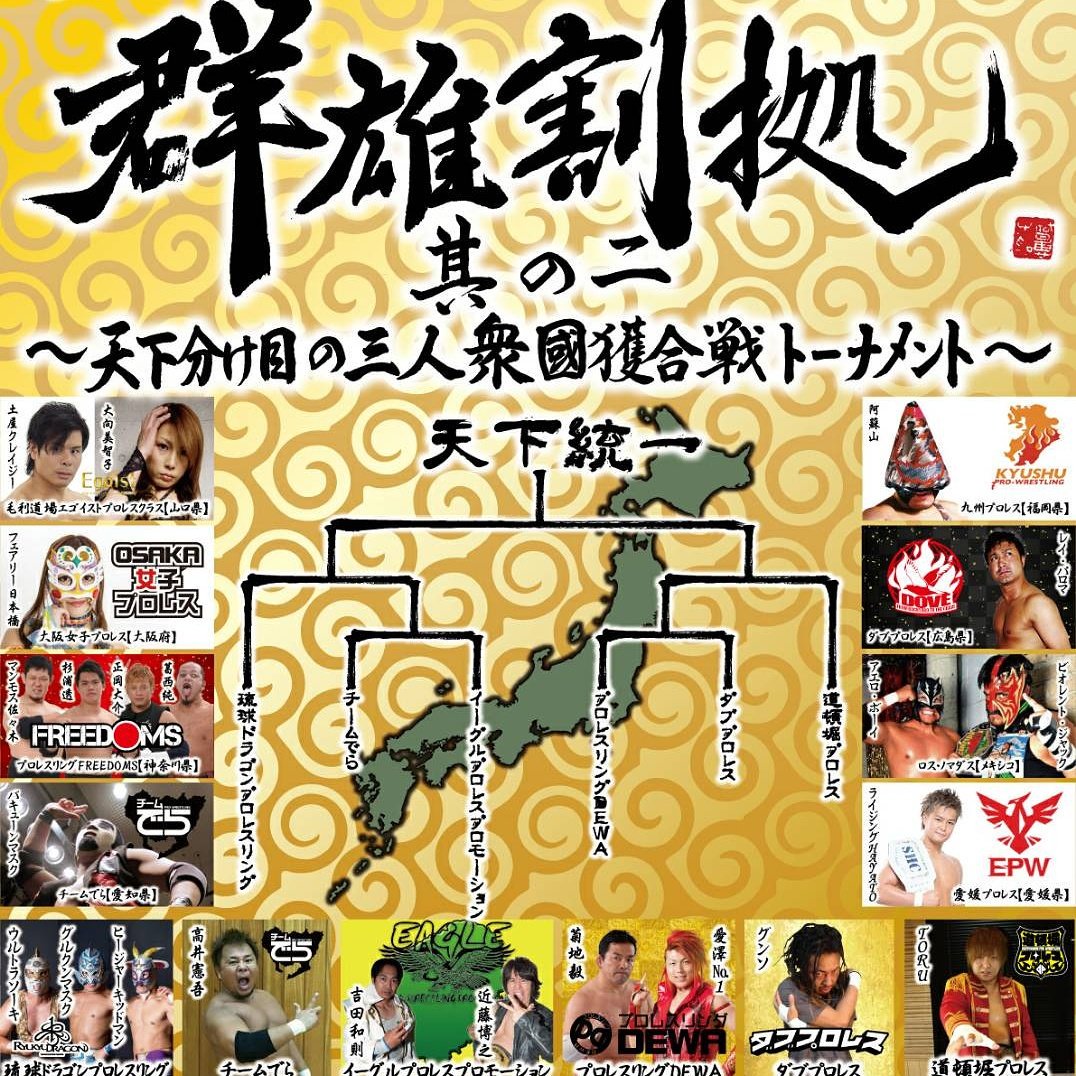 Takashi Sasaki Produce Show ~ Pro-Wrestling Sengoku-Jidai, 12/26/2017 [Tue] 18:45 @ Korakuen Hall in Tokyo
() Dragon Libre vs. X
() 1st Round Match: (Team Dera) Kengo Takai, Michio Kageyama & Grandpa Sho-Mask #4 vs. (Eagle Pro-Wrestling) Kazunori Toi, Hiroyuki Kondo & ?
() 1st Round Match: (DOVE Pro-Wrestling) Gunso, ? & ?? vs. (Pro-Wrestling DEWA) Aizawa #1, Tsuyoshi Kikuchi & Yamadaman Pondo
() FREEDOMS vs PUZZLE Promotion Tag Match: Daisuke Masaoka & Kamui vs. SenKuma & Togyo
() Special 6 Tag Match: Mammoth Sasaki, Toru Sugiura & GENTARO vs. Asosan, Tsuchiya Crazy & Rising HAYATO
() Semi-final Match: (Ryukyu Dragon Pro-Wrestling) Gurukun Mask, Ultra Soki & Hija Kidman vs. (Winner of Dera/Eagle)
() Semi-final Match: (Doutonbori Pro-Wrestling) TORU, Taiyoto Kamen & Amemura  vs. (Winnner of DOVE/DEWA)
() Special Mixed Tag Match: Fairy Nihonbashi & Vacation Mask vs. Rey Paloma & Hibiscus Mii
() FREEDOMS Offer Match: Jun Kasai, Kenji Fukimoto & Tomoya Hirata vs. Violento Jack, Aero Boy & Yuya Susumu
() Final Match: