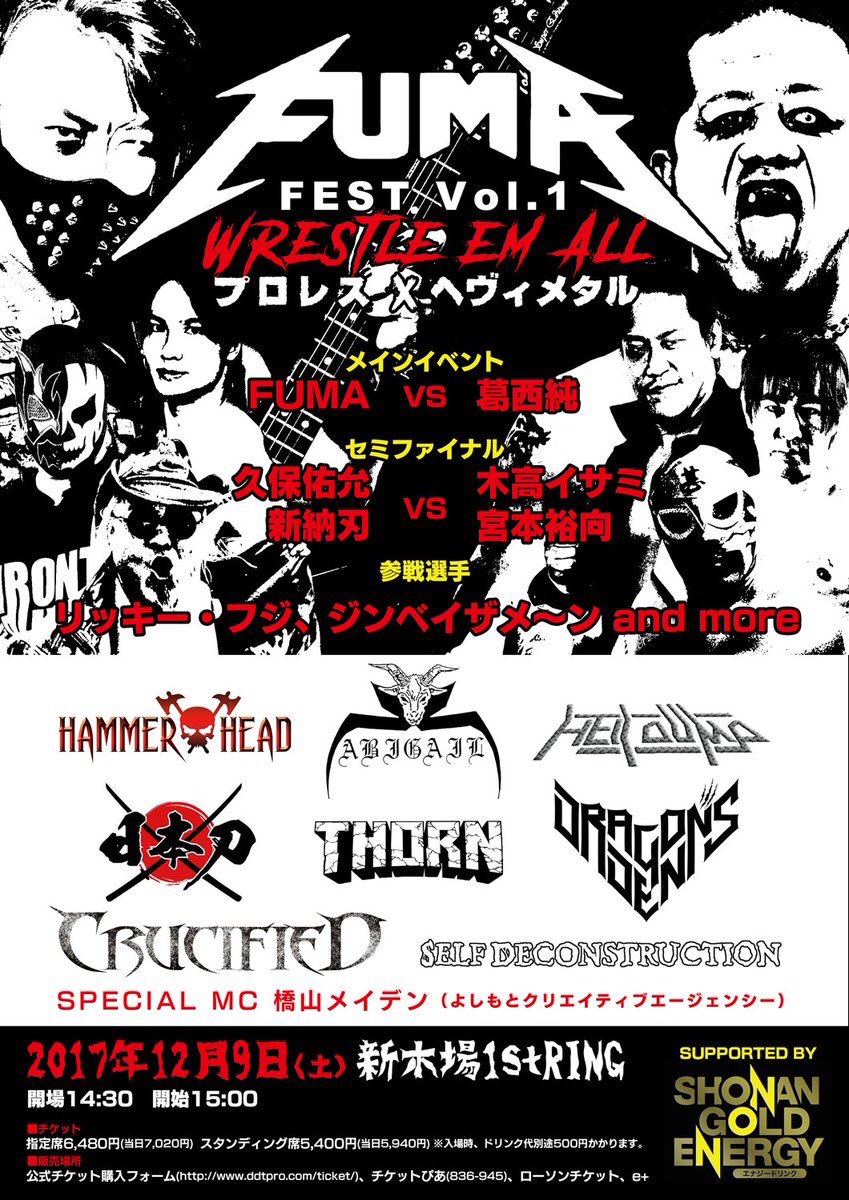 FUMA FEST Vol.1 ~ Wrestle'em All~, 12/9/2017 [Sat] 15:00 @ Shinkiba 1stRING
238 Spectators
~ Metal bands will be on hand to play sets between the matches and for entrances.
(1) Nakatsu Dickinson vs. Takato Nakano
◆Winner: Nakatsu (8:43) with a Power Slide.
(2) Jinbeizame~n vs. Yngwie "SAGA" Mustaine
◆Winner: Jinbeizame~n (7:03) following a Buzzsaw Kick.
(3) Ryuselmo Sekine vs. Ricky Fuji
◆Winner: DRAW (6:66) Time Expired.
(4) Yusuke Kubo & Hagane Shinno vs. Isami Kodaka & Yuko Miyamoto (666)
◆Winner: Miyamoto (10:25) with a Moonsault Press on Kubo.
(5) FUMA vs. Jun Kasai (FREEDOMS)
◆Winner: Kasai (18:27) with the Pearl Harbor Splash.
http://puroresuspirit.net/tag/basara/
Upcoming…
BASARA, 12/14/2017 [Thu] 19:30 @ Shinkiba 1stRING in Tokyo
() Pro-Wrestling Trial: Goma Ryu vs. Atsushi Maruyama vs. X
() Best Stretchman V3 & Tsutomu Oosugi vs. Hercules Senga & Takato Nakano
() Yusuke Kubo vs. Daiki Shimomura
() Ryuichi Sekine, Ryota Nakatsu & Koji Iwamoto vs. Trans Am ★ Ryuichi, FUMA & SAGAT
() Hardcore tag Match: Takumi Tsukamoto & Yasu Urano vs. Ryuji Ito & Tatsuhiko Yoshino
() Union MAX Championship Match: [9th Champion] Isami Kodaka vs. [Challenger]
BASARA, 12/28/2017 [Thu] 19:00 @ Korakuen Hall in Tokyo
(1) Shinjuku Chijo Saidai Budokai Tournament 1st Round: Naoki Tanizaki vs. Isami Kodaka
(2) Shinjuku Chijo Saidai Budokai Tournament 1st Round: Yuko Miyamoto vs. Colt Cabana
(3) Shinjuku Chijo Saidai Budokai Tournament 1st Round: Akito vs. Fuminori Abe
(4) Shinjuku Chijo Saidai Budokai Tournament 1st Round: Yasu Urano vs. Riho
(5) Shinjuku Chijo Saidai Budokai Tournament 2nd Round: Ayako Hamada vs. (Winner of Match #1)
(6) Shinjuku Chijo Saidai Budokai Tournament 2nd Round: Hideki Suzuki vs. (Winner of Match #2)
(7) Shinjuku Chijo Saidai Budokai Tournament Semi-final Round: (Winner of Match #3) vs. (Winner of Match #5)
(8) Shinjuku Chijo Saidai Budokai Tournament Semi-fina Round: (Winner of Match #4) vs. (Winner of Match #6)
(9) Trans Am ★ Ryuichi, SAGAT, FUMA, Yusuke Kubo & Hagane Shinno vs. Takumi Tsukamoto, Ryuichi Sekine, Ryota Nakatsu & Takato Nagano
(8) One-Hand Tournament Final Match: