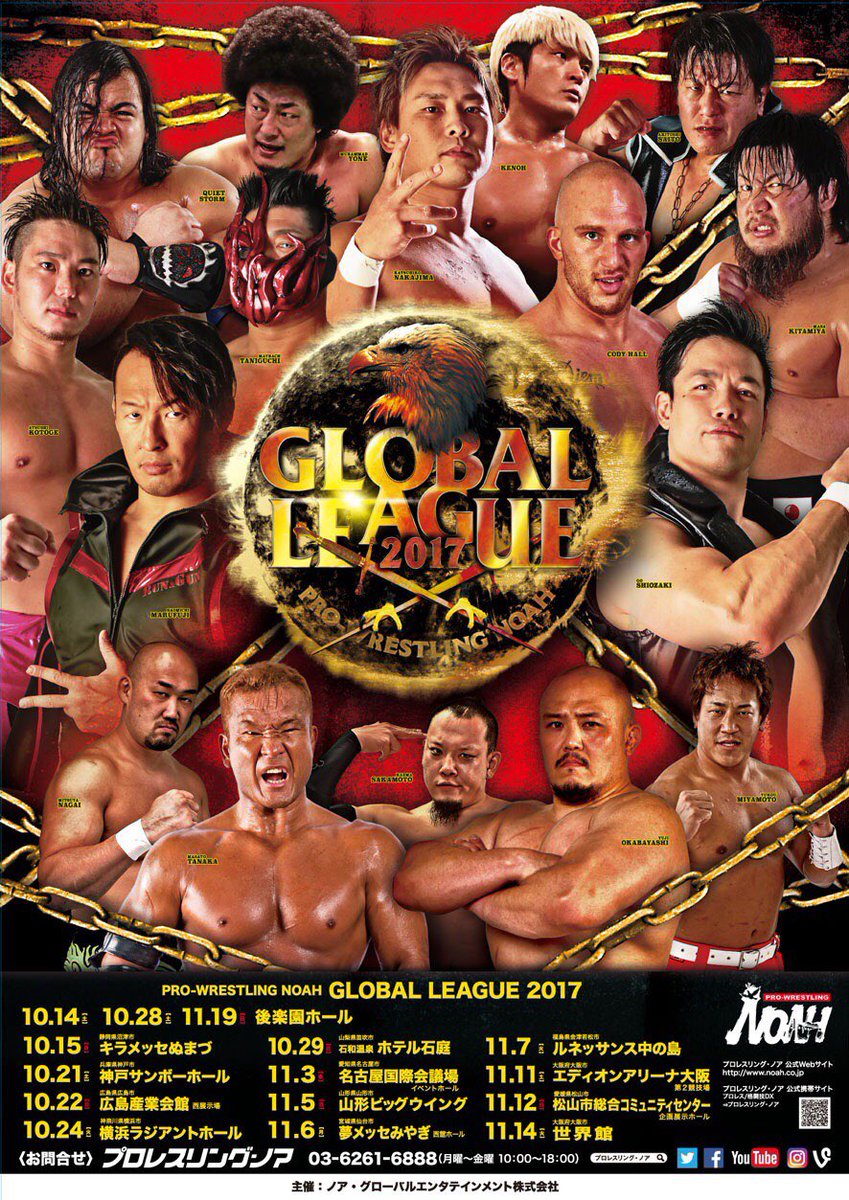 Pro Wrestling NOAH "GLOBAL LEAGUE WAR 2017", 11/7/2017 [Tue] 18:30 @ Bridal Renaissance Nakanoshima
---
Side news : The GHC Heavy belt will be defended on the 11/10 edition of Impact Wrestling, Eddie Edwards vs. El Hijo del Fantasma.
---
(1) Masao Inoue vs. Junta Miyawaki
◆Winner: Inoue (5:11) following the Orya Lariat.
(2) HAYATA & YO-HEY vs. Cody Hall & Sheldon Jean (Border City)
◆Winner: YO-HEY (7:08) following the Ganmen G on Jean.
(3) Hajime Ohara & Hitoshi Kumano vs. Yoshinari Ogawa & Minoru Tanaka (FREE)
◆Winner: Minoru (6:56) with the Minoru Special on Kumano.
(4) Takashi Sugiura & Akitoshi Saito vs. Katsuhiko Nakajima & Hi69
◆Winner: Sugiura (8:15) following the Olympic Qualifying Slam on Hi69.
(5) Muhammad Yone, Quiet Storm & Daisuke Harada vs. Go Shiozaki, Atsushi Kotoge & Tadasuke
◆Winner: Harada (12:14) with the V1 Armbar on Tadasuke.
~ Harada stated that he is on the verge of calling for a new challenger to step forward, as he keeps taking out Tadasuke directly event after event.
(6) B BLOCK: Masato Tanaka (ZERO1) vs. KAZMA SAKAMOTO (FREE)
◆Winner: Tanaka (6:24) following the Sliding D.
~ Masato Tanaka [4 wins, 1 loss = 8 points]
~ KAZMA SAKAMOTO [1 win, 6 losses = 2 points]
(7) A BLOCK: Naomichi Marufuji vs. Mitsuya Nagai (DRADITION)
◆Winner: Marufuji (11:32) with a Small Package Hold.
~ Naomichi Marufuji [3 wins, 1 draw, 1 bye, = 9 points]
~ Mitsuya Nagai [2 wins, 1 bye, 3 losses, 1 foul = 6 points]
(8) B BLOCK: Kenoh vs. Yuko Miyamoto (666)
◆Winner: Miyamoto (11:39) with a Manji Clutch.
~ Yuko Miyamoto [3 wins, 4 losses = 6 points]
~ Kenoh [3 wins, 1 draw, 1 loss = 7 points]
(9) A BLOCK: Maybach Taniguchi vs. Masa Kitamiya
◆Winner: No Winner (13:39) Double ring out.
~ Masa Kitamiya [3 wins, 1 bye, 1 loss, 1 foul = 8 points]
~ Maybach Taniguchi [1 bye, 2 losses, 2 fouls = 2 points]
Current Standings
A BLOCK
~ Go Shiozaki [4 wins, 1 bye, 1 loss = 10 points]
~ Naomichi Marufuji [3 wins, 1 draw, 1 bye, = 9 points]
~ Masa Kitamiya [3 wins, 1 bye, 1 loss, 1 foul = 8 points]
~ Mitsuya Nagai [2 wins, 1 bye, 3 losses, 1 foul = 6 points]
~ Cody Hall [2 wins, 1 bye, 4 losses = 6 points]
~ Muhammad Yone [1 win, 1 draw,  1 bye, 4 losses = 5 points]
~ Maybach Taniguchi [1 bye, 2 losses, 2 fouls = 2 points]
~ Yuji Okabayashi [withdraw due to injury, 7 losses]
B BLOCK
~ Masato Tanaka [4 wins, 1 loss = 8 points]
~ Katsuhiko Nakajima [3 wins, 1 draw = 7 point]
~ Kenoh [3 wins, 1 draw, 1 loss = 7 points]
~ Atsushi Kotoge [3 wins, 2 losses = 6 points]
~ Yuko Miyamoto [3 wins, 4 losses = 6 points]
~ Akitoshi Saito [2 wins, 3 losses = 4 points]
~ Quiet Storm [2 wins, 3 losses = 4 points]
~ KAZMA SAKAMOTO [1 win, 6 losses = 2 points]
Previous Results
~ 10/14 Day 1 [RESULTS]
~ 10/15 Day 2 [RESULTS]
~ 10/21 Day 3 [RESULTS]
~ 10/22 Day 4 [RESULTS]
~ 10/24 Day 5 [RESULTS]
~ 10/28 Day 6 [RESULTS]
~ 10/29 Day 7 [RESULTS]
~ 11/3 Day 8 [RESULTS]
~ 11/5 Day 9 [RESULTS]
~ 11/6 Day 10 [RESULTS]
~ 11/7 Day 11 * Above
~ 11/11 Day 12
~ 11/12 Day 13
~ 11/14 Day 14
~ 11/19 Day 15 Final