BASARA, 11/26/2017 [Sun] 13:00 @ Seijo Hall in Tokyo
(1) Takato Nakano vs. Akiyori Takizawa (ASUKA PROJECT)
◆Winner: Akiyori (8:04) following the Sleng Teng.
(2) Trial Pro-Wrestling: (Counsel) Goma Ryu vs. (Prosecutor) Atsushi Maruyama vs. (Accused) Guts Ishijima (GUTS World)
◆Winner: Ishijima (10:10) following a Facebuster on Maruyama.
(3) Trans Am ★ Family vs IRON PRIEST!: Trans Am ★ Ryuichi & SAGAT vs. FUMA & Yusuke Kubo
◆Winner: FUMA (14:53) following a Jawbreaker on SAGAT.
(4) Ryota Nakatsu vs. Minoru Tanaka (FREE)
◆Winner: Minoru (12:15) following the B"D"F.
(5) Takumi Tsukamoto, Daichi Kazato & Yasu Urano (FREE) vs. Kazuhiro Tamura (HEAT-UP), Daisuke Kanehira (HEAT-UP) & Fuminori Abe (Sportiva)
◆Winner: Abe (16:42) with the Jikiden-oh Manjigatame on Kazato.
(6) Union MAX Championship Match: [9th Champion] Isami Kodaka vs. [Challenger] Ryuichi Sekine
◆Winner: Kodaka (18:56) following the Isami-ashi-zan.
~ 1st successful title defense.
~ Following the match, Fuminori Abe stepped forward to challenge Kodaka. the match was announced to take place on December 14 in Shinkiba.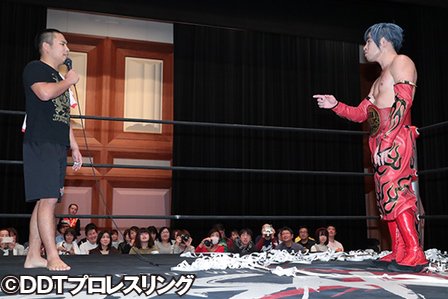 http://puroresuspirit.net/tag/basara/
Upcoming…
FUMA FEST Vol.1 ~ Wrestle'em All~, 12/9/2017 [Sat] 15:00 @ Shinkiba 1stRING
() Jinbeizame~n vs. Yngwie "SAGA" Mustaine
() Yusuke Kubo & Hagane Shinno vs. Isami Kodaka & Yuko Miyamoto (666)
() FUMA vs. Jun Kasai (FREEDOMS)
BASARA, 12/14/2017 [Thu] 19:30 @ Shinkiba 1stRING in Tokyo
(6) Union MAX Championship Match: [9th Champion] Isami Kodaka vs. [Challenger]
BASARA, 12/28/2017 [Thu] @ Korakuen Hall in Tokyo
() Trans Am ★ Ryuichi, SAGAT, FUMA, Yusuke Kubo & Hagane Shinno vs. Takumi Tsukamoto, Ryuichi Sekine, Ryota Nakatsu & Takato Nagano