BASARA, 11/19/2017 [Sun] 12:30 @ Osaka City Tsurumi Ryokuchi Hanamizuki Hall
(1) Takato Nakano vs. Yuki Aoki
◆Winner: Yuki (9:13) following the Lightning Spiral.
(2) Takumi Tsukamoto & Daichi Kazato vs. Tsubasa & Billyken Kid (both FREE)
◆Winner: Billyken (13:59) with the La Espalda on Kazato.
(3) Hardcore Match: SAGAT vs. Naoki Tanizaki (FREE)
◆Winner: Tanizaki (12:19) following the Casanova onto a chair.
(4) FUMA, Yusuke Kubo & HUB (FREE) vs. Yasu Urano (FREE), Shinya Ishida  (Sportiva) & Fuminori Abe (Sportiva)
◆Winner: HUB (18:03) with the Modoku Habu Kubaku on Abe.
(5) Isami Kodaka & Masamune (FREE) vs. Ryuichi Sekine & Ryota Nakatsu
◆Winner: Sekine (16:55) with the Let's Combine on Kodaka.
~ Sekine claims the direct win over the MAX champion before the title challenge on the 26th.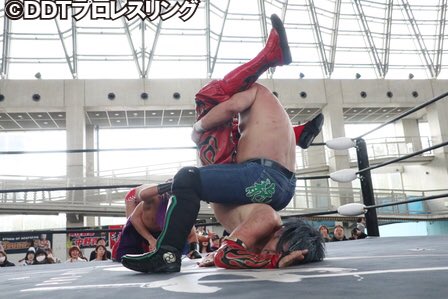 http://puroresuspirit.net/tag/basara/
~ Upcoming…
BASARA, 11/26/2017 [Sun] 13:00 @ Seijo Hall in Tokyo
() Takato Nakano vs. Akiyori Takizawa
() Trial Pro-Wrestling: Goma Ryu vs. Atsushi Maruyama vs. Defendant X
() Trans Am ★ Family vs IRON PRIEST!: Trans Am ★ Ryuichi & SAGAT vs. FUMA & Yusuke Kubo
() Ryota Nakatsu vs. Minoru Tanaka
() Takumi Tsukamoto, Daichi Kazato & Yasu Urano vs. Kazuhiro Tamura, Daisuke Kanehira & Fuminori Abe
() Union MAX Championship Match: [Champion] Isami Kodaka vs. [Challenger] Ryuichi Sekine
FUMA FEST Vol.1 ~ Wrestle'em All~, 12/9/2017 @ Shinkiba 1stRING
() Jinbeizame~n vs. Yngwie "SAGA" Mustaine
() Yusuke Kubo & Hagane Shinno vs. Isami Kodaka & Yuko Miyamoto (666)
() FUMA vs. Jun Kasai (FREEDOMS)