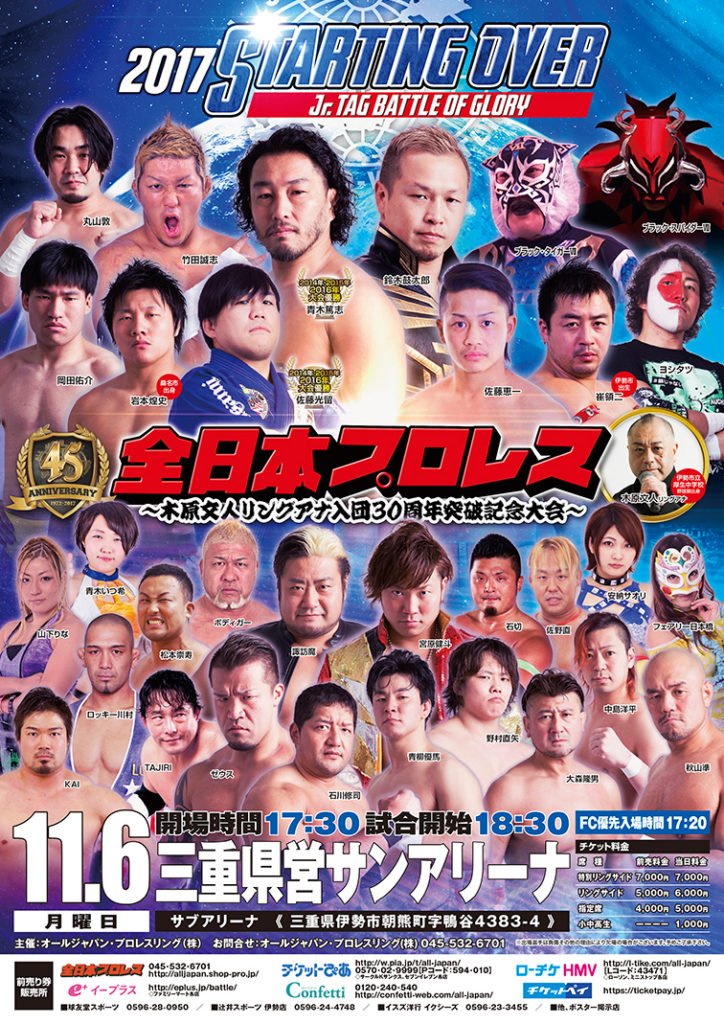 All Japan Pro Wrestling "2017 STARTING OVER ~ Jr. TAG BATTLE OF GLORY ~, 11/6/2017 [Mon] 18:30 @ Ise City Mie Prefectural Sanna Arena, Sub Arena
778 Spectators (crowded)
(1) Jr. TAG BATTLE OF GLORY: Masashi Takeda & Atsushi Maruyama (both FREE) vs. Black Tiger VII & Black Spider VII
◆Winner: Maruyama (7:13) following a Buzzsaw Kick on Spider.
~ Takeda/Maruyama [1 win, 1 loss = 2points]
~ Tiger/Spider [1 win, 1 loss = 2 points]
(2) Joshi Offer Match: Saori Anno & Fairy Nihonbashi vs. Rina Yamashita & Itsu Aoki
◆Winner: Yamashita (:04) following a Lariat on Nihonbashi.
~ Rematch
◆Winner: Anno (6:09) with a Fisherman Suplex Hold on Itsu.
(3) Jun Akiyama, Takao Omroi, Yohei Nakajima & Naoshi Sano vs. TAJIRI (FREE), KAI (FREE), Rocky Kawamura (PancraseISM) & Takatoshi Matsumoto (FREE)
◆Winner: Omori (10:33) following an Axe Bomber on Matsumoto.
(4) Koji Iwamoto & Yusuke Okada vs. Ryoji Sai (LAND'S END) & Toshiki Iwaki (FREE)
◆Winner: Sai (10:33) following an Avalanche style Brainbuster on Yusuke.
(5) Jr. TAG BATTLE OF GLORY: Atsushi Aoki & Hikaru Sato vs. Kotaro Suzuki & Keiichi Sato (both FREE)
◆Winner: Aoki (11:12) with a Texas Clover Hold on Keiichi.
~ Aoki/Hikaru [2 wins, 1 loss = 4 points]
~ Kotaro/Keiichi [2 wins, 1 loss = 4 points]
(6) Kento Miyahara, Yoshitatsu (FREE), Naoya Nomura & Yuma Aoyagi vs. Suwama, Shuji Ishikawa (FREE), Zeus & The Bodyguard (FREE)
◆Winner: Suwama (17:27) following the Last Ride on Nomura.
~ Suwama stated that he aims to destroy Yoshitatsu as they will meet on 12/12.