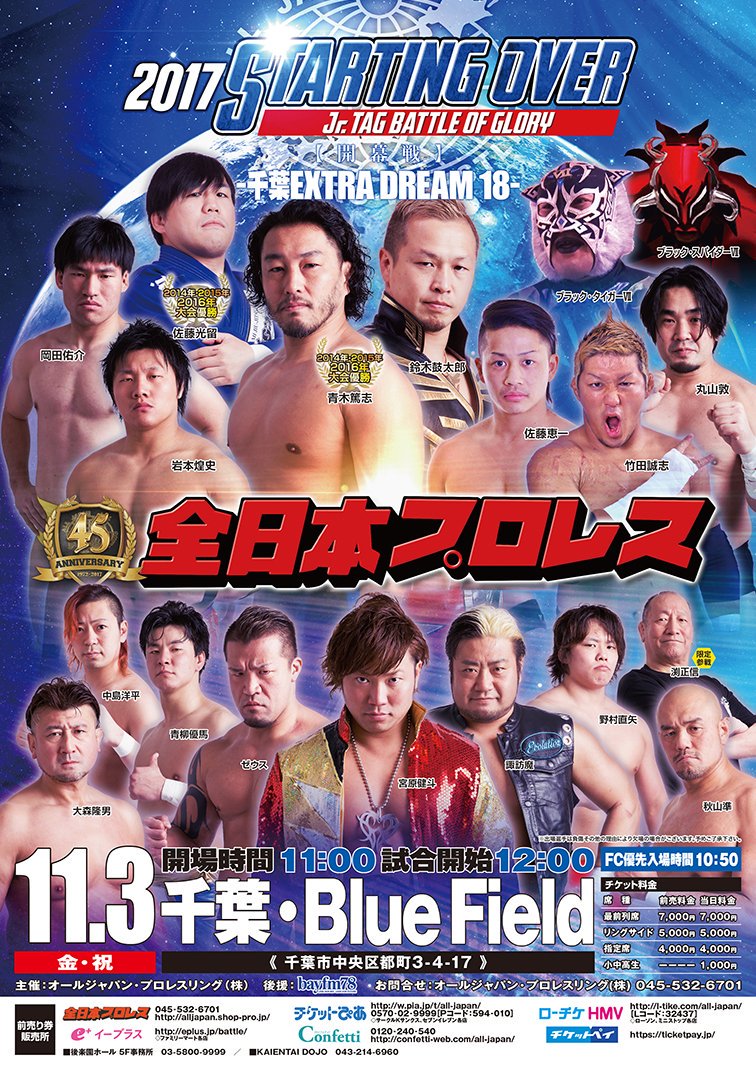 All Japan Pro Wrestling "2017 STARTING OVER ~ Jr. TAG BATTLE OF GLORY ~ Chiba EXTRA DREAM 18", 11/3/2017 [Fri] 12:00 @ Blue Field in Chiba
(1) Zeus, Kaji tomato & Fuminori Abe (Sportiva) vs. Ryoji Sai (LAND'S END) , Ishikiri (LAND'S END) & Keisuke Goto (WAVE)
◆Winner: Zues (8:22) following a Choke Slam on Keisuke.
(2) Joshi Offer Match: Saori Anno vs. Busu Mongol
◆Winner: Mongul (8:20) with a La Magistral.
(3) Jun Akiyama, Takao Omori & Yohei Nakajima vs. TAJIRI, Kotaro Yoshino & Dinosaur Takuma (both K-DOJO)
◆Winner: Yohei (9:42) following the Tobiushiro-mawashigeri on TAJIRI.
~ Yohei claims the direct win, over the World Junior Champion following the knockout kick, before the title challenge on the 5th.
(4) Jr. TAG BATTLE OF GLORY: Koji Iwamoto & Yusuke Okada vs. Kotaro Suzuki & Keiichi Sato (both FREE)
◆Winner: Keiichi (15:52) with a German Suplex Hold on Yusuke.
~ The former All Japan wrestlers claim the win.
(5) Jr. TAG BATTLE OF GLORY: Atsushi Aoki & Hikaru Sato vs. Black Tiger VII & Black Spider VII (both FREE)
◆Winner: Spider (9:53) following a Hisshu-Otoshi on Aoki.
~ Tiger & Spider claim the upset win over the previous year winners. As issues still appear to remain between Aoki and Hikaru.
(6) Asia Tag Championship Match: [103rd Champions] Naoya Nomura & Yuma Aoyagi vs. [Challengers] Kim Nan Seok & Dr.MONZ Jr. (both Pro-Wrestling Fit)
◆Winner: Nomura (10:15) following the Maximum on MONZ.
~ 3rd successful title defense.
(7) Suwama, Shuji Ishikawa (FREE), Masashi Takeda (FREE) & Atsushi Maruyama (FREE) vs. Kento Miyahara, Yoshitatsu (FREE), KAI (FREE) & Takatoshi Matsumoto (FREE)
◆Winner: Yoshitatsu (17:05) following a Backdrop on Maruyama.
~ Yoshitatsu continues to rack up wins before he challenges for the Triple Crown on the 9th.