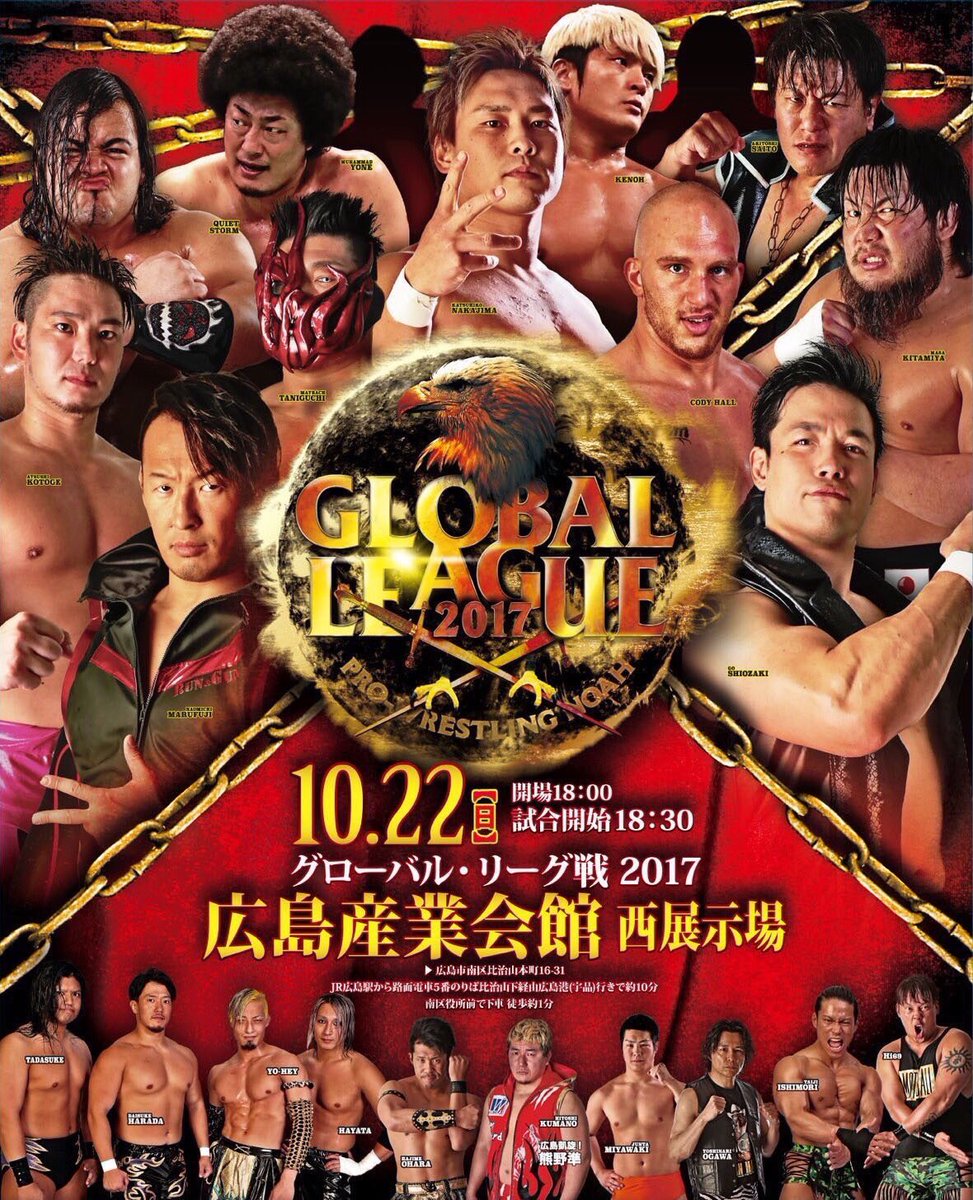 Pro Wrestling NOAH "GLOBAL LEAGUE WAR 2017", 10/22/2017 [Sun] 18:30 @ Hiroshima Industry Center West Exhibition Hall
(1) Masao Inoue (FREE) vs. Minoru Tanaka (FREE)
◆Winner: Minoru (7:58) with a Ground Cobra Twist.
(2) Maybach Taniguchi & Masa Kitamiya vs. Cody Hall & Sheldon Jean (Border City)
◆Winner: Kitamiya (8:03) following a Saito Suplex on Jean.
(3) Quiet Storm, Taiji Ishimori, Hi69 & LEONA vs. Kenoh, Hajime Ohara, Yoshinari Ogawa & Hitoshi Kumano
◆Winner: Kumano (13:01) with an Argentine Backbreaker on LEONA.
(4) Naomichi Marufuji, Daisuke Harada & Tadasuke vs. Katsuhiko Nakajima, HAYATA & YO-HEY
◆Winner: YO-HEY (12:09) with a Rolling Cradle on Tadasuke.
~ YO-HEY with the revenge win following yesterday's loss, as he shows his ability to counter Tadasuke's OutKast finisher.
(5) B BLOCK: Akitoshi Saito vs. KAZMA SAKAMOTO
◆Winner: Saito (6:02) following the Sickle Death.
(6) B BLOCK: Atsushi Kotoge vs. Yuko Miyamoto
◆Winner: Kotoge (12:38) following the Kill Switch.
~ Atsushi Kotoge [2 wins = 4 points]
~ Yuko Miyamoto [2 losses = 0 points]
(7) A BLOCK: Muhammad Yone vs. Go Shiozaki
◆Winner: Shiozaki (17:10) following a Short-range Gowan Lariat.
~ Go Shiozaki [2 wins, 1 bye,, 1 loss = 6 points]
~ Muhammad Yone [2 wins, 1 bye, 2 losses = 4 points]
Current Standings
A BLOCK
~ Naomichi Marufuji [2 wins, 1 bye, = 6 points]
~ Masa Kitamiya [2 wins, 1 bye = 6 points]
~ Go Shiozaki [2 wins, 1 bye,, 1 loss = 6 points]
~ Mitsuya Nagai [1 win, 1 bye, 1 loss = 4 points]
~ Muhammad Yone [2 wins, 1 bye, 2 losses = 4 points]
~ Maybach Taniguchi [1 bye, 1 loss = 2 points]
~ Cody Hall [1 bye, 3 losses = 2 points]
~ Yuji Okabayashi [withdraw due to injury, 7 losses]
B BLOCK
~ Atsushi Kotoge [2 wins = 4 points]
~ Kenoh [1 win, 1 draw = 3 points]
~ Masato Tanaka [1 win = 2 points]
~ Akitoshi Saito [1 win, 2 losses = 2 points]
~ KAZMA SAKAMOTO [1 win, 1 loss = 2 points]
~ Katsuhiko Nakajima [1 draw = 1 point]
~ Yuko Miyamoto [2 losses = 0 points]
~ Quiet Storm [-]
Previous Results
~ 10/14 Day 1 [RESULTS]
~ 10/15 Day 2 [RESULTS]
~ 10/21 Day 3 [RESULTS]
~ 10/22 Day 4 * Above
~ 10/24 Day 5
~ 10/28 Day 6
~ 10/29 Day 7
~ 11/3 Day 8
~ 11/5 Day 9
~ 11/6 Day 10
~ 11/7 Day 11
~ 11/11 Day 12
~ 11/12 Day 13
~ 11/14 Day 14
~ 11/19 Day 15 Final