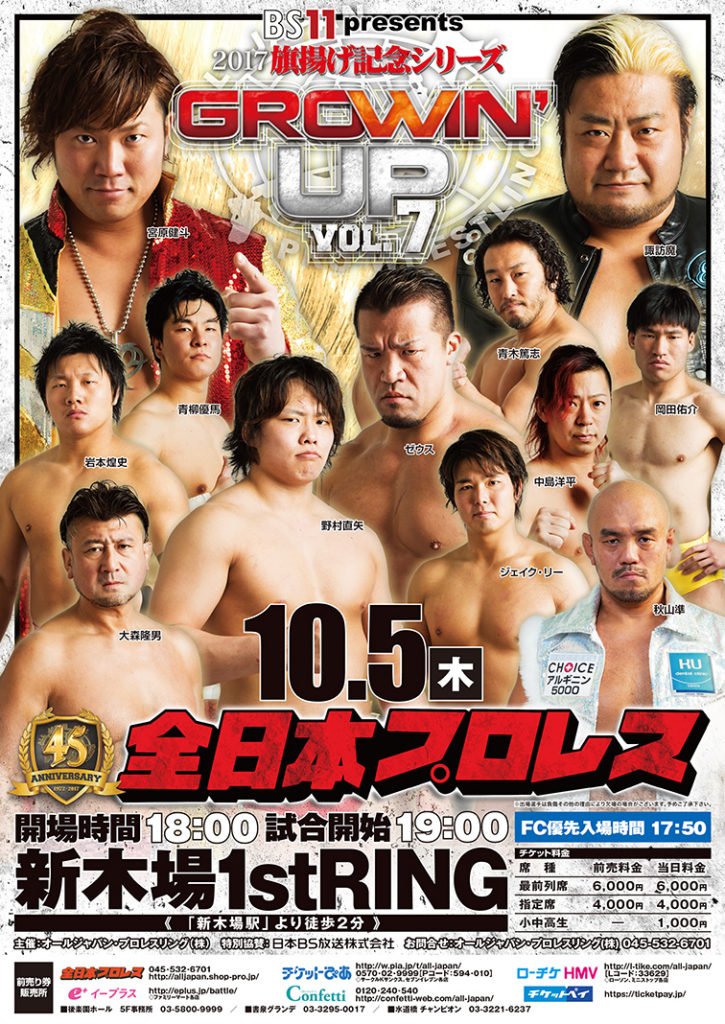 All Japan Pro-Wrestling "GROWIN' UP vol.7", 10/5/2017 [Thu] 19:00 @ Shinkiba 1stRING in Tokyo
292 Spectators (crowded)
(1) Yusuke Okada vs. Keiichi Sato (FREE)
♦Winner: Keiichi (4:50) with a German Suplex Hold.
(2) Yohei Nakajima & Koji Iwamoto vs. Daiki Inaba & Seiki Yoshioka (both W-1)
♦Winner: Inaba (11:22) via referee stop on Yohei, with the Gokusori Manjigatame.
(3) Takao Omori, Atsushi Maruyama (FREE) & Fuminori Abe (Sportiva) v. Koji Doi, Kumagoro & Andy Wu (all W-1)
♦Winner: Kumagoro (9:20) following a Diving Senton on Abe.
~ Doi & Kumagoro stated that they are focused on the currently on-going W-1 Tag League at the moment, but did not deny the possibility of joining All Japan's next month.
~ Andy Wu called out Maruyama for a singles match in the future.
(4) Jun Akiyama vs. Kotaro Suzuki (FREE)
♦Winner: Akiyama (11:31) following a Wrist Clutch style Exploder.
~ Akiyama with the win over his former ally, as it appears that Kotaro hinted at his place potentially being back in All Japan.
(5) Asia Tag Championship Match: [103rd Champions] Noaya Nomura & Yuma Aoyagi vs. [Challengers] Manabu Soya (W-1) & Black Tiger VII (FREE)
♦Winner: Aoyagi (18:23) following the Rock Star Buster on Black Tiger VII.
~ 1st successful title defense.
~ Aoki and Hikaru came forward to make the challenge.
~ Though the loss, Soya and BT made it known that they want to compete in the upcoming World's Strongest Tag League.
(6) Kento Miyahara, KAI (FREE), Hikaru Sato & Danny Jones vs. Suwama, Shuji Ishikawa (FREE), Atsushi Aoki & TAJIRI (FREE)
♦Winner: Suwama (21:39) following the Last Ride on Hikaru.
~ Suwama with the win over Miyahara's team, as he proclaimed that Miyahara better enjoy his era as champion right now because at Korakuen that comes to an end.