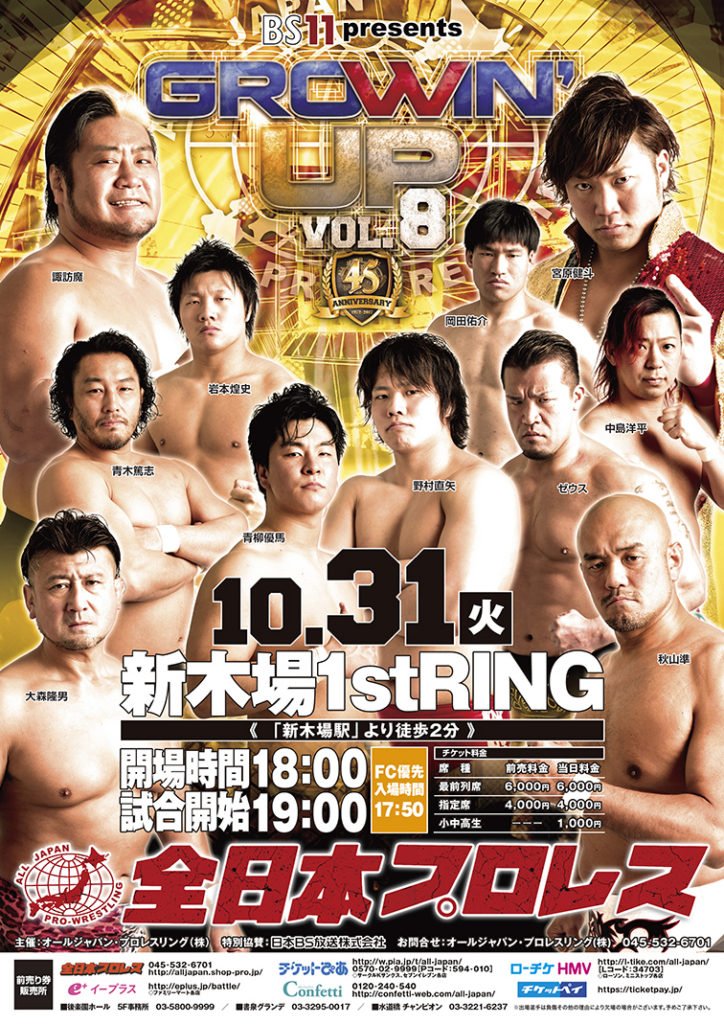 All Japan Pro-Wrestling "BS11 presents GROWIN' UP vol.8", 10/31/2017 [Tue] 19:00 @ Shinkiba 1stRING in Tokyo
352 Spectators (overcrowded)
(1) Jun Akiyama, Yohei Nakajima & Fuminori Abe (Sportiva) vs. TAJIRI, Yoshitatsu & KAI (all FREE)
◆Winner: Yoshitatsu (6:32) following a Backdrop on Abe.
~ Yoshitatsu stated that he wants a singles match against Akiyama in the future.
(2) Joshi Offer Match: Saori Anno & Nigasa Nozaki vs. Natsumi Manki & Saki
◆Winner: Anno (10:08) with the Pottering on Saki.
(3) Takao Omori vs. Manabu Soya (W-1)
◆Winner: Soya (8:44) following a Wild Bomber.
~ Soya declared that this will be the same fate for Omori in the upcoming tag league.
~ Soya also showed off a new long blonde hair look.
(4) Jr. TAG BATTLE OF GLORY Prelude 4WAY Tag Match: Atsushi Aoki & Hikaru Sato vs. Koji Iwamoto & Yusuke Okada vs. Masashi Takeda & Atsushi Maruyama (both FREE) vs. Kotaro Suzuki & Keiichi Sato (both FREE)
◆Winner: Hikaru (9:09) via pin-fall on Maruyama.
~ Black Spider VII appeared after the match and took out Hikaru. Hikaru called him out as Fujita (Minoru Fujita), as the mysterious masked man denied the allegation.
(5) Suwama & Shuji Ishikawa (FREE) vs. Masayuki Kono & Takanori Ito (both W-1)
◆Winner: Ishikawa (12:18) following a Fire Thunder on Ito.
~ Suwama and Kono met in the ring for the first time in 4 years, as Suwama called out Shuji Kondo to come next.
(6) Kento Miyahara, Naoya Nomura & Yuma Aoyagi vs. Daisuke Sekimoto, Daichi Hashimoto & Takuya Nomura (all BJW)
◆Winner: Daichi (24:19) following a Shining Wizard on Aoyagi.
~ Daichi declared that he and Kamitani will go on to compete in All Japan's upcoming tag league.