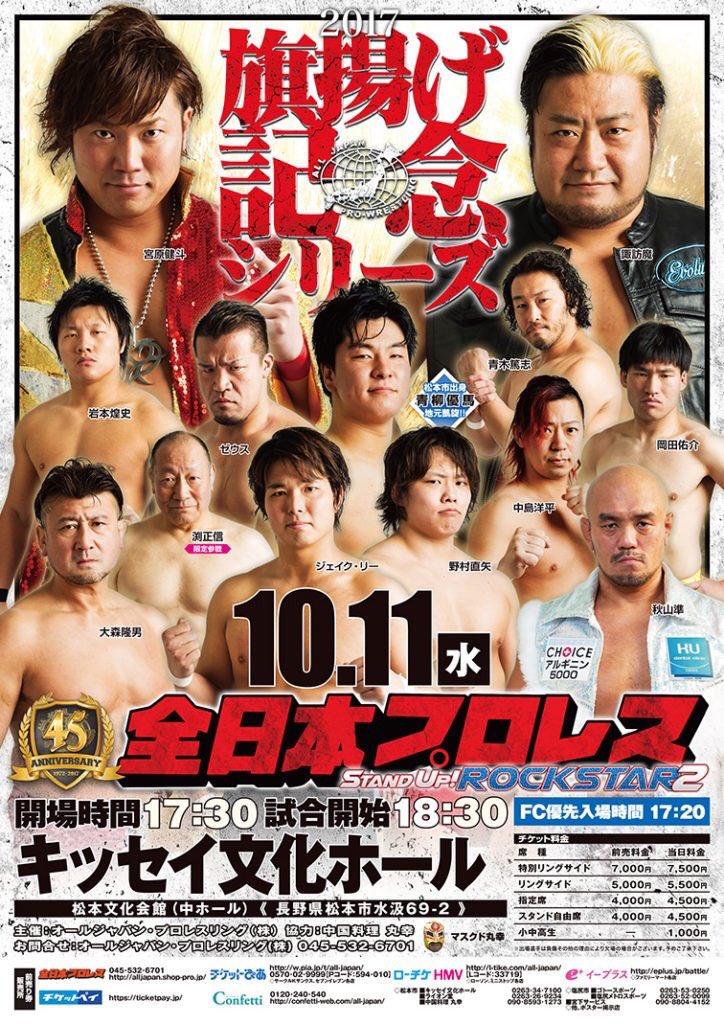 All Japan Pro-Wrestling "2017 Raising an Army Series ~ STAND UP! ROCKSTAR 2", 10/11/2017 [Wed] 18:30 @  Kissei Cultural Hall in Nagano
(1) Yohei Nakajima vs. KAI (FREE)
♦Winner: KAI (7:32) with the Splash Plancha.
(2) Atsushi Maruyama & Yusuke Okada vs. TAJIRI & Keiichi Sato (both FREE)
♦Winner: TAJIRI (10:00) following a Buzzsaw Kick on Yusuke.
(3) Shinshu Pro Offer Match: Great☆Mucha & Hiroshi Torisen vs. THE☆YOTCHAN & Masked Maruko
♦Winner: Mucha (6:35) following a Diving Elbow Drop on Yotchan.
(4) Zeus & The Bodyguard (FREE) vs. Koji Iwamoto & Fuminori Abe (Sportiva)
♦Winner: Zeus (7:16) following a Chokeslam on Abe.
(5) Jun Akiyama & Takao Omori vs. Atsushi Aoki & Hikaru Sato
♦Winner: Akiyama (9:02) following an Exploder on Hikaru.
(6) Suwama & Shuji Ishikawa vs. Joe Doering & Danny Jones
♦Winner: Suwama (15:50) with an Ankle Hold on Jones.
(7) Kento Miyahara, Naoya Nomura & Yuma Aoyagi vs. Ryoji Sai, Rikiya Fudo & Ishikiri (all LAND'S END)
♦Winner: Aoyagi (19:17) following the Rock Star Buster on Ishikiri.
~ Aoyagi with the win in his hometown as he looks to carry the win into the next Asia Tag defense on 10/21.