K-DOJO "CLUB-K 3000", 9/10/2017 [Sun] 12:00 @ Blue Field in Chiba
(1) Bambi & Marines Mask vs. Ricky Fuji & ERINA
♦Winner: Marines (10:34) with the Marines Lock on ERINA.
(2) Dinosaur Takuma vs. Kyu Mogami
♦Winner: Takuma (8:18) via foul, Mogami with a weapon.
(3) Dicky Mayer & Taylor Adams vs. Ayumu Honda & Kunio Toshima
♦Winner: Mayer (10:31) with a German Suplex Hold on Toshima.
(4) Taishi Takizawa, GO Asakawa & Yuma vs. Daigoro Kashiwa, Shiori Asahi & Yasu Urano (FREE)
♦Winner: Asakawa (18:21) with a Stretch Plum on Kashiwa.
(5) Kaji Tomato vs. Kotaro Yoshino
♦Winner: Yoshino (13:19) with the B.G. Tornado.
~ Yoshino with the win over the ST-K TAG Champion before the title challenge on 9/23.
http://puroresuspirit.net/tag/k-dojo/
Upcoming…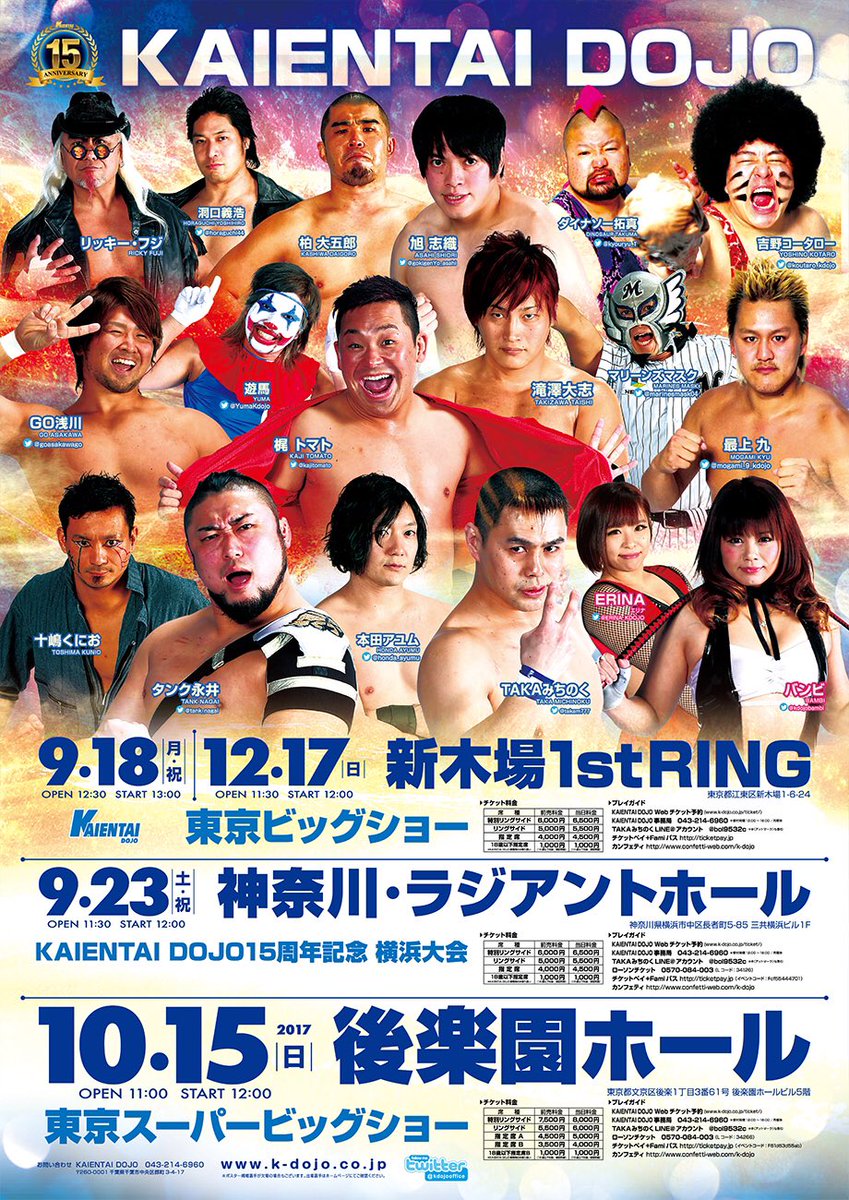 K-DOJO "Tokyo Big Show", 9/18/2017 [Mon] 13:00 @ Shinkiba 1stRING in Tokyo
() Yoshihiro Horaguchi & Bambi vs. Marines Mask & ERINA
() Taishi Takizawa, GO Asakawa & Taylor Adams vs. Shiori Asahi, Daigoro Kashiwa & Yasu Urano
() Kaji Tomato & Yuma vs. Kotaro Yoshino & Dinosaur Takuma
() TAKA Michinoku & Ryota Chikuzen vs. Kunio Toshima & Kyu Mogami
() UWA World Middleweight Championship Match: [Champion] Ayumu Honda vs. [Challenger] Dicky Mayer
() CHAMPION OF STRONGEST-K Match: [Champion] Isami Kodaka vs. [Challenger] Tank Nagai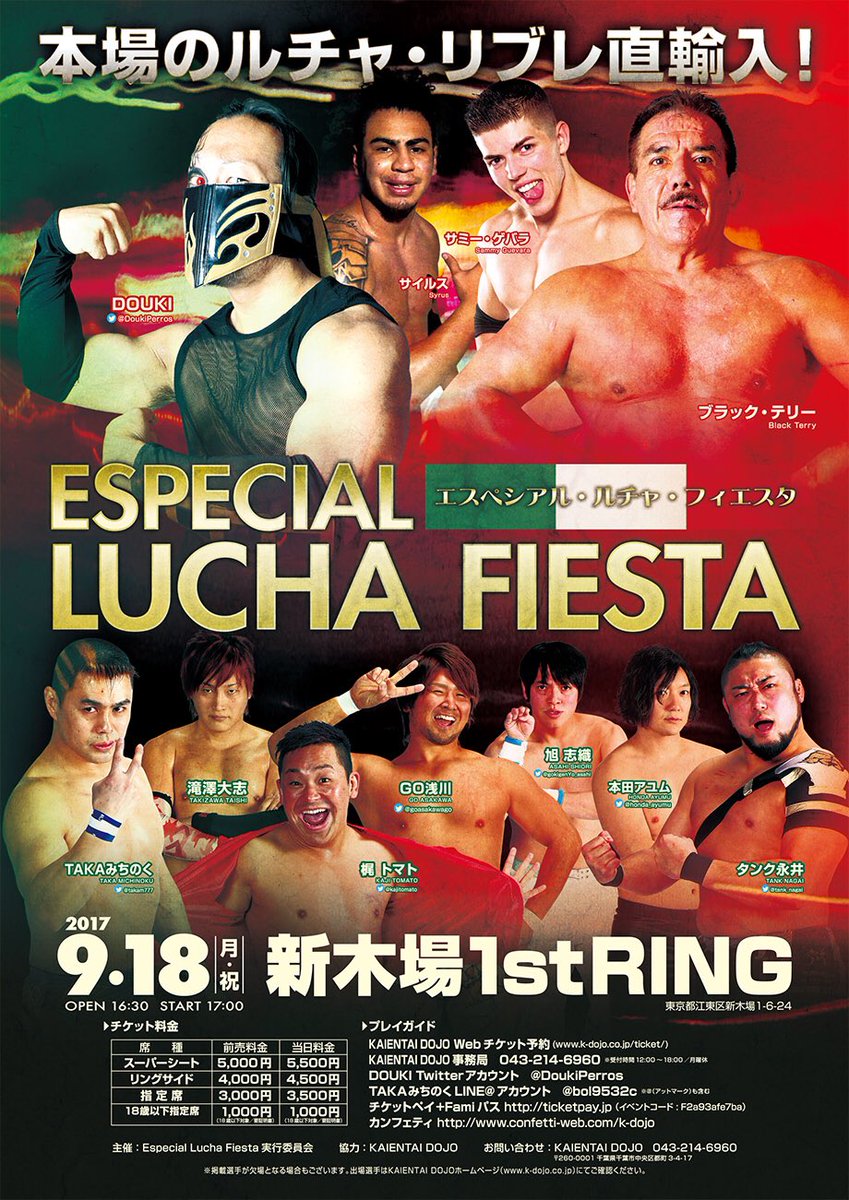 Especial Lucha Fiesta, 9/18/2017 [Mon] 17:00 @ Shinkiba 1stRING in Tokyo
() Kotaro Yoshino & Dinosaur Takuma vs. Marines Mask & Taylor Adams
() Kaji tomato, GO Asakawa & Yuma vs. Shiori Asahi, Ryota Chikuzen (Kyushu Pro) & Masamune (FREE)
() TAKA Michinoku & Black Terry vs. Tank Nagai & Kyu Mogami
() Sammy Guevara vs. Taishi Takizawa vs. Daigoro Kashiwa vs. Dicky Mayer
() DOUKI vs. Syrus
K-DOJO "K-DOJO 15th Anniversary in Yokohama", 9/23/2017 [Sat] 12:00 @ Yokohama Radiant Hall in Kanagawa
() Shiori Asahi vs. Taylor Adams vs. Kunio Toshima
() ERINA vs. Kyuri (Ice Ribbon)
() Ricky Fuji & Bambi vs. Yoshihiro Horaguchi & Marines Mask
() GO Asakawa, Yuma & Dicky Mayer vs. Tank Nagai, Ayumu Honda & DOUKI
() TAKA Michinoku vs. Daigoro Kashiwa
() Takashi Sasaki (FREEDOMS) vs. Kyu Mogami
() STRONGEST-K TAG Championship Match: [Champion] Kaji Tomato & Taishi Takizawa vs. [Challenger] Kotaro Yoshino & Dinosaur Takuma
K-DOJO "K-UP IMPACT in Blue Field ~ 2017 Autumn", 9/24/2017 [Sun] 13:00 @ Blue Field in Chiba
() ERINA vs. Kaho Kobayashi (FREE)
() Kaji Tomato vs. Daichi Kazato (BASARA)
() Tank Nagai & Kunio Toshima vs. Kotaro Suzuki & Keiichi Sato (both FREE)
() Kotaro Yoshino vs. Joe Doering (AJPW)
() Kyu Mogami vs. Takuya Nomura (BJW)
() Taishi Takizawa & GO Asakawa vs. Ricky Fuji & AKIRA (FREE)