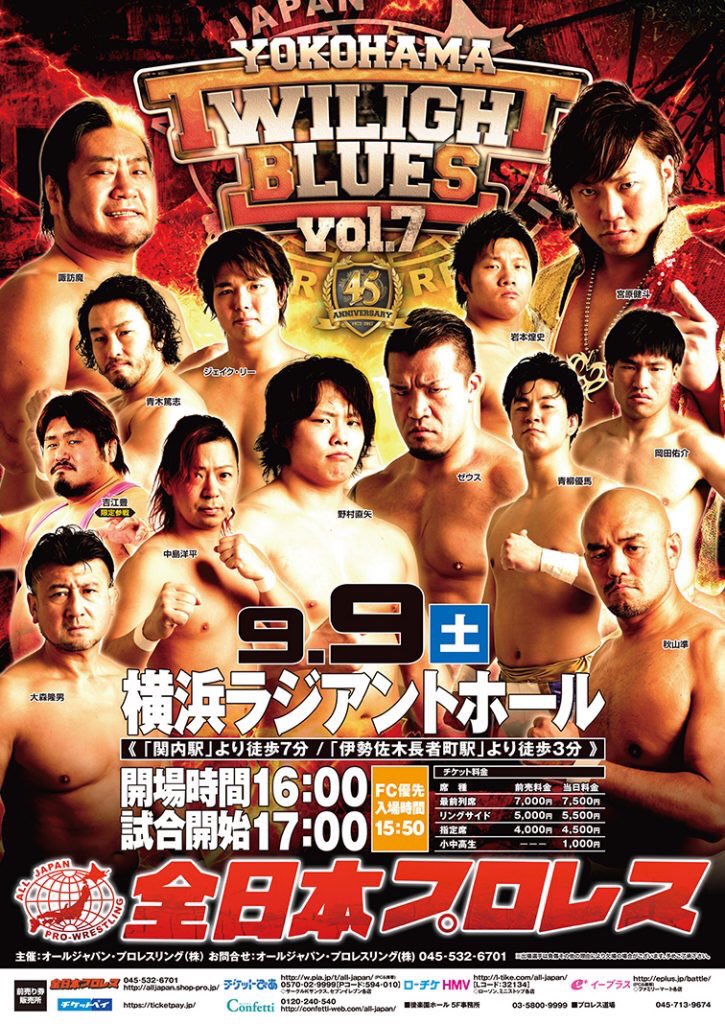 All Japan Pro-Wrestling "YOKOHAMA TWILIGHT BLUES vol.7", 9/9/2017 [Sat] 17:00 @ Yokohama Radiant Hall in Kanagawa 
---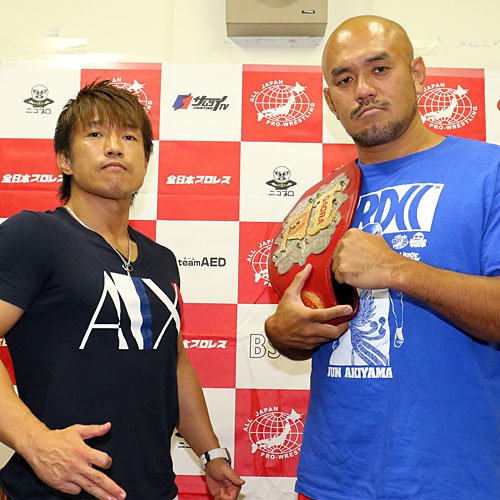 ~ Earlier in the day it was announced that Jun Akiyama will be defending the GAORA TV belt against Minoru Tanaka on September 19.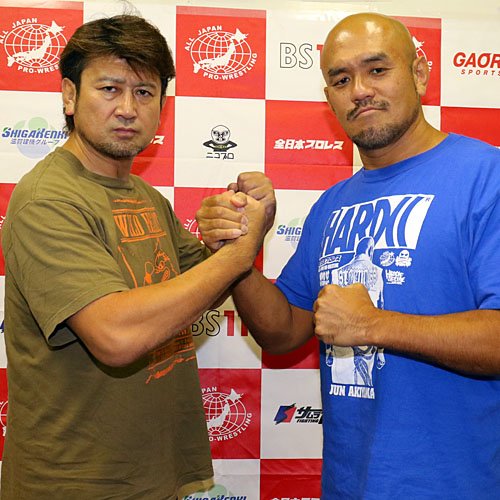 ~ Then Jun Akiyama and Takao Omori will be receiving the next World Tag Championship challenge against Strong BJ on October 21 in Yokohama. This will also mark a joint 25th anniversary show for the two veterans.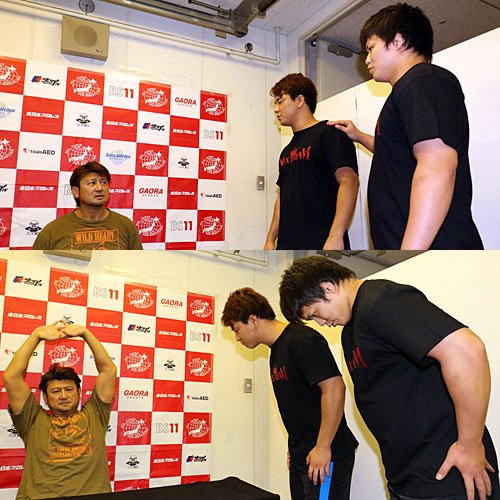 ~ Naoya Nomura & Yuma Aoyagi also made a direct appeal to Director Omori for a chance at the Asia Tag belts.
---
(1) Yusuke Okada vs. Fuminori Abe (Sportiva)
♦Winner: Abe (6:46) with a Sawa style Manjigatame.
(2) Yohei Nakajima vs. Seiki Yoshioka (W-1)
♦Winner: Yoshioka (8:50) following the S.K.
(3) Masanobu Fuchi vs. TAJIRI (FREE)
♦Winner: TAJIRI (10:36) via pin-fall.
(4) Jun Akiyama, Takao Omori & Atsushi Maruyama (FREE) vs. Koji Iwamoto, Minoru Tanaka (FREE) & Manabu Soya (W-1)
♦Winner: Minoru (12:24) with the Secret Ground Cobra on Maruyama.
(5) Suwama, Atsushi Aoki & Super Tiger (RJPW) vs. Hikaru Sato (Pancrase MISSION), Takuya Wada (FREE) & Takatoshi Matsumoto (KachofuGetsu)
♦Winner: Suwama (14:29) following a Backdrop on Matsumoto.
~ Heat was shown between Super Tiger and Hikaru Sato, Tiger appears to have taken offense to Hikaru leaving the Evolution group. With Hikaru's focus being back on his shoot background and trying to make a new group around it.
(6) Kento Miyahara, Naoya Nomura, KAI (FREE) & Yuma Aoyagi vs. Shuji Ishikawa (FREE), Yutaka Yoshie (FREE), Massimo & Danny Jones
♦Winner: Miyahara (20:27) with a German Suplex Hold on Jones.
~ KAI declared that he is 100% and is ready to take on the Triple Crown Champion Miyahara in his the first round of the Oudou tournament on September 12.
~ Ishikawa was asked about his potential alliance with Suwama though he stated that his current focus is on the Oudou Tournament.