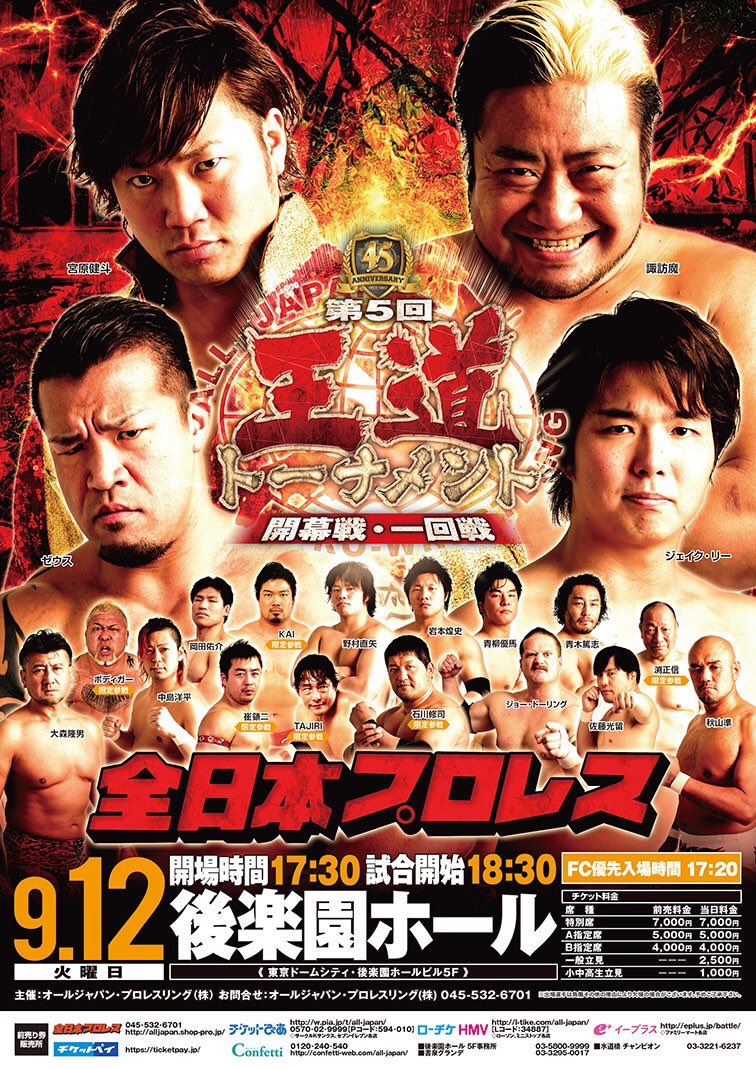 All Japan Pro-Wrestling "Oudou Tournament", 9/12/2017 [Tue] 18:30 @ Korakuen Hall in Tokyo
1,130 Spectators
---
~ It was announced that TAKA Michinoku & Black Tiger VII will be defending the Asia Tag belts against Nomura & Aoyagi on September 30 in Yamada.
~ Then Taiyo Kea was announced to make his return to the All Japan ring on October 9 at the Korakuen Hall.
~ The "Jr TAG BATTLE OF GLORY" was announced to be held from November 3 through November 9. 5 teams will be competing in the tournament. The Teams are as follows…
~ Atsushi Aoki & Hikaru Sato, Koji Iwamoto & Yusuke Okada, Masashi Takeda & Atsushi Maruyama, Kotaro Suzuki & Keiichi Sato, and Black Tiger VII & Black Spider VII.
---
(1) Yohei Nakajima, Minoru Tanaka (FREE), Atsushi Maruyama (FREE) & Yusuke Okada vs. Ultimo Dragon (Toryumon MEXICO), Kotaro Suzuki (FREE), Massimo & Danny Jones
♦Winner: Dragon (3:45) with a La Magistral on Yusuke.
(2) Jun Akiyama, Takao Omori, Masanobu Fuchi, Osamu Nishimura (FREE) vs. Naoya Nomura, Koji Iwamoto, Yuma Aoyagi & Fuminori Abe (Sportiva)
♦Winner: Omori (8:09) following an Axe Bomber on Abe.
~ Aoyagi hinted that his aim is to move past the losses against Taichi and begin his journey to become a heavyweight class wrestler.
(3) Suwama & Atsushi Aoki vs. Joe Doering & Hikaru Sato (Pancrase MISSION)
♦Winner: Doering (3:41) following a Revolution Bomb on on Aoki.
~ Doering's aim for total destruction was shown tonight, as he took out everyone including his own partner. 
(4) 5th Oudou Tournament ~ 1st Round Match: TAJIRI vs. Yoshitatsu (NJPW)
♦Winner: Yoshitatsu (9:28) following a Backdrop.
~ The New Japan wrestler manages to make the jump to the next round, even using his own mist attack in the process.
(5) 5th Oudou Tournament ~ 1st Round Match: Shuji Ishikawa (FREE) vs. The Bodyguard (FREE)
♦Winner: Ishikawa (6:51) with the Splash Mountain.
(6) 5th Oudou Tournament ~ 1st Round Match: Zeus vs. Ryoji Sai (LAND'S END)
♦Winner: Zeus (19:24) with a Jackhammer.
~ Zeus managed to survive the battle, though he will have yet another one on 9/18 as he takes on the former TC champion in Ishikawa.
(7) 5th Oudou Tournament ~ 1st Round Match: Kento Miyahara vs. KAI (FREE)
♦Winner: Miyahara (19:22) with the Shutdown German Suplex Hold.
~ Miyahara breaksthrough the first round as he is a step closer to becoming the winner of the tournament as the reigning TC champion.
~ Miyahara will face off against Yoshitatsu on 9/18.
~ The next set of 1st round matches will take place on the 9/16.