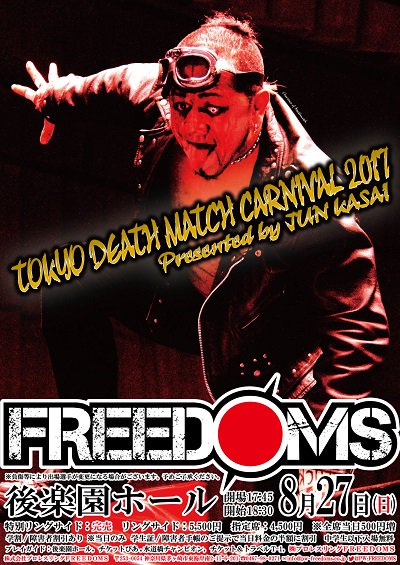 FREEDOMS / Jun Kasai Produce Deathmatch Carnival 2017, 8/27/2017 [Mon] 18:30 @ Korakuen Hall in Tokyo
1,378 Spectators (crowded)
(1) GENTARO, Kamui & Dragon Libre vs. Yuya Susumu, KAZMA SAKAMOTO (FREE) & Chikara (RikiEnterprise)
♦Winner: Chikara (9:40) following a Saber Chop on GENTARO.
(2) Mammoth Sasaki & Toru Sugiura vs. Shu & Kei Brahman
♦Winner: Toru (9:36) over Kei.
(3) Hardcore Match: Masashi Takeda (FREE), Minoru Fujita (FREE) & Gunso (DOVE) vs. Takashi Sasaki, Yuko Miyamoto (666) & Toshiyuki Sakuda (BJW)
♦Winner: Takeda (13:26) following the Reverse U Crash on Sakuda.
(4) Barbed-wire Board & Gadget Board + Bring Your Own Weapons Death Match: Kenji Fukimoto vs. Ciclope
♦Winner: Ciclope (15:47) with a Diving Body Press onto a bundle of fluorescent lights.
(5) Fluorescent Light-tube + Razor Cross Board Death Match: Jun Kasai vs. Violento Jack
♦Winner: Kasai (18:20) following a Vertical Drop Reverse Tiger Driver onto the razor board & cactus.
(6) KING of FREEDOM WORLD CHAMPIONSHIP ~ 4 corner's of pain Death Match: [8th Champion] Daisuke Masaoka vs. [Challenger] Miedo Xtremo
♦Winner: Masaoka (19:22) following a Spanish Fly through a table.
~ 5th successful title defense.