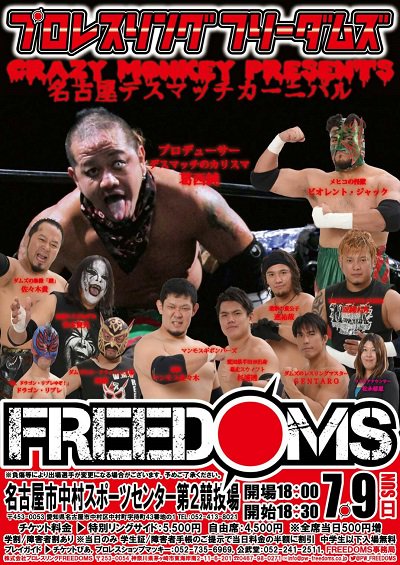 Jun Kasai Produce Show, 7/9/2017 [Sun] 18:30 @ Nagoya Nakamura Sports Center, 2nd Stadium in Aichi
(1) Takashi Sasaki, Dyna Mido & Dragon Libre vs. Kengo Takai, Michio Kageyama & Takuya Shibayama
♦Winner: Takai (8:24) following a Lariat on Libre.
(2) Yuya Susumu vs. Yusaku Ito
♦Winner: Susumu (6:53) following the Front Crash.
(3) Alcohol Drinker Match: GENTARO & Konaka = Pale One vs. Kenichiro Arai & Chikara
♦Winner: Chikara (11:18) with a Counter Figure Four Leg Lock on Konaka.
(4) Scramble Bunkhouse 3WAY Death Match: Kamui vs. GUNSO vs. Ryuichi Sekine
♦Winner: GUNSO (10:41) following a DDT on Kamui, onto a barbed-wire board.
(5) Barbed-wire Board + Alpha Death Match: Daisuke Masaoka & Violento Jack vs. Jun Kasai & Kenji Fukimoto
♦Winner: Kasai (13:35) following a Vertical Drop style Reverse Tiger Driver on Masaoka.
(6) KING of FREEDOM WORLD TAG CHAMPIONSHIP Hardcore Match: [13th Champions] Mammoth Sasaki & Toru Sugiura vs. [Challenger] Miedo Xtremo & Ciclope
♦Winner: Toru (17:54) with the Swift Driver on Ciclope.
~ 5th successful title defense.
http://puroresuspirit.net/tag/freedoms/
Upcoming…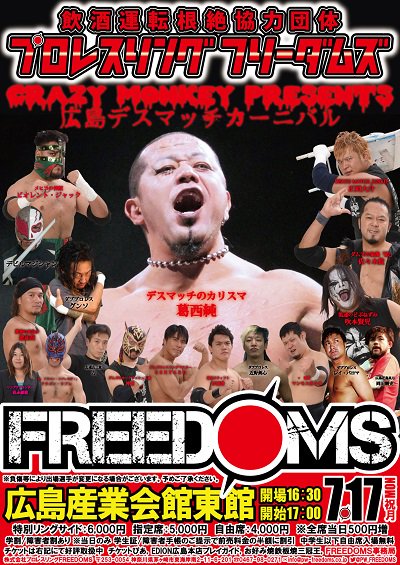 FREEDOMS "Jun Kasai Produce Deathmatch Carnival 2017", 7/17/2017 [Mon] 17:00 @ Hiroshima Industrial Hall, East Building
() Toru Sugiura, Kenji Fukimoto & Dragon Libre vs. Gunso, Takeshi Okada & Yuki Aoki
() Mammoth Sasaki vs. Chikara
() UWA World Junior Heavyweight Championship Match: [31st Champion] Yuya Susumu vs. [Challenger] Rey Paloma
~ 2nd title defense.
() Death Match: GENTARO, Kamui & Dyna Mido vs. KAZMA SAKAMOTO, Chikano Kenshin & Devil Magician
() Death Match: Daisuke Masaoka & Takashi Sasaki vs. Violento Jack & Ciclope
() Death Match: Jun Kasai vs. Miedo Xtremo