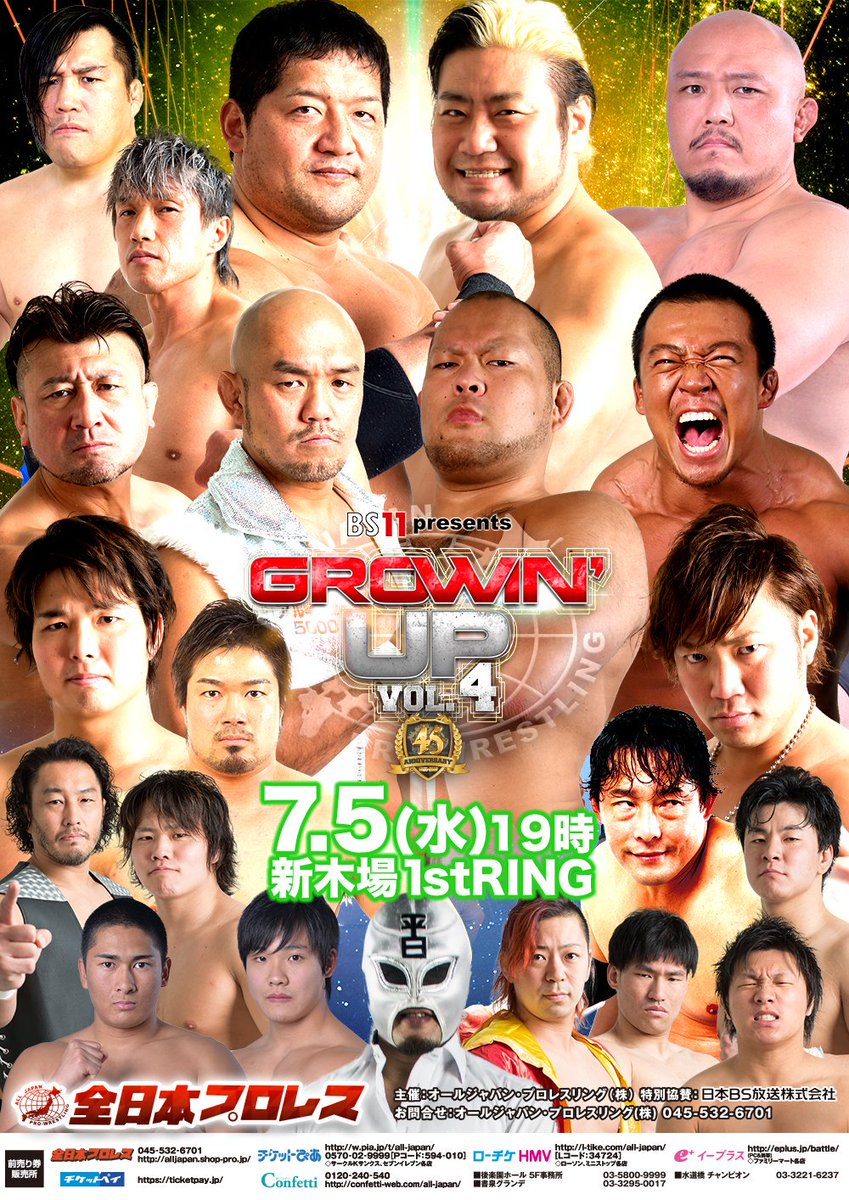 All Japan Pro-Wrestling "~GROWIN' UP vol.4~", 7/5/2017 [Wed] 19:00 @ Shinkiba 1stRING in Tokyo
352 Spectators (overcrowded)
(1) All Japan vs Big Japan ~ Aoki x Nomura: Atsushi Aoki & Naoya Nomura vs. Takuya Nomura & Yuya Aoki (both BJW)
♦Winner: Atsushi (10:05) with a Texas Clover Hold on Yuya.
(2) Weekday Night in Shinkiba: Yohei Nakajima & Yusuke Okada vs. Yuma Aoyagi & Weekday Mask (FREE)
♦Winner: Aoyagi (6:24) with a Boston Crab on Yusuke.
(3) All Japan vs Big Japan ~ FEVER POWERFUL: Koji Iwamoto vs. Yuji Okabayashi (BJW)
♦Winner: Okabayashi (11:37) with an Argentine Backbreaker.
(4) THE Miracle ~ First Encounter : Kento Miyahara & Jake Lee vs. TAJIRI & KAI (both FREE)
♦Winner: Miyahara (14:13) following the Blackout on TAJIRI.
~ TAJIRI stated that he has clearly been relaxed in training outside the ring, since withdrawing from WWE earlier this year, but felt first hand how strong Miyahara is as a competitor. It was an unexpected feeling, but one that he hopes can influence himself to find a new drive in the ring.
(5) OVER THE BORDER ~ OVER THE GENERATION : Jun Akiyama & Takao Omori vs. Tomoyuki Oka & Katsuya Kitamura (both NJPW)
♦Winner: Omori (11:58) following an Exploder on Kitamura.
~ Akiyama and Omori both acknowledged the strength of New Japan's latest young lions. Though this led to Akiyama saying that he now expects even more from the young talent that is in All Japans, specifically even Yohei Nakajima (as he is should be further ahead than others), as Akiyama stated that they need to make this new era their own.
~ Akiyama also mentioned that he is still in strong favor of mixing the young talent between the "LION'S GATE" and "GROWIN' UP" shows.
(6) Triple Crown  & World Junior Double Prelude Match : Suwama & Hikaru Sato (Pancrase MISSION) vs. Shuji Ishikawa & Minoru Tanaka (both freelance)
♦Winner: Suwama (24:15) following a Backdrop on Ishikawa.
~ Suwama with yet another direct win over Ishikawa.
~ Suwama and Hikaru finally looked to have reconciled their differences as of late, as they finally shook hands following today's match.
~ Suwama expects "Evolution" to take charge and walk out of the next Korakuen Hall with the singles belts in their possession.