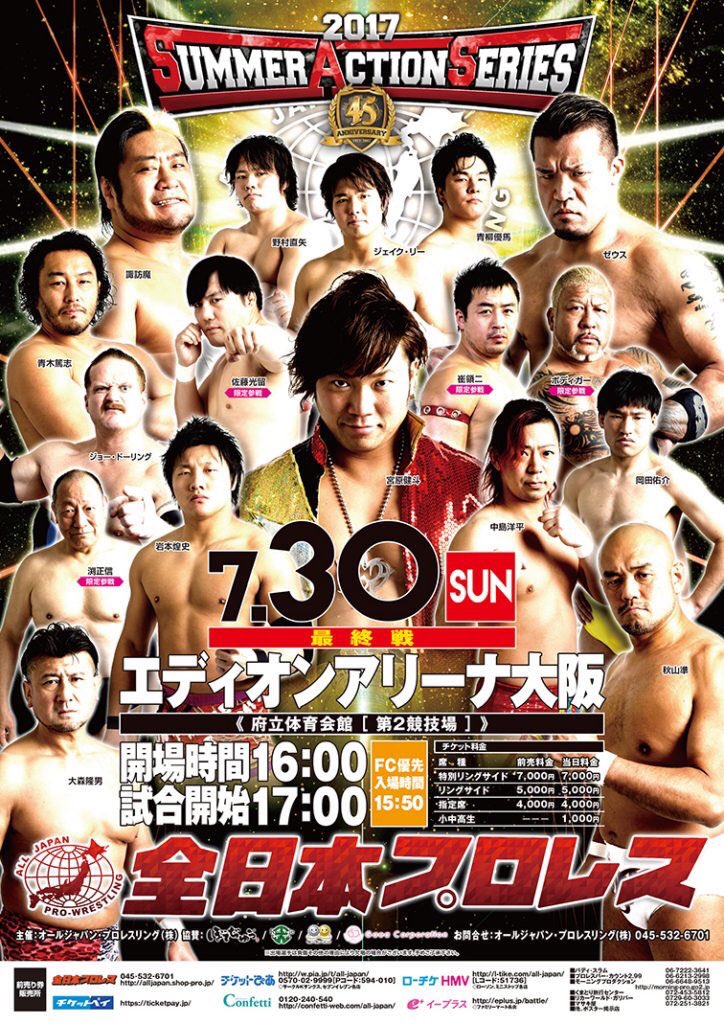 All Japan Pro-Wrestling "2017 SUMMER ACTION SERIES", 7/30/2017 [Sun] 17:00 @ EDION Arena Osaka, 2nd Stadium
~ Jake Lee was announced to miss today's show due to a left knee injury. He received the injury during the World Tag defense on the 28th and has stayed in the Tokyo are to undergo an examination. Further details on the state of the injury will be released soon.
~ Black Tiger VII made his intentions known of wanting to challenge for the Asia Tag belts at Ryogoku on 8/27, and that he will be appearing at the 8/3 show at Shinkiba 1stRING.
~ Zeus will be running his own self-produce show on November 11 at the Azelea Taisho in Osaka.
(1) KAI (FREE) & Yohei Nakajima vs. Kotaro Nasu (LAND'S END) & Katsumi Oribe (FREE)
♦Winner: KAI (4:26) with the Meteor Impact on Oribe.
(2) Ultimo Dragon (Toryumon MEXICO), Atsushi Maruyama (FREE) & Yusuke Okada vs. Minoru Tanaka (FREE), Ultimate Spider Jr. (Osaka Pro) & Takoyakida (Osaka Pro)
♦Winner: Minoru (11:22) with the Tanaka Leg Bar on Yusuke.
(3) Jun Akiyama & Takao Omori vs. Atsushi Aoki & Massimo
♦Winner: Akiyama (9:50) following an Exploder on Massimo.
(4) Naoya Nomura & Yuma Aoyagi vs. Koji Iwamoto & Fuminori Abe (Sportiva)
♦Winner: Aoyagi (10:09) following the Rockstar Buster on Abe.
(5) World Junior Heavyweight Championship Match: [43rd Champion] Hikaru Sato vs. [Challenger] TAJIRI (FREE)
♦Winner: TAJIRI (13:24) following the Buzzsaw Kick.
~ Champion falls on his 5th title defense. TAJIRI  becomes the 44th generation champion.
~ Ultimo Dragon stepped forward as he challenged TAJIRI for the title match at Ryogoku on 8/27. TAJIRI accepted the challenge.
(6) All Japan Pro-Wrestling Founding 45th Anniversary Memorial Battle in Osaka ~ The Road to RYOGOKU : Suwama, Kento Miyahara & Zeus vs. Shuji Ishikawa (FREE), Joe Doering & The Bodyguard (FREE)
♦Winner: Ishikawa (18:04) with the Splash Mountain on Miyahara.
~ Ishikawa exacts some revenge as he returns a loss to the Triple Crown challenger. The two are at a standstill as they keep going back and forth night after night. Though only one can walk out of Ryogoku.
~ Doering finally snapped against Suwama, as he forcefully made his declaration known of his withdrawal from Evolution. Aoki attempted to make the save, but it was futile as Doering turned on him as well. Doering declared that "Evolutions is finished".