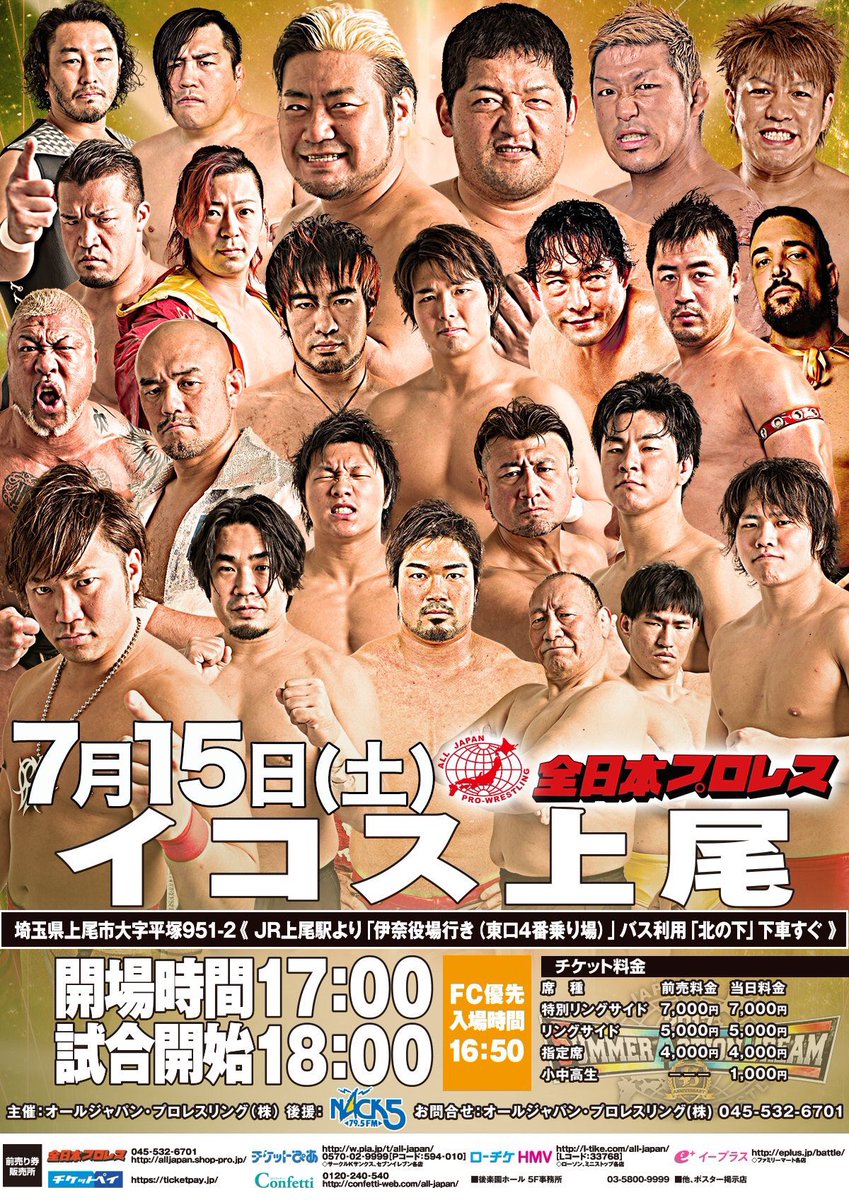 All Japan Pro-Wrestling "2017 SUMMER ACTION SERIES", 7/15/2017 [Sat] 18:00 @ Ikuso Ageo in Saitama
(1) Masanobu Fuchi vs. Yusuke Okada
♦Winner: Fuchi (3:51) with a Face Lock.
(2) KAI (FREE) & Yohei Nakajima vs. Atsushi Maruyama & Masashi Takeda (both FREE)
♦Winner: Takeda (12:45) with the Mega Lover on Yohei.
~ Maruyama and Takeda with a solid win as they agreed to try at a shot for the Asia Tag belts.
(3) Jun Akiyama & Isami Kodaka (BASARA) vs. Takao Omori & Kazuhiro Tamura (HEAT-UP)
♦Winner: Kodaka (9:20) following an Exploder on Tamura.
~ Akiyamas, provisional name, with the win, as Kodaka and Akiyama mentioned of calling the group the "Exploders".
(4) Koji Iwamoto vs. Yuma Aoyagi
♦Winner: Aoyagi (10:46) following the Rockstar Buster.
(5) Zeus, The Bodyguard (FREE) & Ryoji Sai (LAND'S END) vs. Kento Miyahara, Jake Lee & Naoya Nomura
♦Winner: Bodyguard (11:29) with the Bounce on Nomura.
~ Big Guns stated that the results of today will be the same come the World Tag defense at the next show at Korakuen.
(6) Shuji Ishikawa (FREE), TAJIRI (FREE) & Massimo vs. Suwama, Atsushi Aoki & Hikaru Sato (Pancrase MISSION)
♦Winner: Ishikawa (20:10) with the Splash Mountain on Suwama.
~ The Triple Crown champion claims the revenge direct win over Suwama following the string of losses earlier in the month. This also being the final prelude match as next up is the Korakuen Hall show and title defense.
~ Akiyama announced previously that a former Triple Crown champion will be competing for the promotion at the Ryogoku show on August 27.
~ This has lead to Suwama stating that when he wins the Triple Crown belt that he wants to defend the belt against whoever is to be announced, which will be at the next Korakuen Hall show.