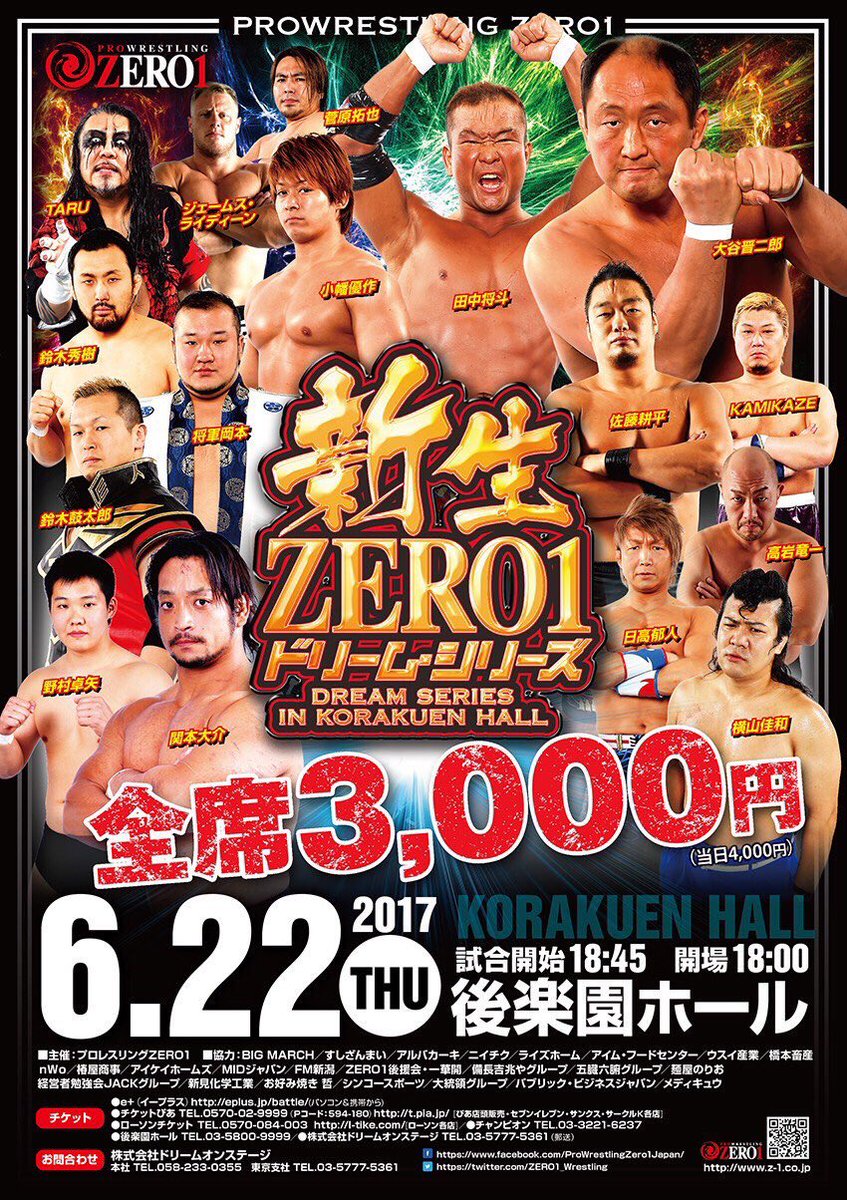 Shinsei ZERO1 Dream Series, 6/22/2017 [Thu] 18:45 @ Korakuen Hall in Tokyo
(1) ZERO1 vs NEW: Tatsuhito Takaiwa & Chris Orndorff vs. Keisuke Okuda & Mitsuyoshi Nakai (both NEW)
♦Winner: Okuda (10:47) following a PK on Orndorff.
~ Okuda called out Otani after the match.
(2) Yoshikazu Yokoyama vs. Super Tiger (RJPW)
♦Winner: Tiger (:45) following a Right High Kick.
(3) Ikuto Hidaka & Takuya Sugawara vs. Kotaro Suzuki (FREE) & Sean Guinness
♦Winner: Guinness (12:40) following the Good Friday on Hidaka.
~ Guinness and Kotaro made their intentions known at aiming for the NWA Light Tag belts.
(4) Shinjiro Otani & Daisuke Sekimoto (BJW) vs. Hideki Suzuki (FREE) & Yuya Aoki (BJW)
♦Winner: Otani (12:57) with a Boston Crab on Yuya.
~ Matazo Mimata appeared as he remains questioning ZERO1's capabilities to draw an attendance. He declared that TPG Gundan (Takeshi Puroresu Gundan) would be revived to take on Otani and President Ono.
(5) James Raideen vs. Hartley Jackson
♦Winner: Raideen (14:39) with the Jurassic Bomb.
~ Raideen and Harley reconciled their differences as TARU reunited the VOODOO MURDERS as whole again.
(6) Before Fire Festival! Special 6 Man Tag Match: Masato Tanaka, Yusaku Obata, Yuko Miyamoto & Super Tiger (RJPW) vs. Kohei Sato, Shogun Okamoto (FREE), Daiki Inaba (W-1) & LEONA (DRADITION)
♦Winner: Inaba (19:08) with a German Suplex Hold on Obata.
~ Inaba with the win over the Fire Festival 2016 Winner.
~ Before the start of the match, ~ Daiki Inaba was announced as Shinjiro Otani's choice to compete in this years Fire Festival. Then Yuko Miyamoto was the recommended by Kenta Kobashi and, the son of Tatsumi Fujinami, LEONA was recommended by Masahiro Chono.

Then during a video package, NOAH's Kenoh showed his intention of competing.
http://puroresuspirit.net/tag/zero1/
Upcoming…
~ The Fire Festival tour dates are as follows…
Announced competitors…
☆ Masato Tanaka [reigning World Heavyweight Champion, 17th year competing, 2006, 2007, 2008 & 2012 Winner]
☆ Yusaku Obata [5th year competing, 2016 Winner]
☆ Kohei Sato [17th year competing, 2004 & 2015 Winner]
☆ James Raideen [4th year competing, 2013 Winner]
☆ Shogun Okamoto [2nd year competing]
☆ Super Tiger (RJPW) [1st year competing]
☆ Daiki Inaba (W-1) [1st year competing]
☆ Kenoh (NOAH) [1st year competing]
☆ Yuko Miyamoto (666) [1st year competing]
☆ LEONA (DRADITION) [1st year competing]
Pro-Wrestling ZERO1 "17th Annual Midsummer Fire Festival 2017", 7/9/2017 [Sun] 16:00 @ Nagoya City Tsuyuhashi Sports Center in Aichi
Pro-Wrestling ZERO1 "17th Annual Midsummer Fire Festival 2017", 7/11/2017 [Tue] 19:00 @ Shinkiba 1stRING in Tokyo
Pro-Wrestling ZERO1 "17th Annual Midsummer Fire Festival 2017", 7/12/2017 [Wed] 19:00 @ Shinkiba 1stRING in Tokyo
Pro-Wrestling ZERO1 "17th Annual Midsummer Fire Festival 2017", 7/14/2017 [Fri] 19:00 @ Mutsu City Ohata Gymnasium in Aomori
Pro-Wrestling ZERO1 "17th Annual Midsummer Fire Festival 2017", 7/15/2017 [Sat] 18:00 @ Aomori City
Pro-Wrestling ZERO1 "17th Annual Midsummer Fire Festival 2017", 7/16/2017 [Sun] 13:30 @ Aomori City Hamanasu Kaikan
Pro-Wrestling ZERO1 "17th Annual Midsummer Fire Festival 2017", 7/17/2017 [Mon] 19:00 @ Aomori City
Pro-Wrestling ZERO1 "17th Annual Midsummer Fire Festival 2017", 7/19/2017 [Wed] 18:30 @ Sendai City Miyagino Ward Cultural Center Patna Theater
Pro-Wrestling ZERO1 "17th Annual Midsummer Fire Festival 2017", 7/22/2017 [Sat] 18:00 @ Takayama Mount Ace in Gifu
Pro-Wrestling ZERO1 "17th Annual Midsummer Fire Festival 2017", 7/23/2017 [Sun] 17:00 @ EDION Arena Osaka, 2nd Gymnasium
Pro-Wrestling ZERO1 "17th Annual Midsummer Fire Festival 2017", 7/26/2017 [Wed] 19:00 @ Bandai City Park Outdoor Ring in Niigata
Pro-Wrestling ZERO1 "17th Annual Midsummer Fire Festival 2017", 7/28/2017 [Fri] 19:00 @ Shiba Akatsuchi Koen in Tokyo
Pro-Wrestling ZERO1 "17th Annual Midsummer Fire Festival 2017", 7/30/2017 [Sun] 18:00 @ Korakuen Hall in Tokyo