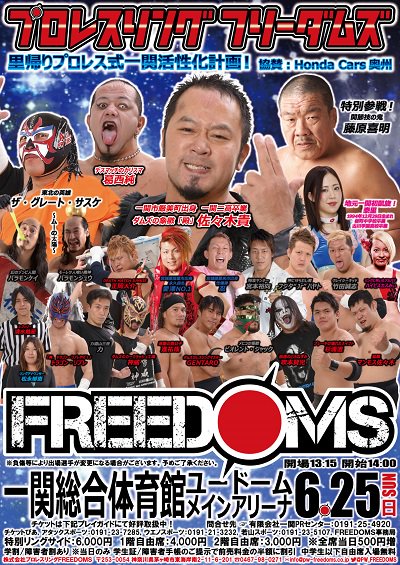 FREEDOMS, 6/25/2017 [Sun] 14:00 @ Ichinoseki General Stadium U-Dome in Iwate
756 Spectators
(1) Aizawa #1, Asuka & Dragon Libre vs. Chikara, Fuminori Abe & Keisuke Goto
♦Winner: Chikara (8:35) following a Sabre Chop on Libre.
(2) Shu & Kei Brahman w/ Karate Brahman vs. Shinobu & Daichi Sasaki
♦Winner: DRAW (2:33) double ring out.
~ Rematch
♦Winner: Shinobu (6:46) following the S.E.X. on Kei.
(3) Hardcore Tag Match: Mammoth Sasaki & Toru Sugiura vs. KAZMA SAKAMOTO & Yuko Miyamoto
♦Winner: Mammoth (11:35) following the 29 Years on KAZMA.
(4) Special 6 Man Tag Match: The Great Sasuke & Hiori vs. Minoru Fujita & Hibiscus Mii
♦Winner: Mii (16:26) with a Dragon Splash on Hiroi.
(5) Special Tag Match: Yoshiaki Fujiwara & Yuya Susumu vs. GENTARO & Kenichiro Arai
♦Winner: Fujiwara (9:55) with a Wakigatame on GENTARO.
(6) Fluorescent Light-tube + Bring Your Own Weapons Death Match: Daisuke Masaoka, Masashi Takeda & Kenji Fukimoto vs. Takashi Sasaki, Jun Kasai & Violento Jack
♦Winner: Takashi (19:23) following a Right High Kick with a fluorescent light bundle on Fukimoto.
http://puroresuspirit.net/tag/freedoms/
Upcoming…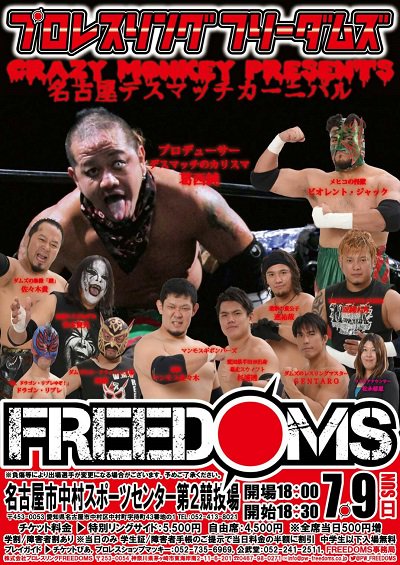 Jun Kasai Produce Show, 7/9/2017 [Sun] 18:30 @ Nagoya Nakamura Sports Center, 2nd Stadium in Aichi
() Yuya Susumu vs. Yusaku Ito
() Takashi sasaki, Dyna Mido & Dragon Libre vs. Kengo Takai, Michio Kageyama & Takuya Shibayama
() Alcohol Drinker Match: GENTARO & Konaka = Pale One vs. Kenichiro Arai & Chikara
() Scramble Bunkhouse 3WAY Death Match: Kamui vs. GUNSO vs. Ryuichi Sekine
() KING of FREEDOM WORLD TAG CHAMPIONSHIP Hardcore Match: [13th Champions] Mammoth Sasaki & Toru Sugiura vs. [Challenger] Miedo Xtremo & Ciclope
~ 5th title defense.
() Barbed-wire Board + Alpha Death Match: Daisuke Masaoka & Violento Jack vs. Jun Kasai & Kenji Fukimoto