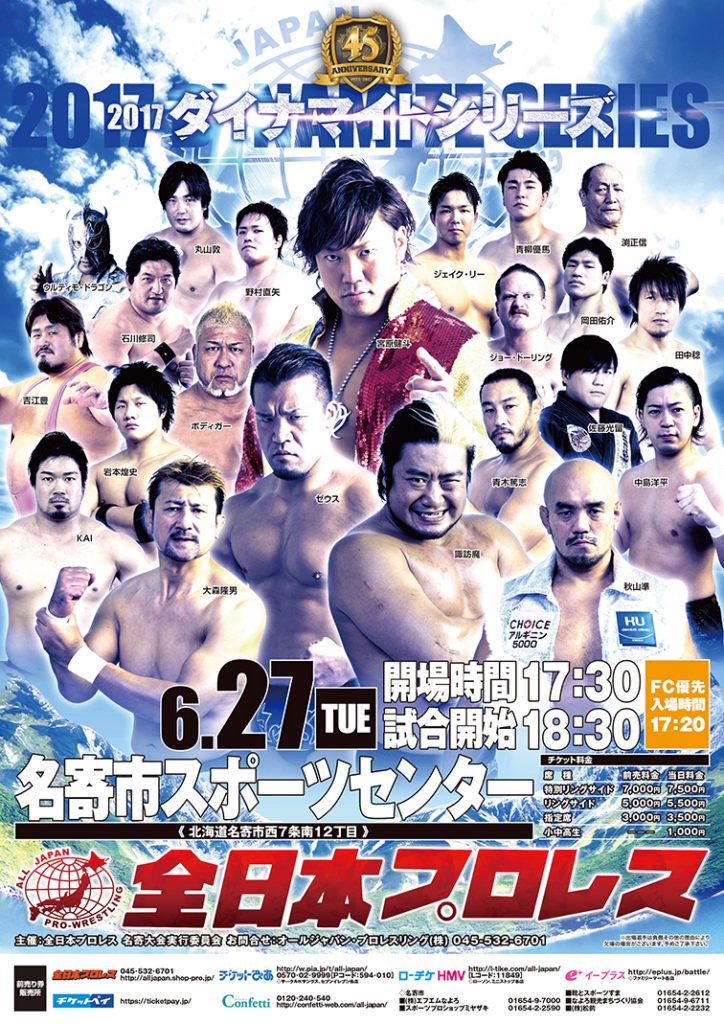 All Japan Pro-Wrestling "2017 Dynamite Series", 6/27/2017 [Tue] 18:30 @ Nayoro City Sports Center in Hokkaido
(1) Yusuke Okada vs. Minoru Tanaka (FREE)
♦Winner: Minoru (4:32) with the Tanaka Leg Bar.
(2) Jake Lee & Ultimo Dragon (Toryumon MEXICO) vs. Masanobu Fuchi & KAI (FREE)
♦Winner: Dragon (9:02) with a La Magistral on Fuchi.
(3) Zeus & The Bodyguard (FREE) vs. Yohei Nakajima & Yutaka Yoshie (FREE)
♦Winner: Bodyguard (6:39) with the Bounce on Yohei.
(4) Joe Doering vs. Naoya Nomura
♦Winner: Doering (3:04) with the Revolution Bomb.
~ Doering continues to dominate his opponents as he looks to get into the running for the Triple Crown belt next month.
(5) Jun Akiyama & Takao Omori vs. Kento Miyahara & Yuma Aoyagi
♦Winner: Akiyama (9:07) following an Exploder on Aoyagi.
~ Both Akiyama and Omori agreed to try and once again challenge for the World Tag belts.
~ Miyahara acknowledged Doering's recent dominance, but stated that he will not let the chance of a rematch for the Triple Crown belt slip from his grasp.
(6) Suwama, Atsushi Aoki & Hikaru Sato (Pancrase MISSION) vs. Shuji Ishikawa (FREE), Koji Iwamoto & Atsushi Maruyama (FREE)
♦Winner: Ishikawa (18:03) following a Fire Thunder on Suwama.
~ The Triple Crown champion claims the direct fall over Suwama before the title defense on July 17.
~ Issues continue to be prominent between Suwama and Hikaru, with Aoki in the middle of it all. Though Aoki stated that he is focused on the Asia Tag defense against K-DOJO's Tank Nagai and Ayumu Honda on July 23.