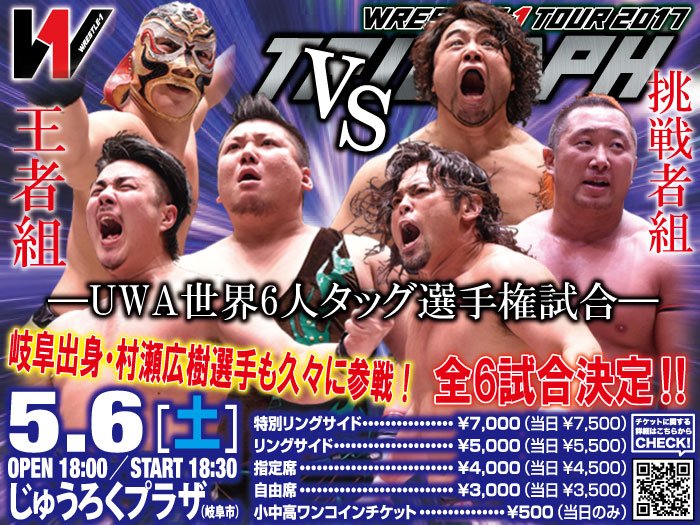 WRESTLE-1 TOUR 2017 TRIUMPH, 5/6/2017 [Sat] 18:30 @ Juroku Plaza in Gifu
(1) Kohei Fujimura vs. Hajime
♦Winner: Fujimura (5:18) with a Camel Clutch.
(2) Yusuke Kodama vs. Souma Sumeragi
♦Winner: Kodama (5:37) following the BK Buster.
(3) Jiro "Ikemen" Kuroshio vs. Jun Tonsho
♦Winner: Kuroshio (6:22) following the Ikemen Break (IkeBre).
(4) Masayuki Kono & Takanori Ito vs. NOSAWA Rongai & Ganseki Tanaka
♦Winner: Kono (5:32) following a Running Knee on NOSAWA.
(5) Shotaro Ashino & Seigo Tachibana vs. Daiki Inaba & Seiki Yoshioka
♦Winner: Ashino (9:35) with an Ankle Hold on Yoshioka.
(6) Hiroki Murase (FREE) vs. Masayuki Mitomi (Ehime Pro)
♦Winner: Murase (12:12) following the Ocean Cutter.
(7) UWA World 6 Tag Championship Match: [55th Champions] Koji Doi, Kumagoro & Andy Wu vs. [Challengers] Kaz Hayashi, Shuji Kondo & Manabu Soya
♦Winner: Hayashi (13:30) with the Power Plant on Andy.
~ Champions fall on their 1st title defense. Hayashi, Kondo & Soya become the 56th champions.
http://puroresuspirit.net/tag/w-1/
Upcoming…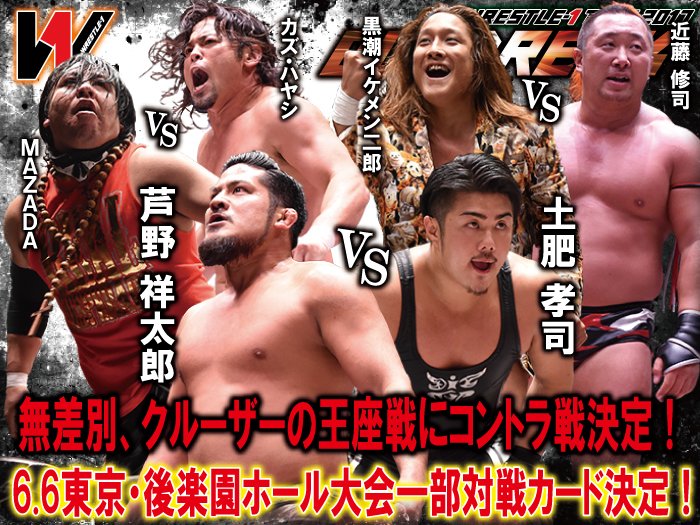 WRESTLE-1 TOUR 2017 OUTBREAK, 6/6/2017 [Tue] 19:00 @ Korakuen Hall in Tokyo
() Jacket contra Fan Service: Jiro "Ikemen" Kuroshio vs. Shuji Kondo
~ If Ikemen loses he will be stripped of his jacket or if Kondo loses he must listen to the fans on what they want from him.
() WRESTLE-1 Cruiserweight Championship Match: [9th Champion] MAZADA vs. [Challenger] Kaz Hayashi
~ 1st title defense.
() WRESTLE-1 Championship Match: [11th Champion] Shotaro Ashino vs. [Challenger] Koji Doi
~ 3rd title defense.