BJW NEWS
~ The full event card was released for the 5/15 show in Hamamatsu. The show is set to feature several outside talent competing and the Yokohama 6 Tag belts in the main event as Abby and the Bloody Brothers defend against "Moon Vulcan".
BJW, 5/15/2017 [Mon] 18:30 @ Act City Hamamatsu Exhibition Event Hall in Shizuoka
(1) Ryuichi Sekine vs. Yuya Aoki
(2) Ultimo Dragon, Tsutomu Oosugi & Hercules Senga vs. Kendo Kashin, Shu & Kei Brahman
(3) Daisuke Sekimoto & Alexander Otsuka vs. Kohei Sato & Kazumi Kikuta
(4) Yuji Okabayashi & Shogun Okamoto vs. Ryota Hama & Yasufumi Nakanoue
(5) Death Match: Ryuji Ito, Takumi Tsukamoto & Toshiyuki Sakuda vs. Yuko Miyamoto, Isami Kodaka & Kankuro Hoshino
(6) Masakatsu Funaki, Daichi Hashimoto & Hideyoshi Kamitani vs. Ryuichi Kawakami, Kazuki Hashimoto & Tatsuhiko Yoshino
(7) Yokohama Shopping Street 6 Man Tag Championship Match: [8th Champions] Abdullah Kobayashi, Masaya Takahashi & Takayuki Ueki vs. [Challengers] Hideki Suzuki, Yoshihisa Uto & Takuya Nomura
~ 5th title defense.
http://puroresuspirit.net/tag/bjw/
---
DDT NEWS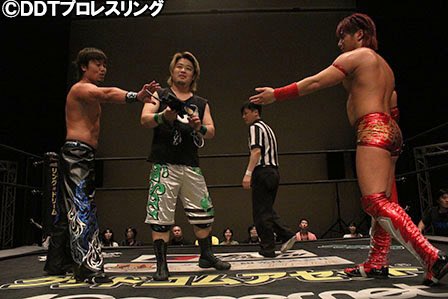 ~ During today's show, Yasu Urano picked up a shocking win over Yoshihiro Takayama. Which saw Takayama's rights to challenge anytime, anywhere lost to Urano. Well this has led to DDT announcing that Takayama was taken to the hospital after the match in which he was diagnosed with a cervical spinal cord injury. Takayama will miss the May 6 show and a return date is not for certain as of this time.
~ Takayama was originally billed to challenge Konosuke Takeshita for the KO-D Open-weight belt on May 28, though with losing the challenge rights that is currently able to change, and he was to even defend the KO-D Tag belts on May 21. Of course we will have to wait and see what comes about and if that impacts that title match.
~ Urano has called for his challenge rights to take place on May 28. Urano will be going freelance from DDT for good on that day and he aims stated that he aims to leave with the KO-D belt.
Seems he could have even gotten hurt yesterday and they had to make the challeng rights swap. – BushidoRX
http://puroresuspirit.net/tag/ddt/
---
DRAGON GATE NEWS
~ Below is the full card for tomorrow's "DEAD OR ALIVE" show in Aichi.
DRAGON GATE 'DEAD OR ALIVE', 5/5/17 [Fri] 16:00 @ Aichi Prefectural Gymnasium
(1) Kzy, Flamita & Yosuke ♡ Santa Maria vs. Draztick Boy, Gamma & Eita
(2) Masaaki Mochizuki & Don Fuji vs. Brother YASSHI & Punch Tominaga
(3) Open The Brave Gate Championship Match: Jimmy Kagetora [31st Champion] vs. Takehiro Yamamura [Challenger]
~ 1st Defence
(4) Jimmy Susumu, Jimmy Kness JKS, Ryo 'Jimmy' Saito & Genki Horiguchi H.A.Gee.Mee vs. Ben-K, Big R Shimizu, Kotoka & Masato Yoshino
(5) Open The Twin Gate Championship Match: CIMA & Dragon Kid [40th Generation Champions] vs. T-Hawk & El Lindaman [Challengers]
~ 5th Defence
(6) Open The Dream Gate Championship DEAD OR ALIVE Match: YAMATO [25th Champion] vs. Shingo Takagi vs. Cyber Kong vs. Naruki Doi vs. BxB Hulk
http://puroresuspirit.net/tag/dragon-gate/
---
NJPW NEWS
The competitors for this years "BEST OF THE SUPER Jr. 24" were announced.
16 wrestlers from New Japan, ROH, and CMLL will be making up the two block system. As the "A BLOCK" will feature last years winner Will Opsreay, the 2014 Winner Ricochet, Jushin Thunder Liger, Taichi, TAKA Michinoku, Hiromu Takahashi, and two wrestlers making their first ever appearances in CMLL's Dragon Lee and ROH's Marty Scurll.
The "B BLOCK" will feature the 2015 Winner KUSHIDA, 2012 Winner Ryusuke Taguchi, veteran Tiger Mask IV, Volador Jr. from CMLL, BUSHI, El Desperado, and two wrestlers making their first appearances as well in SZKG representative Yoshinobu Kanemaru and then ROH's ACH.
While the A BLOCK looks to tend more to the high flying side and the B BLOCK with the solid clash of styles that should balance out the league.
A BLOCK
"Beast God of the World" Jushin Thunder Liger (21st appearance, '94 & '01 Winner)
"Future of Flight" Ricochet (4th year competing, '14 Winner)
"Runaway Muscle Car" Dragon Lee (1st appearance) [CMLL]
"Aerial Assassin" Will Ospreay (2nd appearance, '16 Winner)
"The Villain" Marty Scurll (1st appearance) [ROH]
"World's Most Tricky Man" Taichi (7th appearance) [SZKG]
"Strong Wind Technician" TAKA Michinoku (6th appearance) [K-DOJO/SZKG]
"TIME BOMB" Hiromu Takahashi (4th appearance) [LIJ]
B BLOCK
"4th Generation Golden Tiger" Tiger Mask IV (16th appearance, '04 & '05 Winner)
"Funky Weapon" Ryusuke Taguchi (14th appearance, '12 Winner)
"Time Splitter " KUSHIDA (8th appearance, '15 Winner)
"Skywalker" Volador Jr. (2nd appearance) [CMLL]
"Midnight Cannonball" ACH (1st appearance) [USA]
"Heel Master" Yoshinobu Kanemaru (1st appearance) [FREE/SZKG]
"Rogue Luchador" El Desperado (2nd appearance) [SZKG]
"Pitch-black Death Mask" BUSHI (5th appearance) [LIJ]
http://puroresuspirit.net/tag/njpw/
---
NOAH NEWS
~ It was made official that Katsuhiko Nakajima will be defending the GHC Heavyweight belt against Muhammad Yone on June 4 at the Korakuen Hall. The match comes about after Yone claimed a direct win over Nakajima in the Global Tag League. Then today with another direct win following a knockout finish on Nakajima.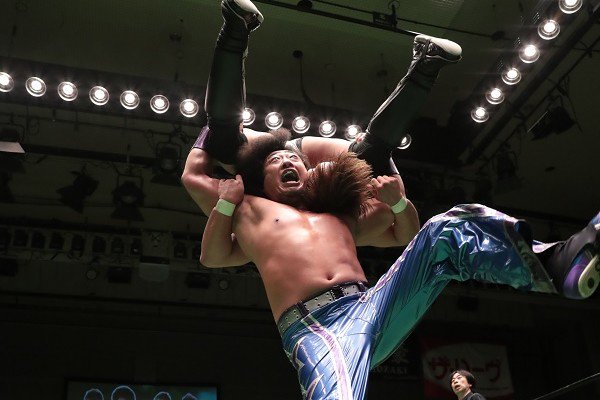 Pro Wrestling NOAH "Navig. with Breeze 2017", 6/4/2017 [Sun] 18:30 @ Korakuen Hall in Tokyo
(-) GHC Heavyweight Championship Match: [28th Champion] Katsuhiko Nakajima vs. [Challenger] Muhammad Yone
~ 5th title defense.
---
If you enjoy these posts of the site in general, please support us through patreon. At least $1 a month will help pay for the server costs to keep the site up and running.
Thanks for helping keep the spirit alive!
Just a mention. I have started a Puroresu Spirit group under Discord. If any of you are unfamiliar with Discord think something more along the lines of Skype, but more mass group options and connectivity.
I have set up a few sub channels for specific promotions as well as as options for a discussion and audio chats if any of you are into that. Check it out and let me know what you guys think.