KAIENTAI DOJO "K-3000", 5/14/2017 [Sun] 13:00 @ Blue Field in Chiba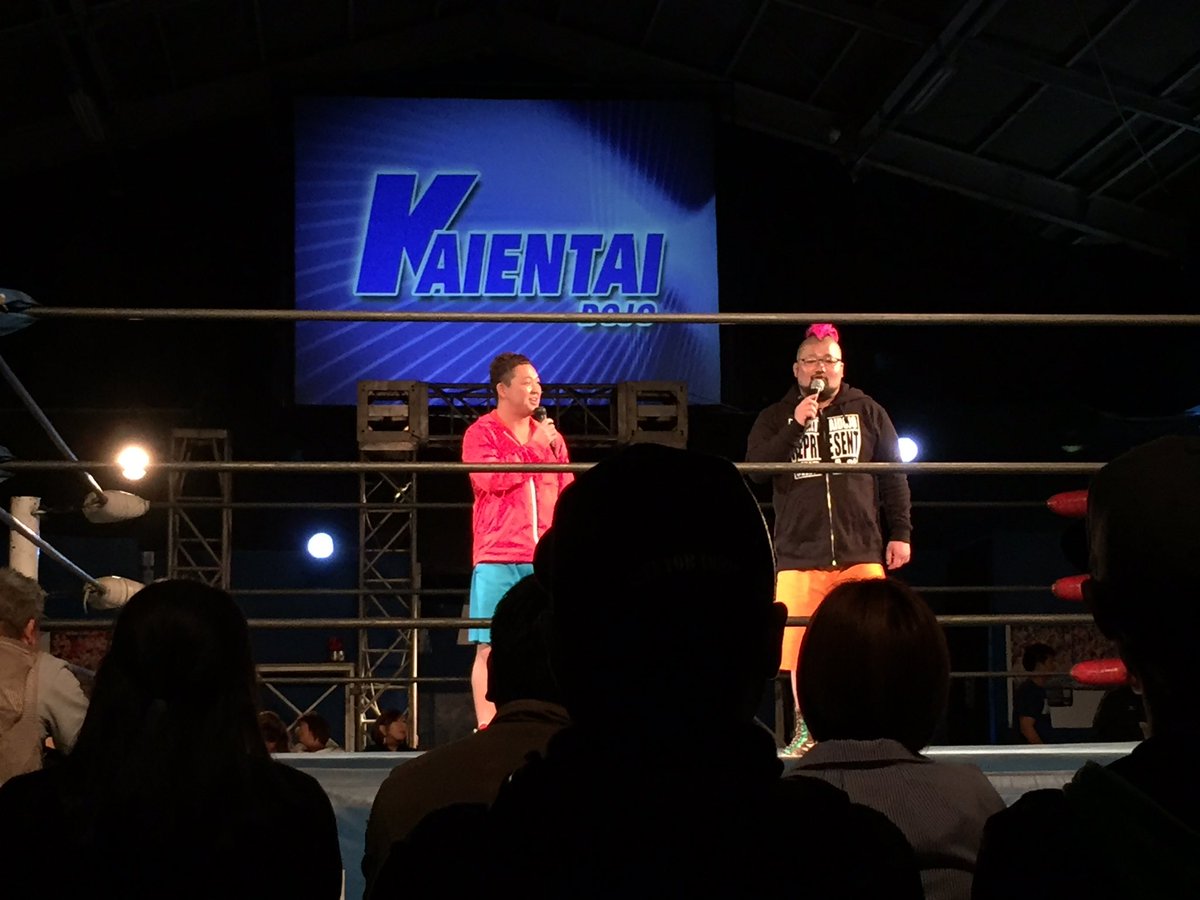 ~ It was announced that Dinosaur Takuma will miss the 5/28 show due to having bolts removed from his right forearm. This following an injury he sustained last year.
(1) Kyu Mogami vs. ERINA
♦Winner: Mogami (7:00) with a Butterfly Lock on ERINA.
(2) Ricky Fuji, Dinosaur Takuma & Marines Mask vs. Kengo Mashimo, Yuki Sato & Ayumu Honda
♦Winner: Ayumu (12:19) following a Ganmen Missile Kick on Marines.
(3) Ayato Yoshida vs. Daigoro Kashiwa
♦Winner: Yoshida (12:03) with a Chicken Wing Face Lock.
(4) Kaji Tomato, Yuma & Bambi vs. Taishi Takizawa, Kotaro Yoshino & Yoshihiro Horaguchi
♦Winner: Kaji (11:06) with the Speed on Horaguchi.
(5) TAKA Michinoku & GO Asakawa vs. Tank Nagai & Kunio Toshima
♦Winner: Asakawa (15:39) with a Small Package Hold on Toshima.
~ Asakawa continues to carry momentum after winning the K-METAL LEAGUE, as he looks to overcome TAKA next.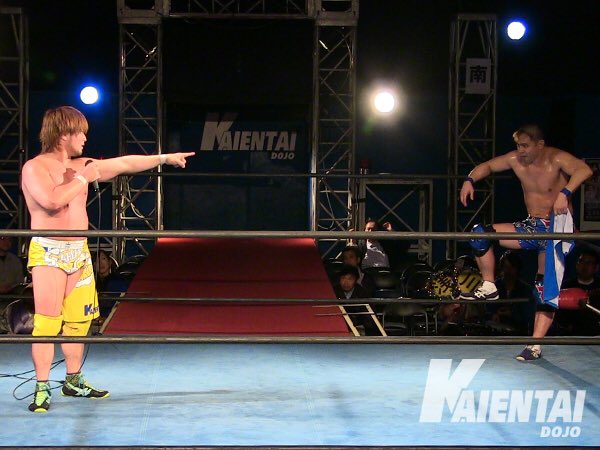 http://puroresuspirit.net/tag/k-dojo/
Upcoming…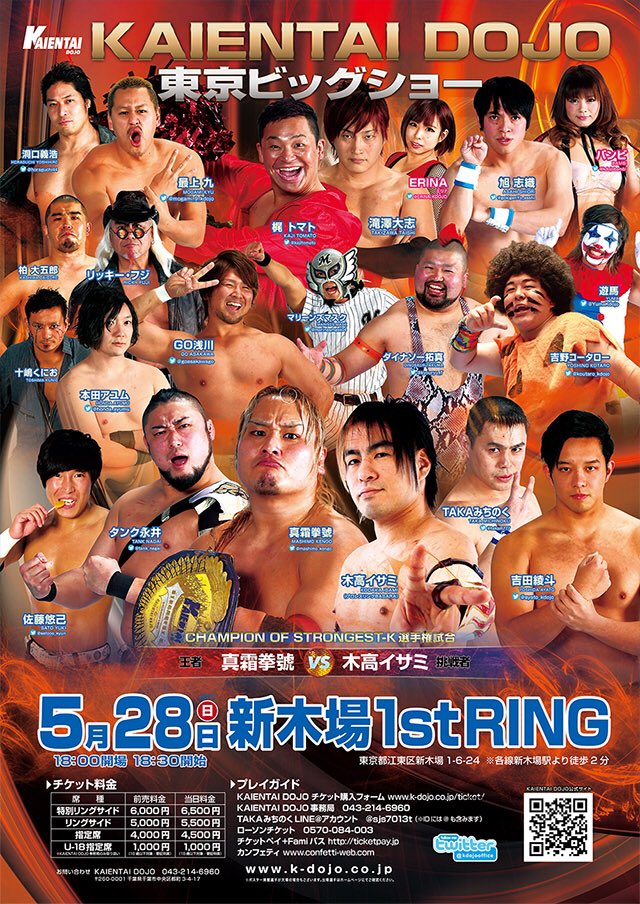 KAIENTAI DOJO "Tokyo Big Show", 5/28/2017 [Sun] 18:30 @ Shinkiba 1stRING in Tokyo
() Ricky Fuji, ERINA & Yuki Ueno (DNA) vs. Kyu Mogami, Bambi & Marines Mask
() Daigoro Kashiwa & Ayato Yoshida vs. Ayumu Honda & Kunio Toshima
() Kaji Tomato, Shiori Asahi & Yuma vs. Taishi Takizawa, Kotaro Yoshino & Yoshihiro Horaguchi
(-) K-METAL LEAGUE 2017 Winner Special Match & TAKA Michinoku 25th ANNIVERSARY ~ 8th Match: TAKA Michinoku vs. GO Asakawa
(-) Loser Apologizes Match: Tank Nagai vs. Yuki Sato
(-) CHAMPION OF STRONGEST-K Championship Match: [22nd Champion] Kengo Mashimo vs. [Challenger] Isami Kodaka (BASARA)
~ 6th title defense.