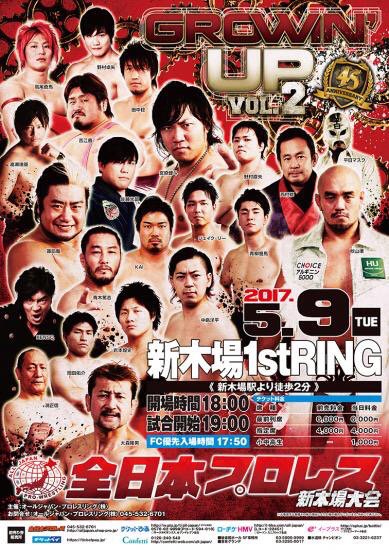 All Japan Pro-Wrestling "~ GROWIN' UP vol.2 ~", 5/9/2017 [Tue] 19:00 @ Shinkiba 1stRING in Tokyo
244 Spectators (crowded)
(1) GROWIN' UP ~ YOUNG BLOODS ~: Yusuke Okada vs. Takuya Nomura (BJW)
♦Winner: Takuya (5:57) with a Single Leg Crab.
(2) GROWIN 'UP ~ Shinkiba Chemistry ~: Atsushi Aoki & Hikaru Sato vs. Soma Takao & Mizuki Watase (both DDT)
♦Winner: Hikaru (12:02) with a Capture style Cross Armbar on Watase.
(3) GROWIN 'UP ~ Weekday Night in Shinkiba ~: Osamu Nishimura & Weekday Mask (both FREE) vs. Yutaka Yoshie & Minoru Tanaka (both FREE)
♦Winner: Minoru (9:42) with a Figure Four on Weekday Mask.
(4) GROWIN 'UP ~ Bichitto Evolution ~ Tag Match: Suwama & KENSO (FREE) vs. Yohei Nakajima & KAI (FREE)
♦Winner: Suwama (11:39) following the Last Ride on Yohei.
~ Suwama celebrates the win as acknowledges that to be the same fate for KAI come their singles match on the 20th.
~ On top of his match against KAI, Suwama also stated that he aims to eliminate Onita from All Japan for good. That if he shows up at the 5/21 show, that he will not hold back if Onita does anything to rile him up.
(5) GROWIN 'UP ~ Wonder Spirits ~ Special Single Match: Jake Lee vs. Koji Iwamoto
♦Winner: Lee (8:31) following a Backdrop.
~ Jake stated that he is going to capture the World Tag belts, come the next show on the 12th.
(6) GROWIN' UP ~ Over The Future ~ Special 6 Man Tag Match: Kento Miyahara, Naoya Nomura & Yuma Aoyagi vs. Jun Akiyama, Takao Omori & Masanobu Fuchi
♦Winner: Miyahara (28:18) following the Blackout on Fuchi.
~ Miyahara with the win as he looks to carry all the momentum possible heading into his TC defense against Ishikawa on the 21st.
~ "GROWIN' UP vol. 3" was announced for 6/7 at the 1stRING.