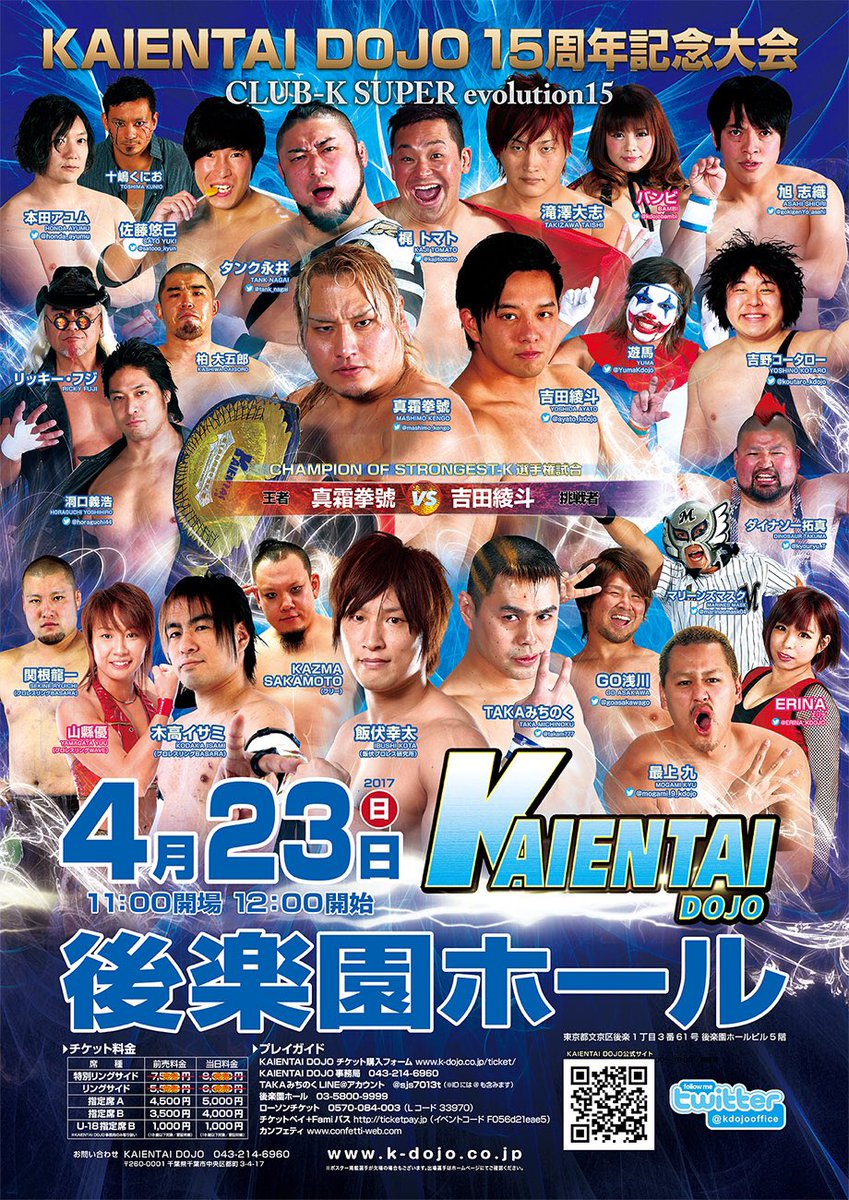 KAIENTAI DOJO 15th ANNIVERSARY SHOW ~ CLUB-K SUPER evolution 15″, 4/23/2017 [Sun] 12:00 @ Korakuen Hall in Tokyo
1,096 Spectators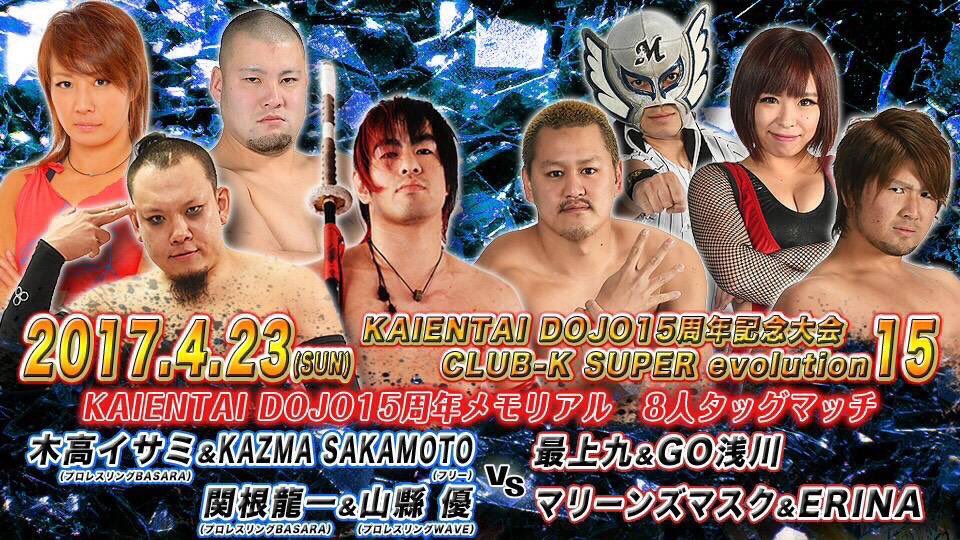 (1) K-DOJO 15th Anniversary Memorial 8 Person Tag Match: Isami Kodaka (BASARA), KAZMA SAKAMOTO (FREE), Ryuichi Sekine (BASARA) & Yu Yamagata (WAVE) vs. Kyu Mogami, GO Asakawa, Marines Mask & ERINA
♦Winner: Kodaka (9:08) following a Diving Knee Drop on Asakawa.
(2) Ricky Fuji, Daigoro Kashiwa & Kim Nam Suk (Fit/Korea) vs. Yuma, Malik & Bambi
♦Winner: Kashiwa (7:29) following a Diving Headbutt on Yuma.
(3) Kotaro Yoshino vs. Dinosaur Takuma vs. Kunio Toshima
♦Winner: Takuma (5:19) with a Single Leg Crab on Toshima.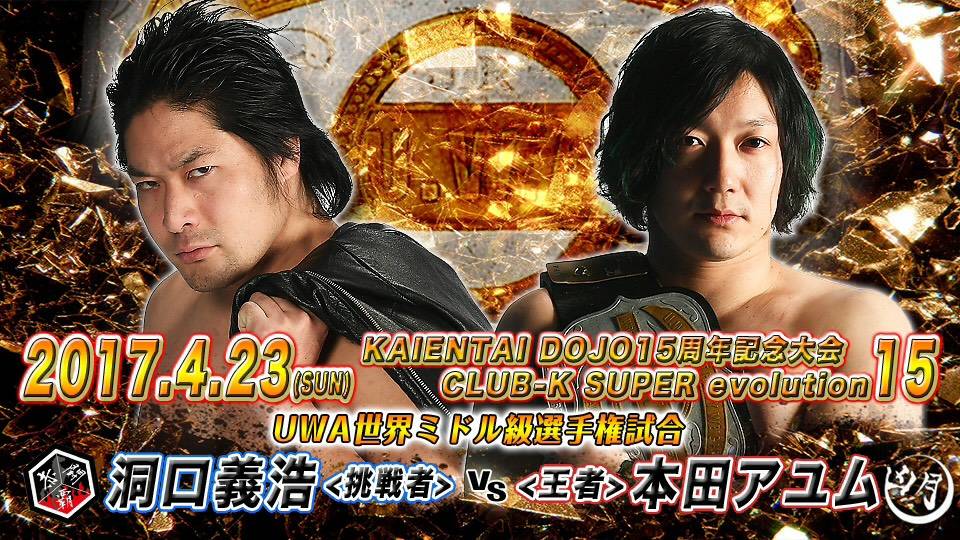 (4) UWA World Middleweight Championship Match: [65th Champion] Ayumu Honda vs. [Challenger] Yoshihiro Horaguchi
♦Winner: Ayumu (7:23) with a Jumping Rolling Cross Armbar.
~ 4th successful title defense.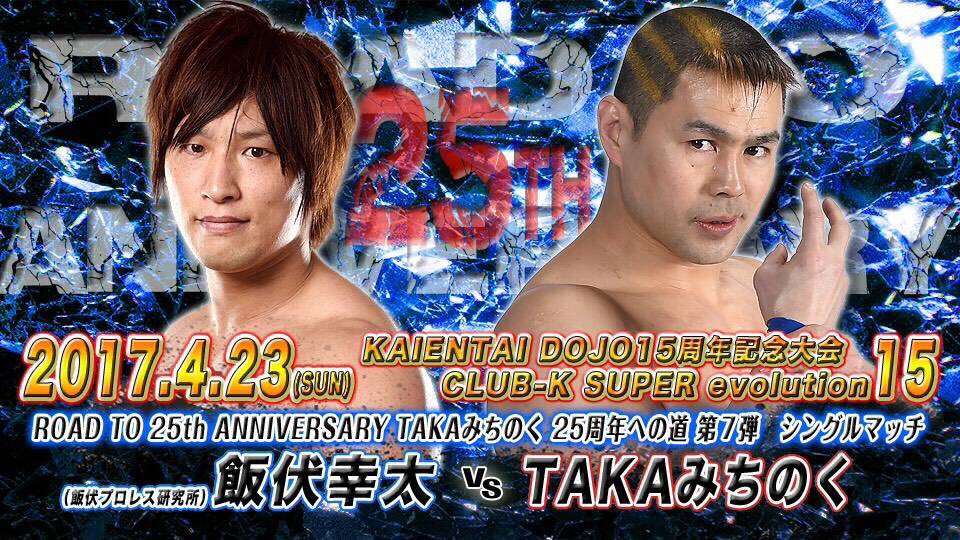 (5) TAKA Michinoku Road to 25th Anniversary ~ 7th Match: TAKA Michinoku vs. Kota Ibushi
♦Winner: Ibushi (16:19) with a Phoenix Splash.
~ TAKA announced that his 25th anniversary show will be held on September 4 at the Korakuen Hall.
(6) STRONGEST-K TAG Championship Match: [33rd Champions] Tank Nagai & Yuki Sato vs. [Challengers] Taishi Takizawa & Kaji Tomato
♦Winner: Takizawa (15:00) following the Takabisha on Tank.
~ Champions fall on their 2nd defense. Takizawa & Kaji become the 34th champions.
(7) CHAMPION OF STRONGEST-K Championship Match: [22nd Champion] Kengo Mashimo vs. [Challenger] Ayato Yoshida
♦Winner: Mashimo (19:54) following a Vertical Drop style Brainbuster.
~ 5th successful title defense.
~ Following the loss, Yoshida formally announced the split of the NEX4 group.
~ Isami Kodaka stepped forward to challenge the champion.