KAIENTAI DOJO "CLUB-K 3000", 4/15/2017 [Sat] 18:30 @ Blue Field in Chiba
~ The K-METAL league will be held during the "Golden Week", April 29 through May 7. The wrestlers competing this year will be Kyu Mogami, GO Asakawa, Marines Mask, Yuki Ueno (DNA), and Yuu Iizuka (HEAT-UP). Dinosaur Takuma will not be competing in the league, but instead will be competing in a 7 match trial series.
(1) Daigoro Kashiwa & Kotaro Yoshino vs. GO Askawa & Marines Mask
♦Winner: Yoshino (11:25) with the Niku-shibo on Marines.
(2) Yuma & Bambi vs. Dinosaur Takuma & ERINA
♦Winner: Bambi (12:04) following a Shining Wizard on ERINA.
(3) TAKA Michinoku vs. Malik
♦Winner: TAKA (9:45) with the Just Face Lock.
(4) Kyu Mogami vs. Masamune (FREE)
♦Winner: Masamune (14:11) with the Tonbokiri.
(5) CHAMPION OF STRONGEST-K & STRONGEST-K TAG & UWA World Middleweight Triple Prelude 8 Man Tag Match: Kengo Mashimo, Tank Nagai, Ayumu Honda & Kunio Toshima vs. Ayato Yoshida, Kaji Tomato, Taishi Takizawa & Yoshihiro Horaguchi
♦Winner: Horaguchi (18:14) with a German Suplex Hold on Honda.
~ Horaguchi with the early momentum heading into the title challenge at Korakuen.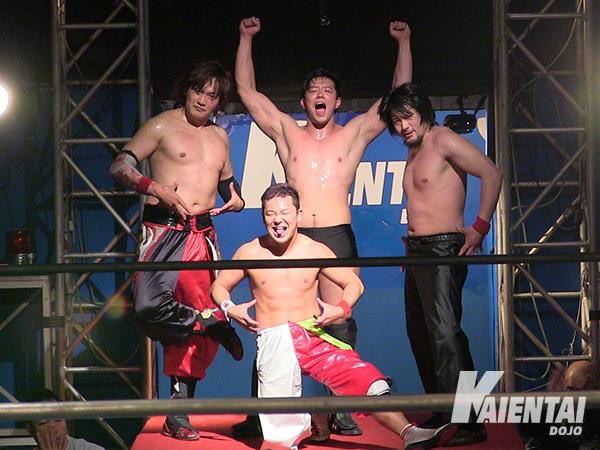 http://puroresuspirit.net/tag/k-dojo/
Upcoming…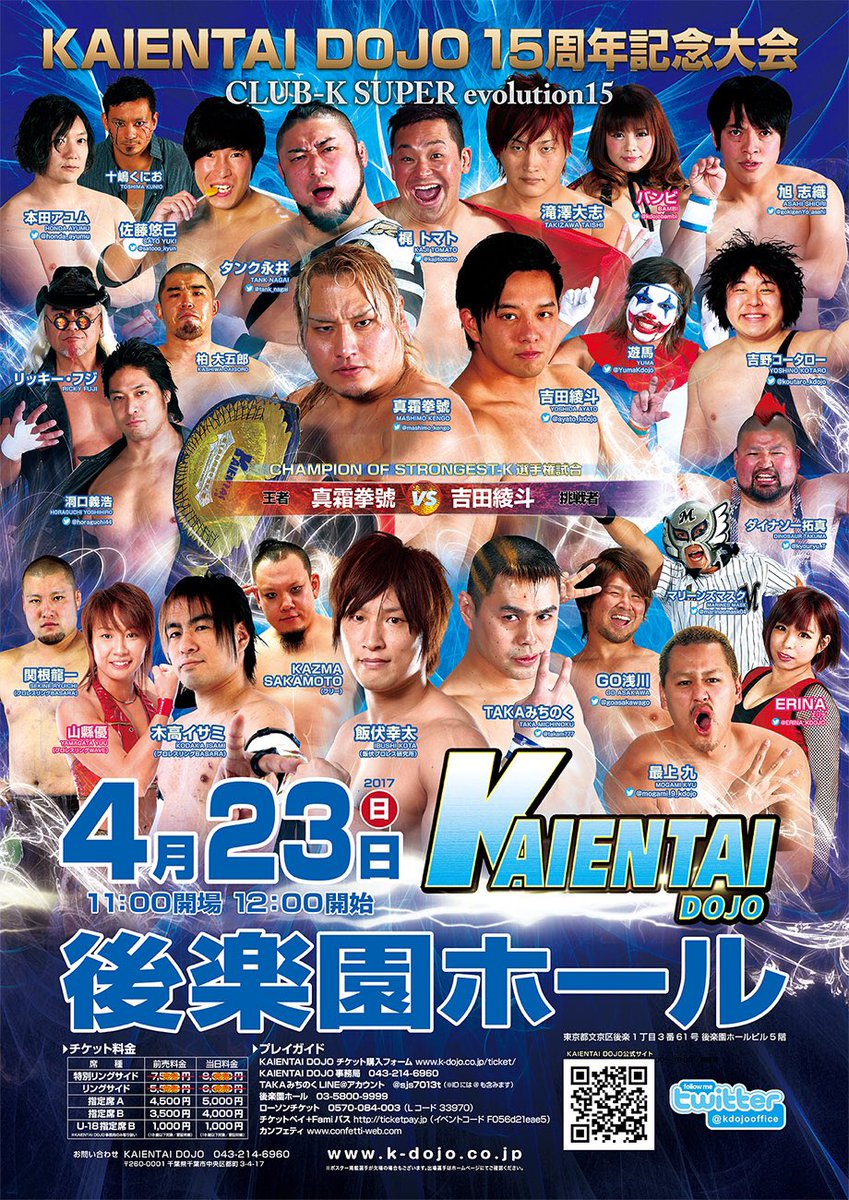 KAIENTAI DOJO 15th ANNIVERSARY SHOW ~ CLUB-K SUPER evolution 15″, 4/23/2017 [Sun] 12:00 @ Korakuen Hall in Tokyo
() Ricky Fuji, Daigoro Kashiwa & Kim Nam Suk (Fit/Korea) vs. Yuma, Malik & Bambi
() Kotaro Yoshino vs. Dinosaur Takuma vs. Kunio Toshima
() UWA World Middleweight Championship Match: [Champion] Ayumu Honda vs. [Challenger] Yoshihiro Horaguchi
() TAKA Michinoku Road to 25th Anniversary ~ 7th Match: TAKA Michinoku vs. Kota Ibushi
() K-DOJO 15th Anniversary Memorial 8 Person Tag Match: Isami Kodaka, KAZMA SAKAMOTO, Ryuichi Sekine & Yu Yamagata vs. Kyu Mogami, GO Asakawa, Marines Mask & ERINA
() STRONGEST-K TAG Championship Match: [Champions] Tank Nagai & Yuki Sato vs. [Challengers] Taishi Takizawa & Kaji Tomato
(-) CHAMPION OF STRONGEST-K Championship Match: [Champion] Kengo Mashimo vs. [Challenger] Ayato Yoshida