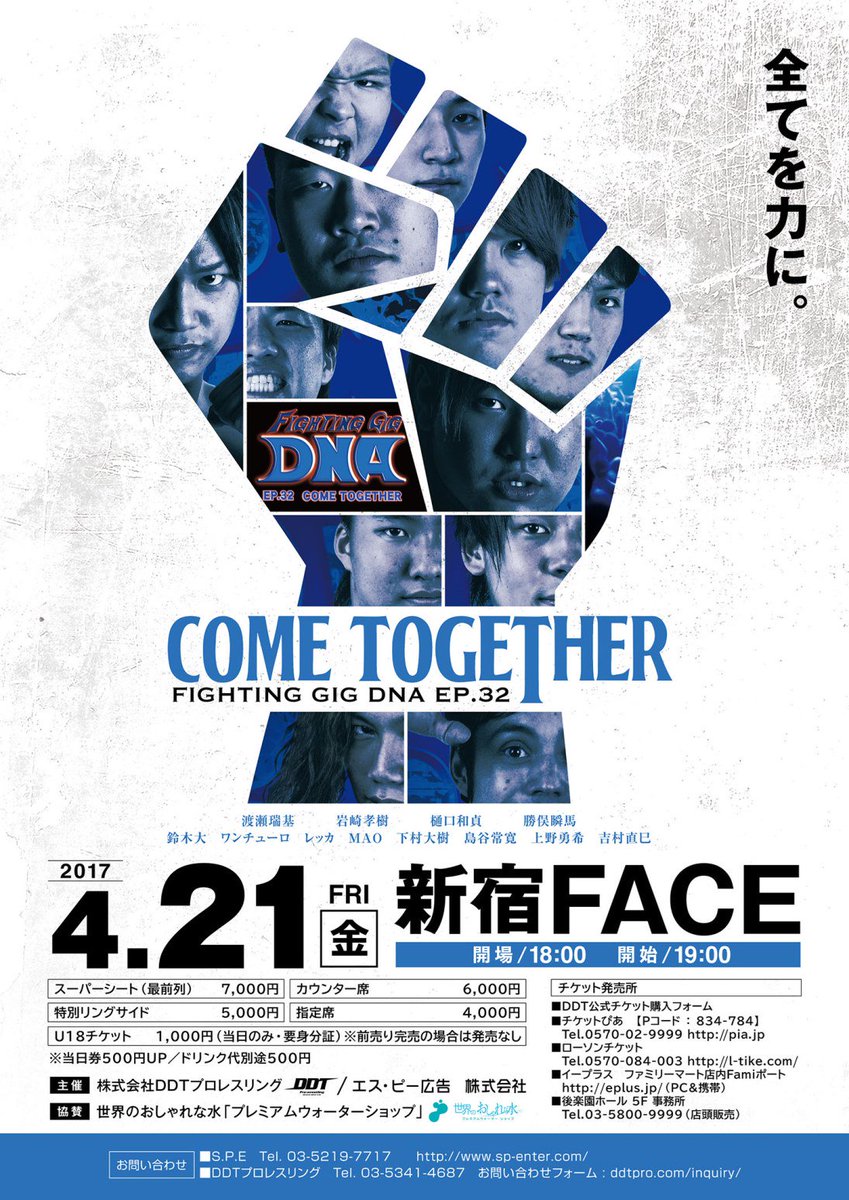 FIGHTING GIG DNA EP.32 ~ COME TOGETHER ~, 4/21/2017 [Fri] @ Shinjuku FACE in Tokyo
317 Spectators
(1) DNA Tag League Assessment: Guanchulo & Rekka vs. Daiki Shimomura & Nobuhiro Shimatani
♦Winner: Shimatani (9:52) with a Rolling Clutch Hold on Guanchulo.
(2) GO FOR BROKE: Shogun Okamoto (FREE) & Royce Isaacs vs. Naomi Yoshimura & Yuki Ueno
♦Winner: Yoshimura (9:34) following a Release Powerbomb on Isaacs.
(3) Dai Suzuki 7 Match Trial Series ~ 2nd Battle: Dai Suzuki vs. Masato Tanaka (ZERO1)
♦Winner: Tanaka (4:46) following a Sliding D.
(4) PROVE YOUR DNA: Kotaro Suzuki (FREE) & LEONA (DRADITION) vs. Mizuki Watase & MAO
♦Winner: LEONA (13:35) via referee stop on Watase, with a Figure Four Leg Lock.
(5) PREMIUM GIG ~ Old vs Young Hunt: Kazushi Sakuraba & Kendo Kashin (both FREE) vs. Kouki Iwasaki & Mike Bailey
♦Winner: Kashin (7:18) following a Shooting Star Double Knee Drop from Bailey on Iwasaki.
~ Sakuraba vs. Iwasaki was announced for the 5/10 show.
(6) MAIN GIG ~ The Main Event of NEXT: Kazusada Higuchi vs. Shunma Katsumata
♦Winner: Higuchi (20:28) following the Goten.
~ Higuchi will go on to face Mike Bailey on 5/10 at Korakuen.
http://puroresuspirit.net/tag/dna/
Upcoming…
FIGHTING GIG DNA EP.33 ~ Kill the King ~ , 5/10/2017 [Wed] @ Korakuen Hall in Tokyo
() LEONA (DRADITION) vs. Mizuki Watase
() TAKA Michinoku (K-DOJO) vs. MAO
() Dai Suzuki 7 Match Trial Series ~ 3rd Battle: Go Shiozaki (NOAH) vs. Dai Suzuki
() Konosuke Takeshita (DDT) vs. Yuki Ueno
() Kazushi Sakuraba (FREE) vs. Kouki Iwasaki
() MAIN GIG : Mike Bailey vs. Kazusada Higuchi