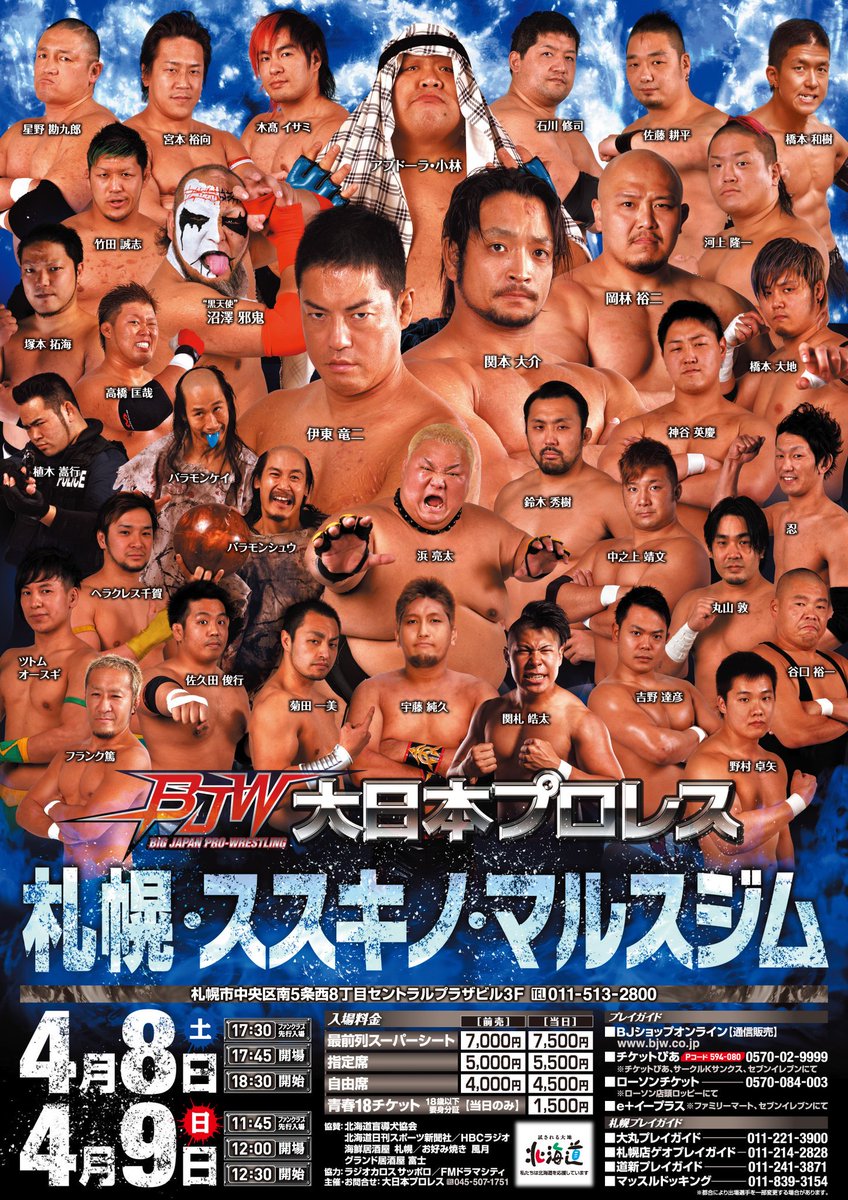 BJW, 4/9/2017 [sun] 12:30 @ Sasukino Mars Gym in Hokkaido
(1) Kazuki Hashimoto vs. Yuya Aoki
♦Winner: Kazuki (7:24) with a Manjigatame.
(2) Tsutomu Oosugi & Hercules Senga vs. Shu & Kei Brahman
♦Winner: Oosugi (9:15) with a Hurricanrana on Kei.
(3) Hideki Suzuki (FREE), Yoshihisa Uto & Takuya Nomura vs. Ryota Hama (FREE), Yasufumi Nakanoue (FREE) & Kazumi Kikuta
♦Winner: Hideki (8:24) following a Double Arm Suplex on Kikuta.
(4) Daisuke Sekimoto & Hideyoshi Kamitani vs. Ryuichi Kawakami & Manabu Soya (W-1)
♦Winner: Kamitani (13:13) following a Backdrop on Kawakami.
(5) Barbed-wire Board DeathMatch: Yuko Miyamoto & Isami Kodaka vs. Ryuji Ito & Toshiyuki Sakuda
♦Winner: Miyamoto (12:44) following a Fire Thunder on Sakuda.
(6) BJW World Strong Challenger Decision Match: Yuji Okabayashi vs. Daichi Hashimoto
♦Winner: Okabayashi (16:38) with a Powerbomb.
~ Okabayashi will go on to challenge Hideki Suzuki on 5/5 in Yokohama.
(7) Yokohama Shopping Street 6 Man Tag Championship Match: [8th Champions] Abdullah Kobayashi, Takayuki Ueki & Masaya Takahashi vs. [Challengers] Jaki Numazawa, Masashi Takeda & Takumi Tsukamoto
♦Winner: Kobayashi (16:04) with the Diving Baka Chinga Elbow Drop on Tsukamoto.
~ 5th successful title defense.