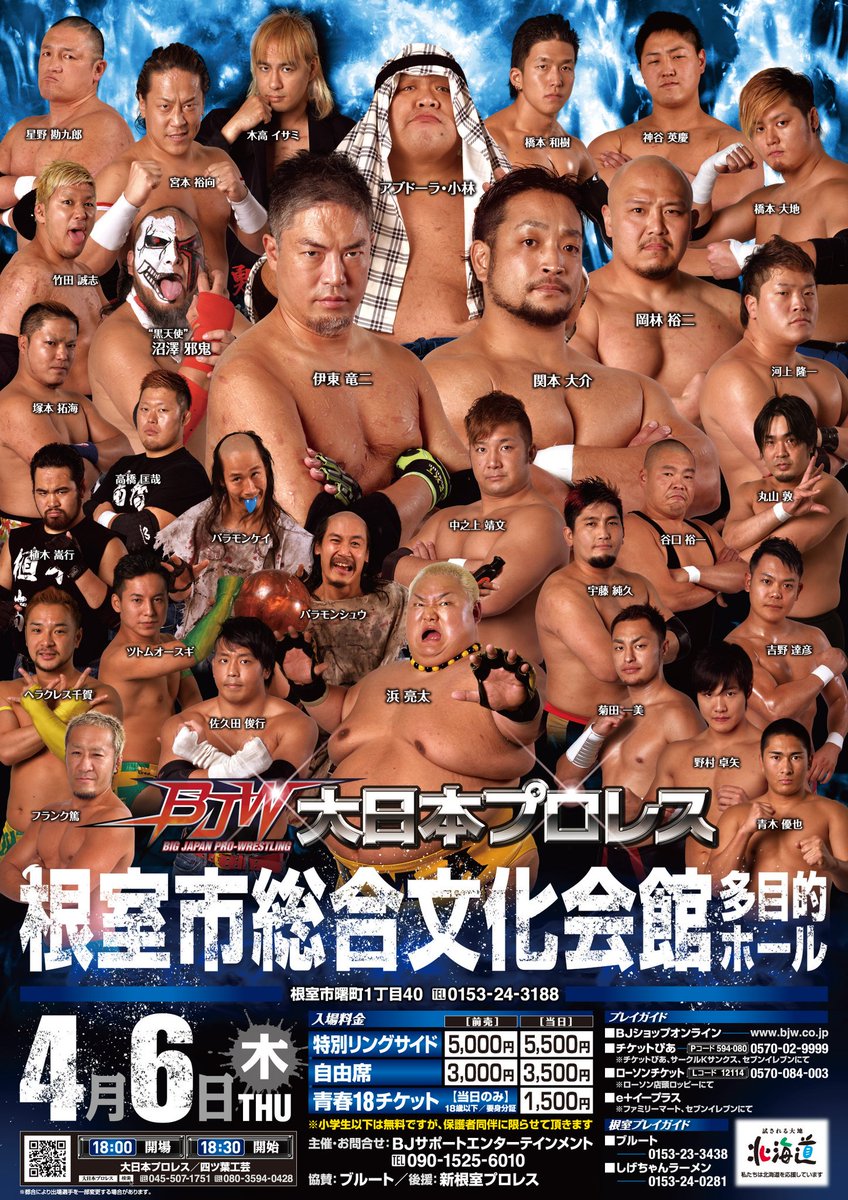 BJW, 4/6/2017 [Thu] 18:30 @ Nemuro City Sogo Bunka Kaikan, Multi-purpose Hall in Hokkaido
~ Ryota Hama will miss the next couple of shows due to suffering a right leg injury on yesterday's show.
(1) Toshiyuki Sakuda vs. Yuya Aoki
♦Winner: Sakuda (7:51) following a Missile Kick.
(2) Tsutomu Oosugi, Hercules Senga & Jaki Numazawa vs. Shu Brahman, Kei Brahman & Abdullah Kobayashi
♦Winner: Kobayashi (8:44) via pin-fall on Senga.
(3) Daichi Hashimoto & Kazumi Kikuta vs. Kazuki Hashimoto & Takuya Nomura
♦Winner: Daichi (10:15) following a Shining Wizard on Takuya.
(4) Daisuke Sekimoto & Yuji Okabayashi vs. Hideyoshi Kamitani & Yasufumi Nakanoue
♦Winner: Okabayashi (10:56) with an Argentine Backbreaker on Kamitani.
(5) Ryuichi Kawakami vs. Tatsuhito Yoshino
♦Winner: Kawakami (9:03) with a Chicken Wing Arm Lock.
(6) TLC 6 Man Tag DeathMatch: Ryuji Ito, Yuko Miyamoto & Masashi Takeda vs. Masaya Takahashi, Takayuki Ueki & Kankuro Hoshino
♦Winner: Ito (12:32) with a Dragon Splash on Ueki.