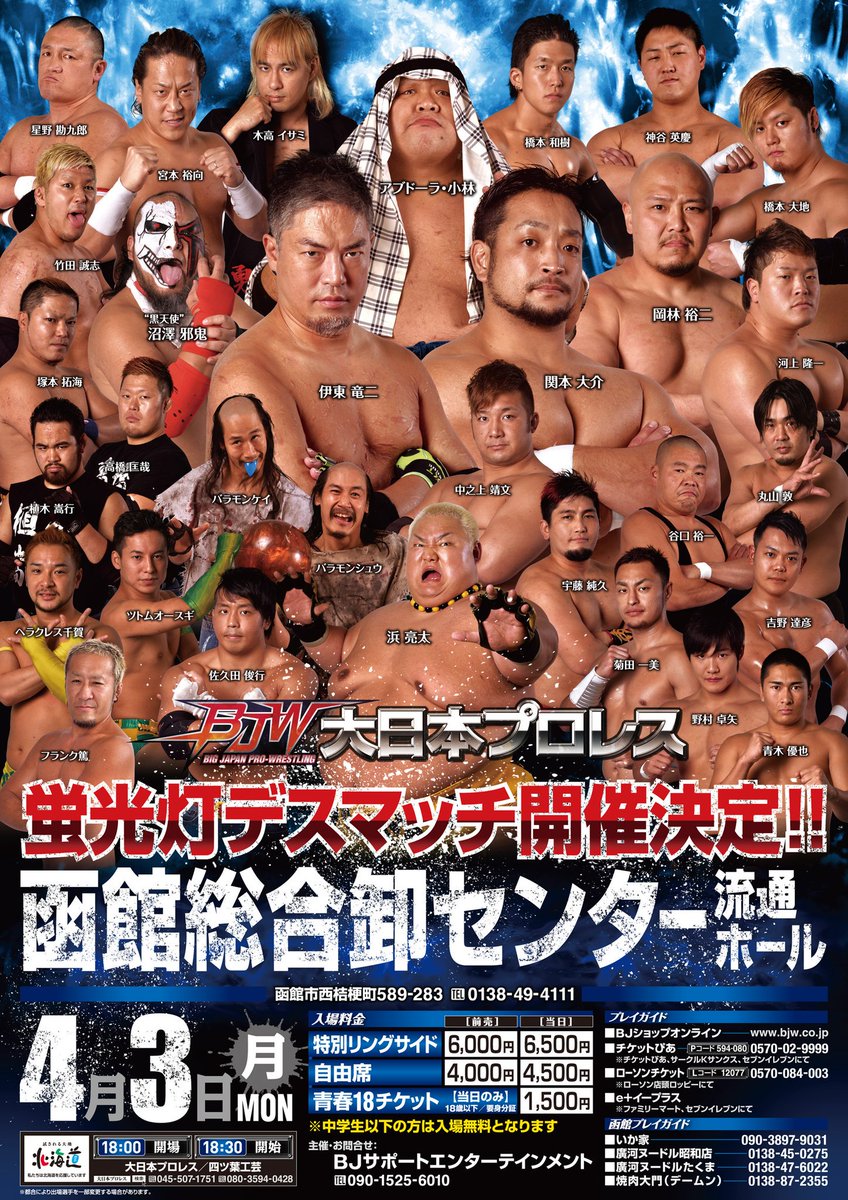 BJW, 4/3/2017 [Mon] 18:30 @ Hakodate Sogo Oroshi Center, Ryutsu Hall in Hokkaido
(1) Ryuichi Kawakami & Yuya Aoki vs. Tatsuhiko Yoshino & Yoshihisa Uto
♦Winner: Uto (9:11) with a Cobra Twist on Yuya.
(2) Tsutomu Oosugi, Hercules Senga & Masashi Takeda (FREE) vs. Jaki Numazawa, Shu & Kei Brahman
♦Winner: Takeda (7:42) following the Rokkinpo on Kei.
(3) Ice Ribbon Offer Match: Tsukasa Fujimoto vs. Tequila Seya
♦Winner: Fujimoto (9:00) with a Japanese Ocean Cyclone Suplex.
(4) Yuko Miyamoto (666) & Kazumi Kikuta vs. Kazuki Hashimoto & Takuya Nomura
♦Winner: Miyamoto (9:05) following a Fire Thunder on Takuya.
(5) Daisuke Sekimoto, Yuji Okabayashi & Yasufumi Nakanoue (FREE) vs. Ryota Hama (FREE), Daichi Hashimoto & Hideyoshi Kamitani
♦Winner: Sekimoto (12:32) with an Argentine Backbreaker on Kamitani.
(6) Fluorescent Light-tube 6 Man Tag DeathMatch: Abdullah Kobayashi, Takayuki Ueki & Masaya Takahashi (ASUKA PROJECT) vs. Ryuji Ito, Isami Kodaka (BASARA) & Toshiyuki Sakuda
♦Winner: Kobayashi (11:27) with a Diving Baka Chinga Elbow Drop on Sakuda.