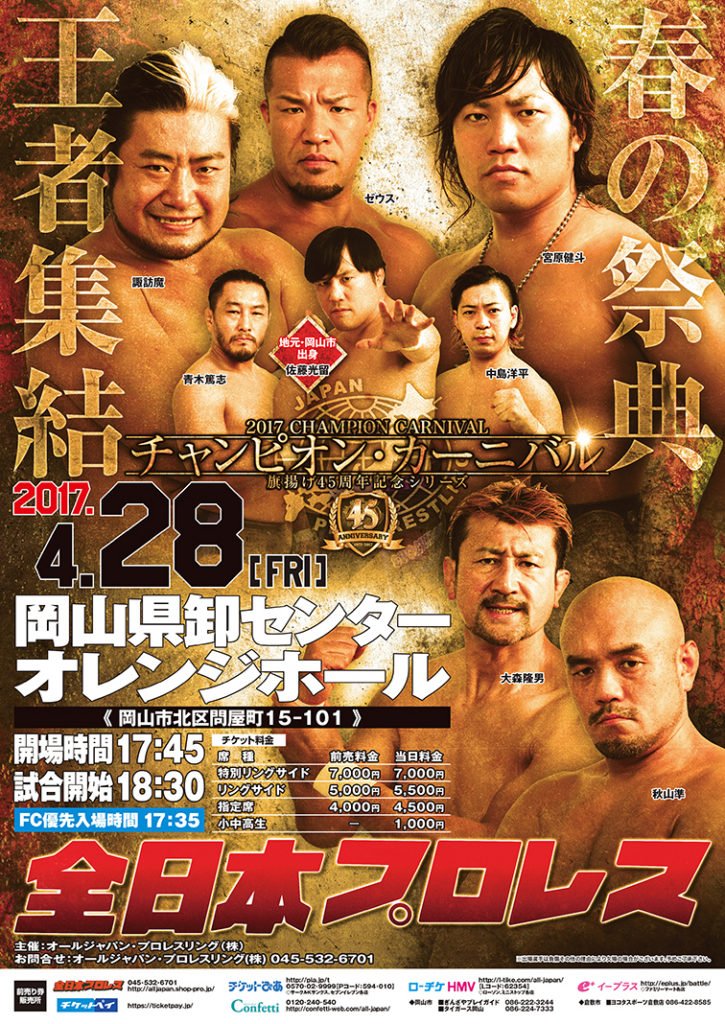 AJPW "2017 Champion Carnival ~ 45th Anniversary Series",  4/28/2017 [Fri] 18:30 @ Okayama Prefecture Oroshi Center, Orange Hall
(1) Suwama & Atsushi Aoki vs. Jake Lee & Yuma Aoyagi
♦Winner: Suwama (11:11) following a Lariat on Aoyagi.
(2) Jun Akiyama, Shuji Ishikawa, Ultimo Dragon & Koji Iwamoto vs. Takao Omori, Zeus, Kengo Mashimo & Yohei Nakajima
♦Winner: Omori (9:52) following the Axe Bomber on
(3) A BLOCK: Joe Doering vs. KAI
♦Winner: Doering (8:21) with the Revolution Bomb.
~ Doering keeps himself alive in the Carnival standings as KAI suffers a hard loss to come back from within the final standings.
~ Doering [3 wins, 2 losses = 6 points]
~ KAI [3 wins, 3 losses = 6 points]
(4) B BLOCK: Naoya Nomura vs. The Bodyguard
♦Winner: Nomura (8:21) following a Spear.
~ Nomura with the win as he called out for a shot at the World Tag belts along with Jake Lee.
~ Nomura [2 wins, 3 losses = 4 points]
~ Bodyguard [3 wins, 3 losses = 6 points]
(5) A BLOCK: Kento Miyahara vs. Ryoji Sai
♦Winner: Sai (13:55) following the Sidmouth.
~ Sai claims a win over the Triple Crown Champion. As he also keeps himself in the running for the Carnival.
~ Sai [3 wins, 2 losses = 6 points]
~ Miyahara [3 wins, 1 draw, 2 losses = 7 points]
(6) World Junior Heavyweight Championship Match: [42nd Champion] Keisuke Ishii vs. [Challenger] Hikaru Sato
♦Winner: Hikaru (23:34) with a Capture style Cross Armbar.
~ Champion falls on his 4th title defense. Hikaru becomes the 43rd champion.
~ Hikaru recaptures the belt in his hometown as he thanked everyone for their support.
Current Standings
A BLOCK
~ Miyahara [3 wins, 1 draw, 2 losses = 7 points]
~ Sekimoto [3 wins, 1 draw, 1 loss = 7 points]
~ Sai [3 wins, 2 losses = 6 points]
~ Doering [3 wins, 2 losses = 6 points]
~ KAI [3 wins, 3 losses = 6 points]
~ Zeus [2 wins, 3 losses = 4 points]
~ Lee [1 win, 5 losses = 2 points]
B BLOCK
~ Ishikawa [3 wins, 1 draw, 1 loss = 7 points]
~ Bodyguard [3 wins, 3 losses = 6 points]
~ Suwama [3 wins, 2 losses = 6 points]
~ Mashimo [3 wins, 2 draws, 1 loss = 6 points]
~ Daichi [2 wins, 3 losses = 4 points]
~ Nomura [2 wins, 3 losses = 4 points]
~ Omori [1 win, 1 draw, 3 losses = 3 points]
Previous Days Results
~ 4/16 – Day 1 [RESULTS]
~ 4/18 – Day 2 [RESULTS]
~ 4/19 – Day 3 [RESULTS]
~ 4/20 – Day 4 [RESULTS]
~ 4/22 – Day 5 [RESULTS]
~ 4/23 – Day 6 [RESULTS]
~ 4/25 – Day 7 [RESULTS]
~ 4/26 – Day 8 [RESULTS]
~ 4/28 – Day 9 * above
~ 4/29 – Day 10
~ 4/30 – Day 11 Final