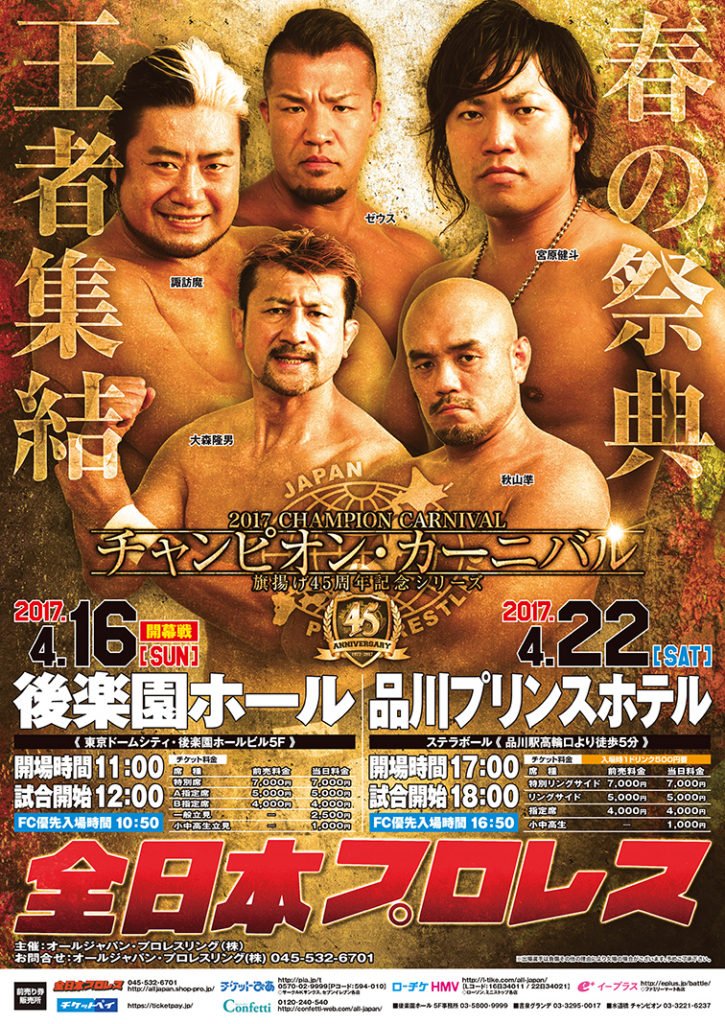 AJPW "2017 Champion Carnival ~ 45th Anniversary Series", 4/22/2017 [Sat] 18:00 @ Shinagawa Prince Hotel Stella Ball in Tokyo, 18:00
885 Spectators (overcrowded)
(1) Atsushi Aoki, Hikaru Sato (Pancrase MISSION) & Yusuke Okada vs. KAI (FREE), Minoru Tanaka (FREE) & Koji Iwamoto
♦Winner: KAI (12:18) with a Boston Crab on Yusuke.
(2) Yuma Aoyagi vs. Dalton Drellich
♦Winner: Aoyagi (6:15) with a Backslide.
(3) Jun Akiyama, Dory Funk Jr, Ryoji Sai, Ultimo Dragon & Yohei Nakajima vs. Takao Omori, Masanobu Fuchi, Osamu Nishimura (FREE), Yutaka Yoshie (FREE) & Atsushi Maruyama (FREE)
♦Winner: Dragon (11:29) with a La Magistral on Nishimura.
~ It was announced that both Akiyama and Omori will be holding a big match to celebrate their 25th anniversary as pro-wrestlers on October 21 at the Yokohama Cultural Gymnasium.
(4) B BLOCK: Naoya Nomura vs. Shuji Ishikawa (FREE)
♦Winner: Ishikawa (9:19) with the Splash Mountain.
~ Ishikawa [2 wins, 1 loss = 4 points]
~ Nomura [3 losses = 0 points]
(5) A BLOCK: Zeus vs. Jake Lee
♦Winner: Lee (6:13) following a Backdrop.
~ An explosive start, but in the end Lee claimed his first win over in the CC and over the World Tag Champion. Lee stated that he is excited to have finally won and did hint at potentially trying for the tag belts once more.
~ Lee [1 win, 2 losses = 2 ponts]
~ Zeus [1 win, 2 losses = 2 ponts]
(6) B BLOCK: Suwama vs. Kengo Mashimo (K-DOJO)
♦Winner: Mashimo (15:00) with a Cross style Achilles Tendon Lock.
~ Mashimo declared that he shall make it all the way to the final and one step closer to another shot at the Triple Crown belt.
~ Mashimo [2 wins, 1 draw, 1 loss = 5 points]
~ Suwama [2 wins, 1 loss = 4 points]
(7) A BLOCK: Kento Miyahara vs. Joe Doering
♦Winner: Miyahara (13:12) following the Blackout.
~ Miyahara, as the reigning Triple Crown Champion, stated that his confidence remains high that he shall win this years Carnival.
~ Miyahara [2 wins = 4 points]
~ Doering [1 win, 2 losses = 2 points]
Previous Days Results
~ 4/16 – Day 1 [RESULTS]
~ 4/18 – Day 2 [RESULTS]
~ 4/19 – Day 3 [RESULTS]
~ 4/20 – Day 4 [RESULTS]
~ 4/22 – Day 5 * above
~ 4/23 – Day 6
~ 4/25 – Day 7
~ 4/26 – Day 8
~ 4/28 – Day 9
~ 4/29 – Day 10
~ 4/30 – Day 11 Final