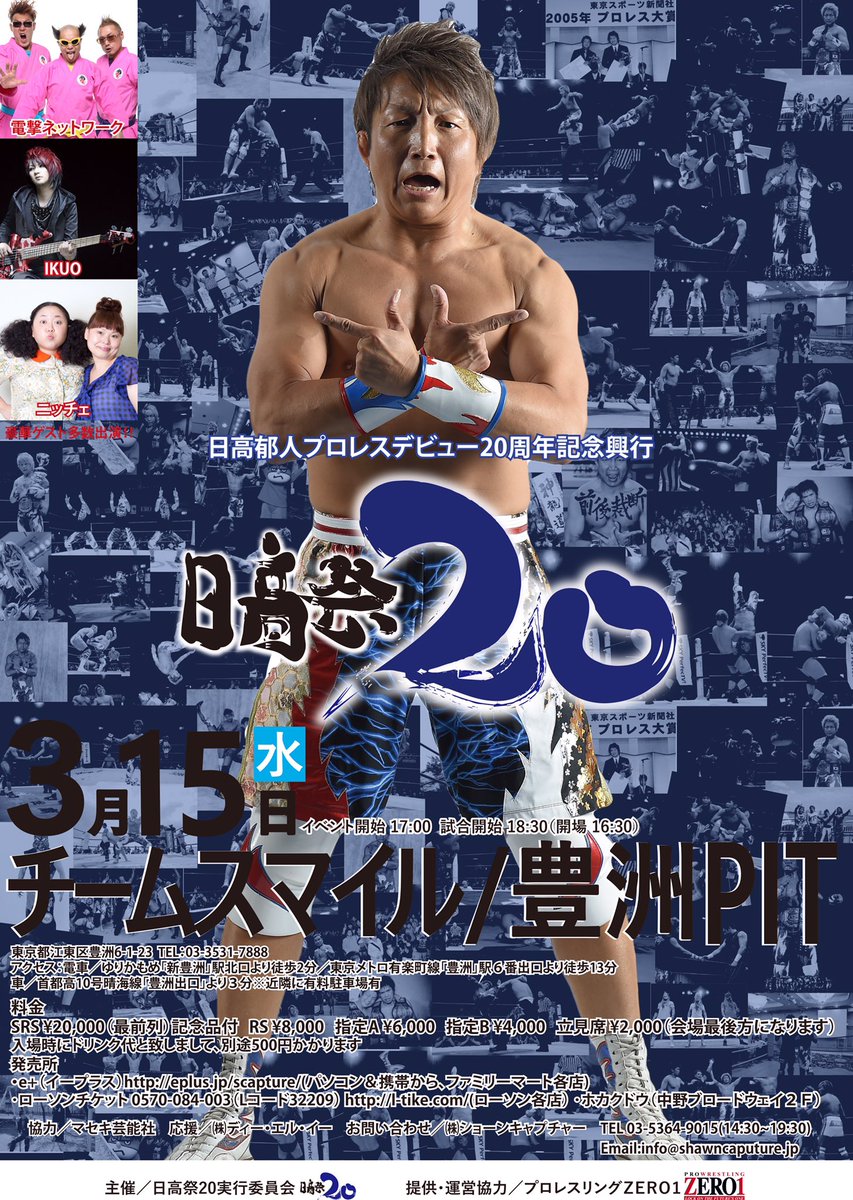 "Hidaka Festival 20 ~ Ikuto Hidaka 20th Anniversary Show", 3/15/2017 [Wed] @ Kita-ku Toyosu PIT in Tokyo
(0) Manabu Hara (FREE) vs. Fuminori Abe (Sportiva)
♦Winner: Hara (5:18) with a Crucifix Hold.
(1) Akebono (Oudou), Yuko Miyamoto (666) & Isami Kodaka (BASARA) vs. Muhammad Yone (NOAH), Shu & Kei Brahman (both FREE)
♦Winner: Akebono (12:17) with the Yokozuna Press on Kei.
(2) Masato Tanaka (ZERO1), Hideki Suzuki (FREE) & HUB (FREE) vs. Kohei Sato (ZERO1), Jun Kasai (FREEDOMS) & Hayato "Jr" Fujita (MichiPro)
♦Winner: Tanaka (15:23) following the Sliding D on Fujita.
(-) Exhibition Match: Satoshi Kobayashi vs. Nobuchika Terado
♦Winner: DRAW (2 rounds 2 Minutues)
(3) Masakatsu Funaki (FREE) vs. Takafumi Ito (PancraseISM)
♦Winner: Funaki (8:23) following a Abisegeri (Rolling Kick).
(4) Hidaka 20th Anniversary Match: Ikuto Hidaka (ZERO1) & Minoru Fujita (FREE) vs. Naomichi Marufuji (NOAH) & Dick Togo (FREE)
♦Winner: Marufuji (20:26) following a Pole Shift style Emerald Flowsion on Hidaka.