BASARA NEWS
~ The full event card was announced for the Yokohama show on April 6.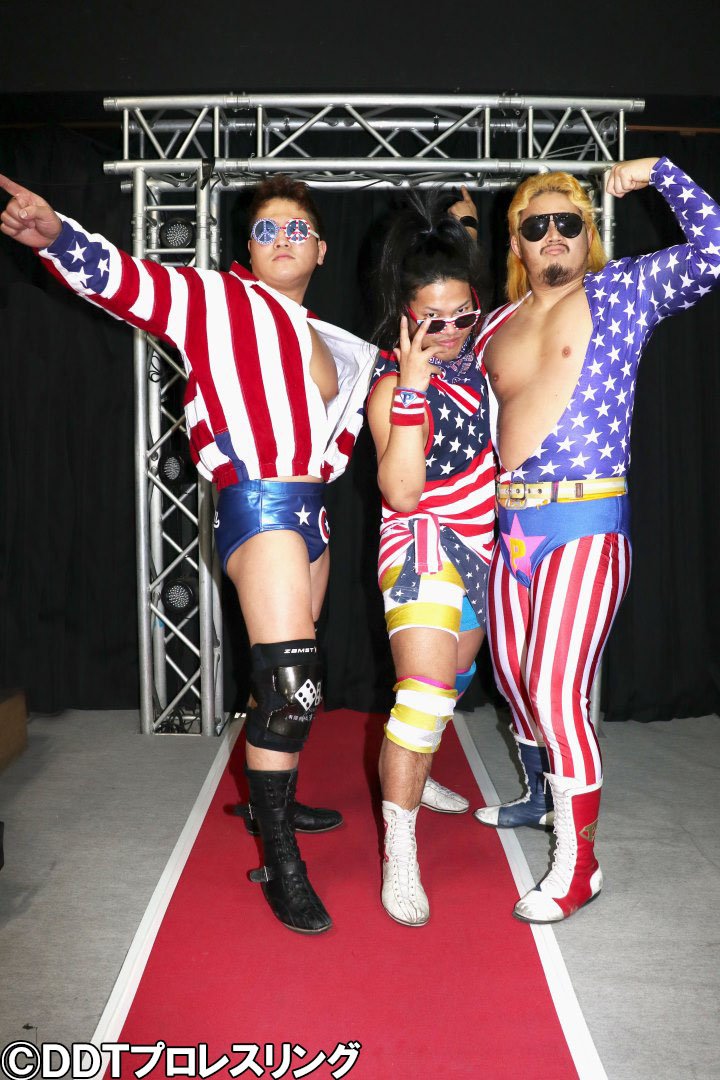 BASARA, 4/6/2017 [Thu] 19:00 @ Yokohama Nigiwaiza in Kanagawa
() Gyakuten Pro-Wrestling Trial: Goma Ryu (Defense) vs. Konaka = Pale One (Prosecutor) vs. PSYCHO (Accused)
() Hardcore Match: Takumi Tsukamoto vs. Gunso (DOVE)
() IRON PRIEST vs Double ★ Trans Am : FUMA & Yusuke Kubo vs. Trans Am ★ Shinya (Shinya Ishida) & Trans Am ★ Abe (Fuminori Abe)
() Isami Kodaka vs. Best Stretchman V3
() Kibatai vs Hiroshi Deux Soleil: Ryuichi Sekine & Ryota Nakatsu vs. Trans Am ★ Hiroshi & SAGAT
http://puroresuspirit.net/tag/basara/
---
BJW NEWS
~ Several matches were announced for the Osaka show on April 12.
BJW "BJ-STYKE #13", 4/12/2017 [Fri] 18:00 @ Osaka City Nishikumin Center
() Jaki Numazawa & Masashi Takeda vs. Yasu & Hide Kubota
() Daisuke Sekimoto vs. Takuya Nomura
() Special Tag Match: Yuji Okabayashi & Shingo Takagi (DG) vs. Daichi Hashimoto & Hideyoshi Kamitani
http://puroresuspirit.net/tag/bjw/
---
DDT NEWS
~ A couple more matches were announced for the upcoming shows in April.
DDT "Saitamemr Slam! vol. 19", 4/1/2017 [Sat] 17:00 @ Kasukabe Fureai Cube in Saitama
() Sanshiro Takagi & Kazuki Hirata vs. Keisuke Ishii & Kazusada Higuchi
() Toru Owashi & Shigehiro Irie vs. Makoto Oishi & Shunma Katsumata
() KUDO vs. Mad Paulie
() Akito vs. Yasu Urano
() Unit 3WAY Tag Match: HARASHIMA & Soma Takao vs. Yukio Sakaguchi & Masahiro Takanashi vs. Yoshihiro Takayama & Danshoku Dieno
() Happy Motel Final Match: Konosuke Takeshita, Antonio Honda & Trans Am ★ Hiroshi vs. Daisuke Sasaki, Shuji Ishikawa & Tetsuya Endo
DDT "Bokutachi Narimasu Hatsu Shinshutsu ni Narimasu!", 4/8/2017 [Sat] 17:30 @ Narimasu Act Hall in Tokyo
(-) Right to Challenge Anytime, Anywhere Battle Royal:
(-) Spring Big Bang Bout!: Konosuke Takeshita vs. Mad Paulie
(-) Special Single Match: Yukio Sakaguchi vs. Danshoku Dieno
DDT "DAMNATION Produce", 4/14/2017 [Fri] 18:00 @ Shinjuku FACE in Tokyo
(-) Shuji Ishikawa & Mad Paulie vs. Daisuke Sekimoto & Kohei Sato
(-) DDT EXTREME Championship Match: [39th Champion] Daisuke Sasaki vs. [Challenger] Dick Togo
~ 1st title defense.
http://puroresuspirit.net/tag/ddt/
---
FORTUNE DREAM NEWS
Kenta Kobashi will be hosting "Fortune Dream 4" on June 14 at Korakuen. Though no matches were announced at this time.
He will be holding a press event for the show on April 5 at Korakuen to announce part of the matches.
http://puroresuspirit.net/tag/fortune-dream
---
NJPW NEWS
New Japan announced the full card for the upcoming LION'S GATE show that will be held on April 13 at the Shinjuku FACE in Tokyo.
The main event for the show will feature a teacher and student match-up as Yuji Nagata teaming with Tomoyuki Oka to take on Manabu Nakanishi and Katsuya Kitamura. Oka who shares parallels to Nagata and Kitamura who has been dubbed Nakanishi II will both be in their first career main event as they look to prove themselves with the New Japan hierarchy.
Then K-DOJO's new generation ace and new top student of TAKA Michinoku's in Ayato Yoshida will be teaming with his fellow teammate, though small but powerfulm Dinosaur Takuma to take on the veteran and champion team of Hiroyoshi Tenzan and Satoshi Kojima. Then a special challenge singles match was announced as FREEDOMS' Toru Sugiura will make his first appearance ever in a New Japan ring to take on YOSHI-HASHI. Toru has been a hidden talents within the confines of the Tokyo independent scene, but now it is in his favor to show that to the mainstream.
Then two of the young talents from All Japan in Koji Iwamoto and Yuma Aoyagi will be taking on the veteran team of Jado and Gedo. Aoyagi has previously competed in New Japan back in the "SUPER J-CUP" though with a losing effort against Taichi in the first round. Iwamoto, much like Toru, was also a hidden gem within the indie scene as he has earned a position with All Japan just this year.
Then as for the New Japan talent themselves, Hirai Kawato will be receiving a special singles challenge against a former young lion in El Desperado. The two have been at odds in the recent tours, but Kawato has stood his ground as much as he is able. Even almost claiming several near-falls over the more experienced wrestler.
Then the opening match will feature New Japan's latest young lion making his debut in Shota Umino. As his name sort of suggests, he is the son of New Japan's head referee Red Shows Unno, but to save from any confusion he will be altering the pronunciation itself. Boasting a taller frame at 183cm, the future heavyweight hopeful will be taking on TAKA Michinoku in his first ever match.
Shota Umino  海野翔太
Born: April 17, 1997 from Setagaya-ku, Tokyo
Height: 183cm Weight: 93kg
Began training in NJPW back in March of 2016. Son of referee Red Shoes Unno  レッドシューズ海野.
Below is the announced event card…
LION'S GATE PROJECT 4, 4/13/2017 [Thu] 19:00 @ Shinjuku FACE in Tokyo
(1) Shota Umino's Debut Match: Shota Umino vs. TAKA Michinoku (K-DOJO)
(2) El Desperado vs. Hirai Kawato
(3) Jado & Gedo vs. Koji Iwamoto & Yuma Aoyagi (both AJPW)
(4) YOSHI-HASHI vs. Toru Sugiura (FREEDOMS)
(5) Hiroyoshi Tenzan & Satoshi Kojima vs. Ayato Yoshida & Dinosaur Takuma (K-DOJO)
(6) Yuji Nagata & Tomoyuki Oka vs. Manabu Nakanishi & Katsuya Kitamura
---
NOAH NEWS
It was announced that the GHC Junior Tag belts will be in defense on April 22, as Taiji Ishimori and Hi69 defend against the team of Hajime Ohara and Hitoshi Kumano.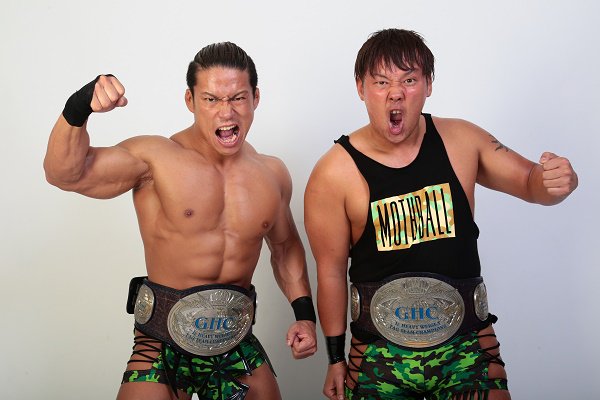 The challengers asserted themslves for the next challenge following the conclusion of the 8-man tag match on March 25. The champions fell to the Osaka "RATEL'S" team after the 2/3 fall match, though this lead to the champions fellow teammates to turn on them and then assert themselves as the next contenders for the belts. During the backstage interview Ishimori stated that he accepts Ohara and Kumano's challenge and the match is now officially set.
The full early card was released for the April 22 show as well as the updated cards for the "Countdown to GTL" shows that will run from April 11 to April 16.
NOAH "Global Tag League 2017", 4/22/2017 [Sat] @ Niigata City Gymnasium
() HAYATA vs. Tadasuke
() Daisuke Harada & YO-HEY vs. Yoshinari Ogawa & Rionne Fujiwara
() GHC Jr Tag Championship Match: [30th Champions] Taiji Ishimori & Hi69 vs. [Challengers] Hajime Ohara & Hitoshi Kumano
~ 2nd title defense.
() GTL Match: Muhammad Yone & Akitoshi Saito vs. Kaito Kiyomiya & Takuya Nomura
() GTL Match: Takashi Sugiura & Kenoh vs. Cody Hall & Randy Reign
() GTL Match: Go Shiozaki & Atsushi Kotoge vs. Robby E & Bram
() GTL Match: Katsuhiko Nakajima & Masa Kitamiya vs. Naomichi Marufuji & Maybach Taniguchi
---
WRESTLE-1 NEWS
W-1, which operates under GEN Sports Entertainment, today announced the changing of the leadership personal.
As of April of 2017, Kaz Hayashi will be assuming the position of president in place of Keiji Mutoh. Mutoh himself will be moving up as the Chairman of the Board. Shuji Kondo, who is also the main booker for the promotion, will be moving up as the Vice President position. Then Sanshiro Takagi, who is the CEO of DDT and former CEO of W-1 as well, will be heading down to a strictly adviser position.
Mutoh stated that he has put all of his trust in Hayashi to do his very best with the promotion. Hayashi has competed all over the world and has done his very best in coaching all the talent involved with All Japan before 2012 and now since the first day of W-1. He has worked hard in every aspect to hold a deciding factor in the everyday dealings with the future of the promotion.
Hayashi stated that his first act is two focus on the big show at the "Yokohama Cultural Gymnasium" on September 2. He wants to put forth a big event with a true big match feel.
GEN Sports Entertainment New Personell
Representative and Chairman : Keiji Mutoh
Director and President : Kaz Hayashi
Executive Vice President : Shuji Kondo
Adviser : Sanshiro Takagi
http://puroresuspirit.net/tag/w-1/
---
ZERO1 NEWS
~ It was announced that Masato Tanaka will be defending the World Heavyweight belt against James Raideen on April 26. This match will join the previously announced final match of the Tenkaichi Junior tournament.
~ In side news, Yusaku Obata will be taking some time off due to suffering a severe concussion.
ZERO1 "Tenkaichi Junior League 2017", 4/26/2017 [Wed] 18:45 @ Korakuen Hall in Tokyo
(-) Tenkaichi Final Match:
(-) ZERO1 World Heavyweight Championship Match: [21st Champion] Masato Tanaka vs. [Challenger] James Raideen
~ 1st title defense.
http://puroresuspirit.net/tag/zero1/
---
If you enjoy these posts of the site in general, please support us through patreon. At least $1 a month will help pay for the server costs to keep the site up and running.
Thanks for helping keep the spirit alive!